Mobile Ed: TH111 Doctrine of God and Creation: A Reformed Perspective (9 hour course)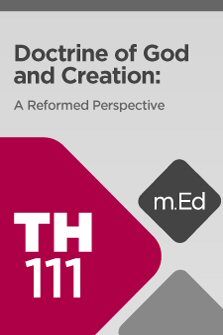 Mobile Ed: TH111 Doctrine of God and Creation: A Reformed Perspective (9 hour course)
•
Runs on Windows, Mac and mobile.
Overview
What is the relationship between Holy Scripture and Christian tradition, and how do you use both to live in the world as Christ's disciple? These are some of the questions Dr. Michael Allen explores in Doctrine of God and Creation: A Reformed Perspective (TH111). Using John Calvin's image of theology as spectacles, Dr. Allen shows how Scripture and theological tradition work together to shape how we see, interact with, and serve the world in our own unique time and place. After defining and explaining different theological methods, Dr. Allen provides an in-depth look at the character of God—in particular God's triunity—in order to explain the relationship between God and humanity. Dr. Allen shows how our creaturely origins inform our rightful dependency on God and God's unique covenant with humanity. He also explains how being created in God's image affects our understanding of relationships, morality, and missions. This course concludes with a reflection on sin's impact on God's covenant with humanity and our vocation as divine image bearers.
Learning Objectives
Upon successful completion you should be able to:
Explain the doctrine of election
Understand what it means to be made in the image of God
Describe the communicable and incommunicable attributes of God
Refute the notion of God as merely a "God of the gaps"
Balance the ideas of God's will and human freedom
Reflect on God's providence in light of God's transcendence
Course Outline
Introduction
Introducing the Speaker
Introducing the Course
Unit 1:What Is Theology?
Theology for Life: Calvin on Spectacles for Bible and for World
The Imagery of Drama: Script and Improvisational Framework
Twofold Content: God and the Works of God
Theology, Prayer, and Worship
Theology and Intellectual Asceticism
Systematic Theology amongst the Disciplines
Three Ways of Being Systematic: Breadth, Emphases, Cohesion
Topics and Order: Creedal, Biblical Shape
Unit 2: Theological Method
Psalm 145
Luther: Theology of the Cross versus Theology of Glory
Theology by Grace Alone
Scripture
Tradition
Using the Tradition
Culture and Contextualization
The Imagery of Improvisation
Reason and Mystery
Modern Issues
Postmodern Issues
Theological and Intellectual Virtues
Unit 3: The Character of God
Beginnings: Christological versus Canonical Starting Point
Name of Mystery and Name of Mercy
Divine Freedom and Divine Love
God's Self-Disclosed Attributes
Hellenization of Christianity?
Christianization of Hellenism (and Other Cultures)
Disciplining Language for Critical Appropriation
Immutability as a Test Case
Unit 4: The Triunity of God
The One God: Deuteronomy 6
Ethical Implication of Monotheism: Deuteronomy 7–11
The Son as God in the New Testament
Arian Old Testament Conservatism
The Church's Response to Arianism
The Modalist Overcorrection
The Nicene-Constantinopolitan (Pro-Nicene) Approach
The Spirit as God in the New Testament
Eternal Generation: John 5 as a Test Case
The Trinity in the Old Testament?
Analogies for the Trinity
Feminist Concerns about Trinitarian Language
Unit 5: Election
Grace Is Rooted in Eternity
The Shared Glory of God
Covenant of Redemption in Federal Theology
God's Glory and Humanity's Good
Election Is for Assurance: Romans 8–9
Unit 6: Creation
The Old Testament of the Old Testament
Creation from Nothing
Genesis 1 and God's Supremacy
Created Beings: Contingent and Good
Unit 7: Anthropology
Image of God: Four Views
Rethinking the Divine Image
Imaging and Faith, Imaging and Worship
Image of God as Universal Commonality
Stewardship
Christ and Humanity: A Canonical and Christological Approach to Defining Humanity
Unit 8: Covenant
Life with God as Central Message of Bible
Covenant: Ordered Relationship
Particular Means, Universal Invitation
Three Major Covenants: Redemption, Works, Grace
Three Major Categories of Law: Moral, Civil, Ceremonial
Hermeneutical Value of Covenant Theology
Unit 9: Scripture
Human Authorship
Divine Inspiration
Noncompetitive Divine and Human Agency
Authority: Caricatures of and Corrections to Sola Scriptura
Purpose: 2 Timothy 3:16–17
Clarity: 2 Corinthians 4:5–6
Unity: Hebrews 1 and Luke 24
Sufficiency
Truth: Infallibility and Inerrancy
Theological Exegesis: Canon, Creed, Culture
Unit 10: Providence
God's Sovereignty and Human Agency
Problems Inherent in a God of the Gaps Theology
Necessity and Contingency: Defining Freedom Biblically
Two Types of God's Will
Necessity and Culpability
Pastoral Function of Providence: Heidelberg Catechism 28
Thinking about Open Theism
Unit 11: SinDefining Sin
The Root of Sin: Both Sins of Omission and Commission
Lack of Trust, Idolatry, and Pride
Universality of Sin
Inability to Turn toward God
Original Sin: Pelagian and Semi-Pelagian Controversies
Original Sin: Immanent Determinism
Personal Guilt and Hereditary Effects of Sin
Romans 5 on Transmission of Death and Its Result in Universal Sin
Conclusion
Product Details
Title: TH112 Doctrine of Christ and the Church: A Reformed Perspective
Instructor: R. Michael Allen
Publisher: Lexham Press
Publication Date: 2015
Product Type: Logos Mobile Education
Resource Type: Courseware, including transcripts, audio, and video resources
Courses: 1
Video Hours: 9
About R. Michael Allen
R. Michael Allen is associate professor of systematic and historical theology and the dean of students at Reformed Theological Seminary in Orlando. He is eager to guide students to grow in their ability to retrieve theological riches from the past for the sake of renewing contemporary reflection, worship, and witness. In this vein, he is committed to Reformed catholicity as a confession and a posture for doing theology and approaching ministry today.
Prior to joining the faculty of RTS in 2015, Dr. Allen taught undergraduate and graduate students at Wheaton College and then taught at Knox Theological Seminary for five years, where he held the D. James Kennedy Chair of Systematic Theology and also served as dean of the faculty. With Dr. Scott Swain, he serves as general editor of the T&T Clark International Theological Commentary and the New Studies in Dogmatics series for Zondervan Academic. He also serves as book review editor for the renowned International Journal of Systematic Theology and is a teaching elder in the Evangelical Presbyterian Church.
Getting the most out of Mobile Ed
Logos Mobile Education is a highly effective cross-platform learning environment that integrates world class teaching with the powerful study tools and theological libraries available in Logos Bible Software. Every course provides links to additional resources and suggested readings that supplement the lecture material at the end of every transcript segment.
All courses in this bundle come with an Activities resource that functions as a type of "workbook" for the courses. This resource includes learning activities such as: places for you to respond to reflection questions, exercises that will challenge and show you how deepen your understanding of this course by using specific Logos tools and resources, tutorial videos on different features of Logos Bible Software, and links to relevant Logos guides and tools. A link to open the Activities resource is conveniently placed at the end of every segment.