Mobile Ed: Systematic Theology Bundle (3 courses)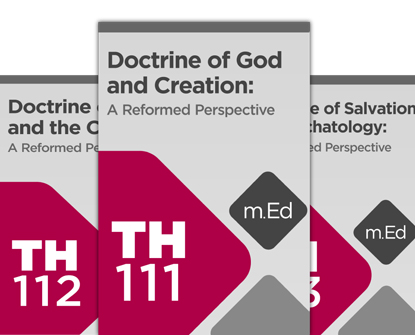 Mobile Ed: Systematic Theology Bundle (3 courses)
•
Runs on Windows, Mac and mobile.
Overview
In this three-course Systematic Theology Bundle, Dr. Michael Allen provides thorough and easy-to-follow teaching on several important Christian subjects: the doctrine of God, creation, Christ (Christology), the church (ecclesiology), salvation (soteriology), and last things (eschatology). Dr. Allen covers all of these subjects with a careful eye toward the breadth of Scripture, the mystery of the gospel, the church's historical tradition, and application for contemporary ministry. These courses will show you that systematic theology is not a restrictive box or intellectual exercise, but a lens through which you are better enabled to live faithfully before God and lovingly among others.

What is the relationship between Holy Scripture and Christian tradition, and how do you use both to live in the world as Christ's disciple? These are some of the questions Dr. Michael Allen explores in TH111. Using John Calvin's image of theology as spectacles, Dr. Allen shows how Scripture and theological tradition work together to shape how we see, interact with, and serve the world in our own unique time and place.
After defining and explaining different theological methods, Dr. Allen provides an in-depth look at the character of God—in particular God's triunity—in order to explain the relationship between God and humanity. Dr. Allen shows how our creaturely origins inform our rightful dependency on God and God's unique covenant with humanity. He also explains how being created in God's image affects our understanding of relationships, morality, and missions. This course concludes with a reflection on sin's impact on God's covenant with humanity and our vocation as divine image bearers.
Contents:
Theology and Systematic Theology
Theological Method
The Character of God
The Triunity of God
Election
Creation
Anthropology
Covenant
Scripture
Providence
Sin

In TH112, Dr. Allen focuses on the doctrines of Christ (Christology) and the church (ecclesiology), carefully explaining how Christ—as Prophet, Priest, and King—fulfills the covenant of grace conveyed throughout the whole of Scripture and the implications of this for the life of the church as the site of God's covenantal promises. This course will introduce and respond to a wide variety of heresies concerning Jesus—many of which still arise today—including those from the Ebionites, Docetists, Apollinarians, Arians, Monophysites, and Nestorians. This course will help you address unorthodox portrayals of Jesus Christ with a thoughtful, biblical, and historical response; explain how the resurrected Christ is working through the church; and show how this understanding offers practical application for real-life ministry issues.
Contents:
Covenant of Grace
Incarnation and Early Heresies: Ebionites, Docetists, Apollinarians, and Arians
Incarnation and Later Heresies: Monophysites and Nestorians
The Story of Christ: Humiliation
Jesus' Virgin Birth
Love and Law
The Story of Christ: Exaltation
Resurrection from the Dead
Patterns of Ascent: Biblical and Platonic
Jesus as Lord of the Church
The Body of Christ: One, Holy, Catholic, Apostolic

Dr. Allen concludes this bundle with TH113, which covers the doctrine of salvation (Soteriology), or how God saves us, and the last things (Eschatology): the return of Christ, the coming judgment, and the resurrection and eternal life we anticipate.
Before walking you through the doctrine of salvation and last things, Dr. Allen provides a thoroughly biblical understanding of the doctrine of the Holy Spirit (Pneumatology): the Holy Spirit's unique work and how the Third Person of the Trinity relates to the Father and the Son. Dr. Allen then teaches you about the different means of grace available to the church, including a definition of the sacraments, an explanation of the difference between infant and believer baptism, the Lord's Supper, and the sacramental nature of prayer. This course concludes with an in-depth study of the last things, including how the Old Testament relates to the New Testament, the curse of Gen 3, the Kuyperian New-Calvinism position, and the complex relationship between the church and wider culture.
Contents:
Systematic Theology's Definition and Aims
Pneumatology (The Holy Spirit)
Sacraments: The Means of Grace
Infant vs. Believer Baptism
Passover and the Lord's Supper
Prayer
The Christian Life: Sin and Grace
Justification: Faith Alone vs. Works of the Law
The New Perspective on Paul
Eschatology: Christians, Churches, and Culture
Relating Church and Kingdom
Product Details
Title: Systematic Theology Bundle
Instructor: R. Michael Allen
Publisher: Lexham Press
Publication Date: 2015
Product Type: Logos Mobile Education
Resource Type: Courseware, including transcripts, audio, and video resources
Courses: 3
Video Hours: 22
Getting the most out of Mobile Ed
Logos Mobile Education is a highly effective cross-platform learning environment that integrates world class teaching with the powerful study tools and theological libraries available in Logos Bible Software. Every course provides links to additional resources and suggested readings that supplement the lecture material at the end of every transcript segment.
All courses in this bundle come with an Activities resource that functions as a type of "workbook" for the courses. This resource includes learning activities such as: places for you to respond to reflection questions, exercises that will challenge and show you how deepen your understanding of this course by using specific Logos tools and resources, tutorial videos on different features of Logos Bible Software, and links to relevant Logos guides and tools. A link to open the Activities resource is conveniently placed at the end of every segment.
About R. Michael Allen
R. Michael Allen is associate professor of systematic and historical theology and the dean of students at Reformed Theological Seminary in Orlando. He is eager to guide students to grow in their ability to retrieve theological riches from the past for the sake of renewing contemporary reflection, worship, and witness. In this vein, he is committed to Reformed catholicity as a confession and a posture for doing theology and approaching ministry today.
Prior to joining the faculty of RTS in 2015, Dr. Allen taught undergraduate and graduate students at Wheaton College and then taught at Knox Theological Seminary for five years, where he held the D. James Kennedy Chair of Systematic Theology and also served as dean of the faculty. With Dr. Scott Swain, he serves as general editor of the T&T Clark International Theological Commentary and the New Studies in Dogmatics series for Zondervan Academic. He also serves as book review editor for the renowned International Journal of Systematic Theology and is a teaching elder in the Evangelical Presbyterian Church.