Mobile Ed BI352 History of Biblical Interpretation II: Seventeenth Century through the Present (11 hour course)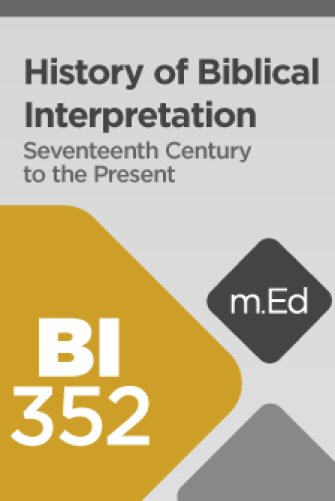 Mobile Ed BI352 History of Biblical Interpretation II: Seventeenth Century through the Present (11 hour course)
•
Runs on Windows, Mac and mobile.
Overview
In BI352 Dr. Bray examines the foundations of the Old and New Testaments as well as the development of new theological perspectives since the 17th century. He outlines significant trends and major players in biblical criticism and how these relate to the modern scholarly climate. Dr. Bray provides guidance on how to approach Bible study and emphasizes the importance of applying God's word.
Course Outline
Unit 1: The Beginnings of Critical Method
Disagreements about the Bible
The Growth of Skepticism
Beginnings of Old Testament Criticism
The Attack on the Supernatural
Neologism and Romanticism
Unit 2: Old Testament Criticism: de Wette to Wellhausen (1800–1918)
W. M. L. de Wette and the Old Testament Text
Old Testament Theology
Revival of Confessionalism
The New Liberalism
Unit 3: Old Testament Criticism: Wellhausen to Alt (1918–1956)
New Directions
History of Religions School
Beyond Literary Criticism
Unit 4: Anglo-Saxon Old Testament Scholarship since 1800
The Situation from 1800 to 1850
The Acceptance of Critical Method
The Development of Archaeology
Liberal/Conservative Divide
Unit 5: Modern Old Testament Criticism
Do We Need the Old Testament?
Post-Barthian Criticism
Marxist Biblical Interpretation
Current Issues in Old Testament Interpretation
Unit 6: New Testament Criticism: Reimarus to Strauss (1750–1835)
H. S. Reimarus (1694–1768)
Early Rationalism and Some Important Proponents of These Ideas
The Invention of the Historical Jesus
Unit 7: New Testament Criticism: Strauss to Bousset (1835–1920)
Reactions to Strauss
The Tübingen School and Ferdinand Christian Baur (1792–1860)
Bruno Bauer (1809–1883)
Later Lives of Jesus
The Final Phase
Unit 8: Anglo-Saxon New Testament Scholarship since 1800
Background and the Cambridge School
English Liberalism and Source Criticism
The Impact of Archaeology
English Neo-Conservatism
Unit 9: Modern New Testament Criticism: Jesus
Form Criticism (1920–1950)
Redaction Criticism (after 1945) and the Historical Jesus: the New Quest
The Historical Jesus: Third Quest
Jesus and the Church
Unit 10: Modern New Testament Criticism: Church
Paul and the Law
Paul and Judaism: Montefiore (1856–1938)
The New Perspective on Paul
Unit 11: Recent Trends in Interpretation: Historical-Critical Approach
The Inadequacies of the Method
Two Horizons: the New Hermeneutic
Points to Remember about the New Hermeneutic
Unit 12: Recent Trends in Interpretation: Literary Approaches
Literary Criticism and Linguistic Theory
Non-Ideological Literary Criticism
Unit 13: Recent Trends in Interpretation: Sociological Approaches
Introduction to Sociological Approaches
Some Examples of Interpretation
Sociology as Normative for Interpretation
Unit 14: An Evangelical Approach to Critical Issues
Introduction to Evangelical Approaches to Critical Issues
Evangelical Achievements
The Inspiration of Scripture
Inerrancy and Infallibility
Evolving Attitudes on Inerrancy
Two Testaments, One Bible
Evangelical Strengths and Weaknesses
Unit 15: An Evangelical Approach to Practical Application
Different Ways of Reading the Bible
How to Approach Reading the Bible
How to Preach the Bible
Preaching and Application: Part 1
Preaching and Application: Part 2
Preaching and Free Interpretation
Preaching and the Preacher: Part 1
Preaching and the Preacher: Part 2
Product Details
Title: BI352 History of Biblical Interpretation II: Seventeenth Century through the Present
Instructor: Gerald L. Bray
Publisher: Lexham Press
Publication Date: 2016
Product Type: Logos Mobile Education
Resource Type: Courseware, including transcripts, audio, and video resources
Courses: 1
Video Hours: 11
About Gerald L. Bray
Dr. Gerald L. Bray is research professor of divinity, history, and doctrine at Beeson Divinity School in Birmingham, Alabama, and distinguished professor of historical theology at Knox Theological Seminary in Fort Lauderdale, Florida. Dr. Bray is the editor of the Anglican journal Churchman and has published a number of books, including the award-winning Biblical Interpretation: Past and Present, Yours Is the Kingdom: A Systematic Theology of the Lord's Prayer, God Is Love: A Biblical and Systematic Theology, and God Has Spoken: A History of Christian Theology.
Getting the most out of Mobile Ed
Logos Mobile Education is a highly effective cross-platform learning environment that integrates world class teaching with the powerful study tools and theological libraries available in Logos Bible Software. Every course provides links to additional resources and suggested readings that supplement the lecture material at the end of every transcript segment.
This course comes with an Activities resource that functions as a type of "workbook" for the course. This resource includes learning activities such as: places for you to respond to reflection questions, exercises that will challenge and show you how deepen your understanding of this course by using specific Logos tools and resources, tutorial videos on different features of Logos Bible Software, and links to relevant Logos guides and tools. A link to open the Activities resource is conveniently placed at the end of every segment.