Mobile Ed: BI352 History of Biblical Interpretation II: Seventeenth Century through the Present (11 hour course)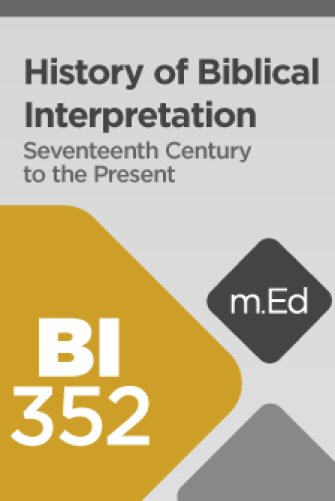 Mobile Ed: BI352 History of Biblical Interpretation II: Seventeenth Century through the Present (11 hour course)
•
Runs on Windows, Mac and mobile.
Overview
In BI352 Dr. Bray examines the foundations of the Old and New Testaments as well as the development of new theological perspectives since the 17th century. He outlines significant trends and major players in biblical criticism and how these relate to the modern scholarly climate. Dr. Bray provides guidance on how to approach Bible study and emphasizes the importance of applying God's word.
Course Outline
Introduction
Introducing the Speaker and the Course
Unit 1: The Beginnings of Critical Method
Textus Receptus and Christian Infighting
Exploring New Testament Manuscripts
Skepticism, Modern Science, and the Historical-Critical Method
Beginnings of Biblical Criticism
Challenges to Authority, Miracles, Authorship, and Prophecy
Neologism and Shifting Philosophies
Comparing "Myth" in Philo and the New Testament
Unit 2: Old Testament Criticism: Nineteenth–Twentieth Centuries
De Wette and the Reinterpretation of History
Reinventing the History and Development of the Old Testament
Revival of Confessionalism
New Liberalism
Identifying Sources of the Documentary Hypothesis
Defending Old Testament Narrative and Theology
History of Religions School
Organizing the Psalms by Genre with the Psalms Explorer
Beyond Literary Criticism
Unit 3: Anglo-Saxon Old Testament Scholarship Since 1800
Characteristics of British and American Culture and Theology
Tracking Major Events and Key Characters with the Timeline
Critical Method Makes Inroads
Development of Archaeology
Divide between Liberal and Conservative
Unit 4: Modern Old Testament Criticism
Do We Need the Old Testament?
Systematic Theology, Salvation History, and Old Testament Unity
Marxist Interpretation and Liberation Theology
Current Issues in Old Testament Interpretation
Exploring Themes in Apocalyptic Texts
Unit 5: New Testament Criticism: Eighteenth–Twentieth Centuries
Skepticism of Reimarus
Early Rationalism: Part 1
Early Rationalism: Part 2
Reactions to David Strauss
Ferdinand C. Baur and the Tübingen School
Bruno Bauer
Later "Lives of Jesus"
The Final Phase
Unit 6: Anglo-Saxon New Testament Scholarship Since 1800
New Testament Textual Studies and the Cambridge School
English Liberalism
The Impact of Archaeology
English Neoconservatism
Unit 7: Modern New Testament Criticism: Jesus and the Church
Form Criticism
Redaction Criticism and the New Quest for the Historical Jesus
Third Quest for the Historical Jesus
New Testament Criticism: Jesus Quests and the Church
Paul, Gnosticism, and Personal Redemption
Paul, Judaism, and the Law
Distinguishing Paul's Use of "Law" with the Word Sense Tool
E. P. Sanders' Interpretation of Paul and Judaism
Unit 8: Recent Trends in Interpretation
Inadequacies of the Historical-Critical Method
The New Hermeneutic
Making Peace with the Ancient World
Literary Criticism
Biblical Narrative: Mimesis or History?
Sociological Approaches
Examples of Sociological Biblical Interpretation
Sociological Interpretation to Change Society Today
Unit 9: An Evangelical Approach to Critical Issues
Background to Modern Evangelicalism
Evangelical Achievements
Evangelical Issues: Inspiration
Evangelical Issues: Infallibility and Inerrancy
Evangelical Issues: Evolving Attitudes toward Inerrancy
Evangelical Issues: Validity of Old Testament as Christian Truth
Evangelical Strengths and Weaknesses
Unit 10: An Evangelical Approach to Practical Application
Ways of Reading the Bible
How to Read the Bible to Preach It
Reading Is an Art, Preaching a Gift
Preaching and Application: Part 1
Preaching and Application: Part 2
Preaching and Free Interpretation
Preaching and the Preacher: Part 1
Preaching and the Preacher: Part 2
Conclusion
Biblical Interpretation: The Struggle to Understand God
Product Details
Title: BI352 History of Biblical Interpretation II: Seventeenth Century through the Present
Instructor: Gerald L. Bray
Publisher: Lexham Press
Publication Date: 2016
Product Type: Logos Mobile Education
Resource Type: Courseware, including transcripts, audio, and video resources
Courses: 1
Video Hours: 11
About Gerald L. Bray
Dr. Gerald L. Bray is research professor of divinity, history, and doctrine at Beeson Divinity School in Birmingham, Alabama, and distinguished professor of historical theology at Knox Theological Seminary in Fort Lauderdale, Florida. Dr. Bray is the editor of the Anglican journal Churchman and has published a number of books, including the award-winning Biblical Interpretation: Past and Present, Yours Is the Kingdom: A Systematic Theology of the Lord's Prayer, God Is Love: A Biblical and Systematic Theology, and God Has Spoken: A History of Christian Theology.
Getting the most out of Mobile Ed
Logos Mobile Education is a highly effective cross-platform learning environment that integrates world class teaching with the powerful study tools and theological libraries available in Logos Bible Software. Every course provides links to additional resources and suggested readings that supplement the lecture material at the end of every transcript segment.
This course comes with an Activities resource that functions as a type of "workbook" for the course. This resource includes learning activities such as: places for you to respond to reflection questions, exercises that will challenge and show you how deepen your understanding of this course by using specific Logos tools and resources, tutorial videos on different features of Logos Bible Software, and links to relevant Logos guides and tools. A link to open the Activities resource is conveniently placed at the end of every segment.