Fathers get wake-up call in book on raising daughters
NEWS RELEASE
New Kirkdale Press book helps fathers raise joyful, faithful daughters
BELLINGHAM, Wash., July 11, 2012 — Fatherhood is under siege in this country, with the number of absent and uninvolved fathers on the rise. It's in this context of eroding relationships that Kirkdale Press has released David B. Van Heemst's Splashing in Puddles: How to Be a Father to Your Daughter, a guide for fathers on not only how to be involved in their daughters' lives, but why they need to be.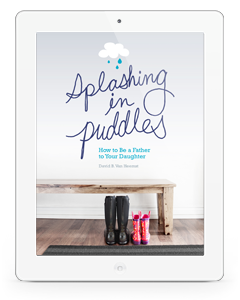 "I've talked with numerous adult females [about] their relationship with their dads," says Van Heemst. "After hearing so many sad stories, I've concluded that young women are fortunate if their dads were either a small positive or a neutral influence on their lives. Something needs to change."
Based on Van Heemst's extensive academic research as well as his personal experience as the father of five daughters, Splashing in Puddles is a call from Van Heemst for a return to true fatherhood. He discusses how fathers need to cultivate their daughters' spirit and spend time with them to ensure their foundation is rooted in Christ.
"The old idea was that dads raised boys and moms raised girls," Van Heemst explains. "That idea is giving way to the cutting-edge idea that girls benefit in incredible ways when they have an involved dad. From health to education to self-esteem, the evidence is overwhelming that girls are significantly better off with an involved, healthy dad."
Van Heemst proclaims Splashing in Puddles to be a rally cry for dads to be the fathers their daughters not only need, but deserve. "I wrote this book to dads, but I wrote it for daughters."
Each Kirkdale title contains state-of-the-art features, including tagged Bible references that users can tap or click to instantly pull up Scripture passages. Kirkdale ebooks accessed through the Vyrso ereader app link to the powerful Bible-study tools and extensive resources of Logos 4, allowing readers to search through thousands of related ebooks with a click. Kirkdale Press, a division of Logos Bible Software, also offers its digital books through Kindle, Nook and other ereaders.
For more information on Splashing in Puddles, click here.
Kirkdale Press is a new digital publishing imprint from Logos Bible Software. Publishing new voices in Christian living and fiction, Kirkdale Press builds on Logos' 20 years of leadership in electronic Christian resources. Kirkdale ebooks are available through Vyrso, the Christian ereader app from Logos, as well as through Kindle, Nook and other ereaders.
Logos is the leading provider of multilingual tools and resources for Bible study on Macs, PCs and mobile devices. Logos has served pastors, scholars and everyone who wants to study the Bible since 1992, partnering with 150 publishers to offer more than 26,000 Christian ebooks to users in 210 countries.
Contact Logos Media Relations: 800-875-6467, media@logos.com and www.logos.com/press