BDAG
This video feature Logos 7. The software may appear differently in your version of Logos.
Resource Overview
Described as an "invaluable reference work" (Classical Philology) and "a tool indispensable for the study of early Christian literature" (Religious Studies Review) in its previous edition, this new updated American edition of Walter Bauer's Wörterbuch zu den Schriften des Neuen Testaments builds on its predecessor's staggering deposit of extraordinary erudition relating to Greek literature from all periods. Including entries for many more words, the new edition also lists more than 25,000 additional references to classical, intertestamental, Early Christian, and modern literature.
Perhaps the single most important lexical innovation of Danker's edition is its inclusion of extended definitions for Greek terms. For instance, a key meaning of episkopos was defined in the second American edition as overseer; Danker defines it as "one who has the responsibility of safeguarding or seeing to it that something is done in the correct way, guardian." Such extended definitions give a fuller sense of the word in question, which will help avoid both anachronisms and confusion among users of the lexicon who may not be native speakers of English.
Thanks to Frederick W. Danker's broad knowledge of Greco-Roman literature, as well as papyri and epigraphs, the new BDAG provides a more panoramic view of the world of Jesus and the New Testament. It incorporates new research, new information, and analyses while rendering translations into contemporary English.
Get A Greek–English Lexicon of the New Testament and Other Early Christian Literature, 3rd ed. (BDAG).
Related Products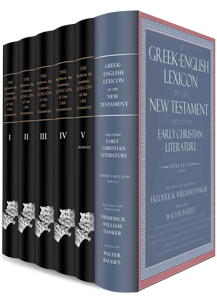 BDAG/HALOT Bundle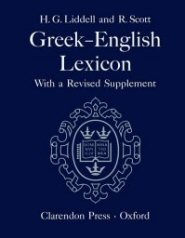 Liddell and Scott Greek–English Lexicon (LSJ)
More Greek and Hebrew Tools Videos
Which Package Has the Features You Need?
Compare your options to find the package with everything you need for your Bible study. Or get a recommendation from us.
Recommend
Compare Packages