Best Resources on Malachi
The book of Malachi addresses the situation in Judah sometime after the temple was rebuilt in 516 BC, following the return of Jewish exiles from Babylon. The message of the book is about the covenant—Israel's contract with God (compare Exod 24:1–8). The book records six legal disputes in which God either defends His own faithfulness or accuses the people and their leaders of forsaking their covenant. The book ends with a promise of the coming of Elijah and the Day of Yahweh. Malachi addresses how God is faithful to His covenant love, even when we doubt His faithfulness.
—Faithlife Study Bible, Lexham Press
Everything You Need to Study & Teach Malachi
Expository Preaching Kits are curated resources all focused on helping you teach a single book of the Bible—keeping you prepared without weighing you down.
Best Commentaries on Malachi
Pieter A. Verhoef, New International Commentary on the Old Testament (NICOT), Eerdmans, 1987, 384 pp.
This commentary by Pieter A. Verhoef offers a thorough exegesis and exposition of Haggai and Malachi—two important books of Scripture that, unfortunately, are not only little studied but have sometimes been maligned by contemporary scholarship—and stresses the relevance of these prophets' messages in terms of continuity and discontinuity for the Christian church.
Level: Intermediate
Type: Expository
Joyce G. Baldwin, Tyndale Old Testament Commentaries (TOTC), InterVarsity Press, 1972, 202 pp.
Three neglected but important prophets receive a fresh and penetrating analysis in this introduction and commentary. For each prophet's work, Joyce Baldwin first considers the general issues of author, text, and message, then offers a passage-by-passage commentary. "Considerable attention has been given in the book to background material, and proper consideration is accorded to the views of those from whom the author differs," writes reviewer R. K. Harrison. "In expounding the text, Baldwin produces evidence of balanced scholarship and a high degree of spiritual insight."
Level: Basic
Type: Devotional
E. Ray Clendenen and Richard A. Taylor, New American Commentary (NAC), B&H, 2004, 471 pp.
This volume of the NAC covers two minor prophets who deal with major issues still facing God's people today. Haggai challenges us to leave the kingdom of self and serve the kingdom of God. Malachi addresses issues of worship, marital fidelity, and materialism. Solid historical, grammatical, and theological exposition will renew the mind and fill the heart.
Level: Intermediate
Type: Expository
Andrew E. Hill, Anchor Yale Bible (AYB), Yale University Press, 1998, 480 pp.
In his fresh new translation, notes, and comments on this brief prophetic book, Andrew E. Hill explains why we should pay attention to Malachi as God's spokesperson. Hill places the book in its historical context to interpret the original meaning, as well as offer the modern reader insights into what it has to say to us today. With his translation and commentary, along with photographs, line art, and maps, he provides all the necessary details for the reader to understand and appreciate Malachi.
Level: Advanced
Type: Technical
Ralph L. Smith, Word Biblical Commentary (WBC), Thomas Nelson, 1984, 358 pp.
Explore the mysterious prophecies of Micah, Nahum, Habakkuk, Zephaniah, Haggai, Zechariah, and Malachi by studying their historical context, textual transmission, composition, and theological meaning.
Level: Advanced
Type: Technical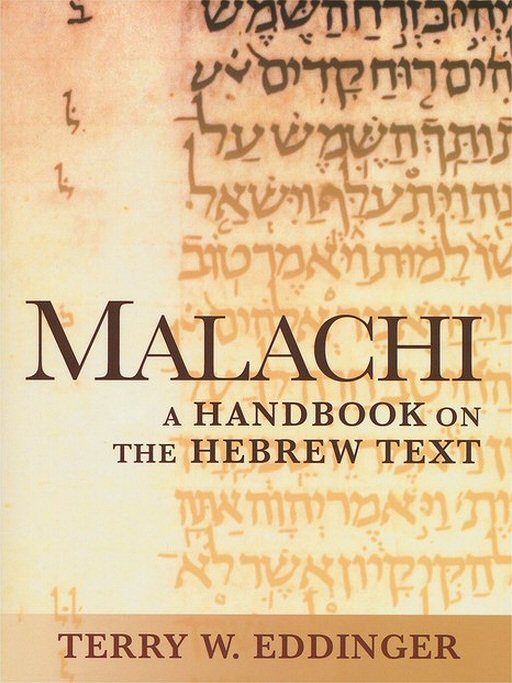 Terry Eddinger provides a practical guide for students and teachers working through the Hebrew text of Malachi. Eddinger addresses the grammatical and syntactical issues within the final book of the Minor Prophets, while drawing out the larger narrative of the text through analysis of how words and phrases function in larger clauses and paragraphs. Taking the work of translation and interpretation one step further, Malachi follows the poetic prose of the book's catechetical dialogue to provide greater understanding of the prophet's specific literary structure. Including chapter-specific keywords and an exhaustive linguistic glossary, Eddinger provides a valuable resource for all to better capture the meaning inherent in this underutilized book.
Learn more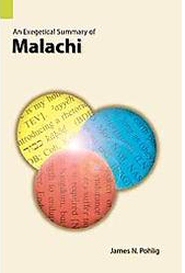 How can the task of biblical exegesis be fruitful and meaningful when commentaries and lexicons provide contradictory interpretations and seem to support opposing translations? The Exegetical Summaries Series asks important exegetical and interpretive questions—phrase by phrase—and summarizes and organizes the content from every major Bible commentary and dozens of lexicons. You can instantly identify exegetical challenges, discover a text's interpretive history, and survey the scope of everything written about each verse and phrase. Take your exegesis to the next level with the Logos edition of An Exegetical Summary of Malachi.
Learn more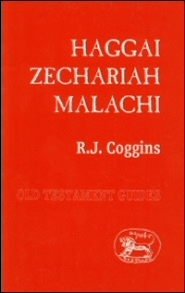 Coggins first analyzes the historical setting of the books, including the concept of prophets under the oppression of foreign rulers. He describes the editorial framework, then analyzes the content of Haggai and Zechariah 1–8. The author discusses the problem of "theocracy" versus "eschatology" as it related to prophets of the postexilic times, then moves on to address Zechariah 9–14 and Malachi. The last chapter of this book puts the contents and ideals of these three biblical works into larger perspective, looking forward into the times of the New Testament writers.
Learn more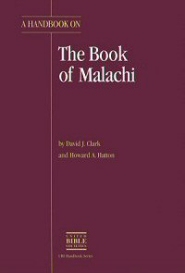 What if you were responsible for translating God's Word into a language that never had a Bible before? Can you imagine the burden you would feel to do a good job? God takes his Word pretty seriously, and you would certainly do everything in your power to make sure that you were not putting words into God's mouth but that you were providing a text that clearly communicated God's Word as closely to the original as possible. This challenge to understand the heart of the original Scriptures to put the original text into a new language was the impetus for the United Bible Societies to create handbooks for Bible translators working on this very thing. The United Bible Societies' Handbook Series is a comprehensive verse-by-verse guide to understanding exactly what is being communicated by the author in the original Scriptures.
Learn more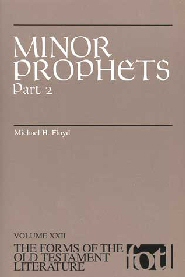 In this volume, Floyd presents a complete form-critical analysis of the last six books in the Minor Prophets: Nahum, Habakkuk, Zephaniah, Haggai, Zechariah, and Malachi. By looking carefully at the literary genre and internal structure of each book, Floyd uncovers the literary conventions that help shape the composition of these prophetic books in their final form. His approach yields fresh views of how the parts of each book fit together to make up the whole—particularly with respect to Nahum, Haggai, and Malachi—and provides a basis for reconsidering how each book is historically related to the time of the prophet for whom it is named. This work will be useful to scholars because it advances the discussion regarding the holistic reading of prophetic books and to pastors and students because it shows how analysis of literary form can lead to a more profound understanding of the messages of the Minor Prophets.
Learn more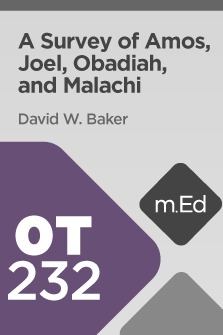 Dr. David Baker starts his discussion of the background, themes, and structures of the Minor Prophets with Amos. By highlighting specific poetic devices, he illuminates the prophet's message and its relevance for today. Dr. Baker also surveys the books of Obadiah, Joel, and Malachi—always emphasizing how you can apply the prophetic wisdom of God's Word to modern life. Through the prophets, God teaches us to build community, maintain covenant relationships, handle hardships, and more.
Learn more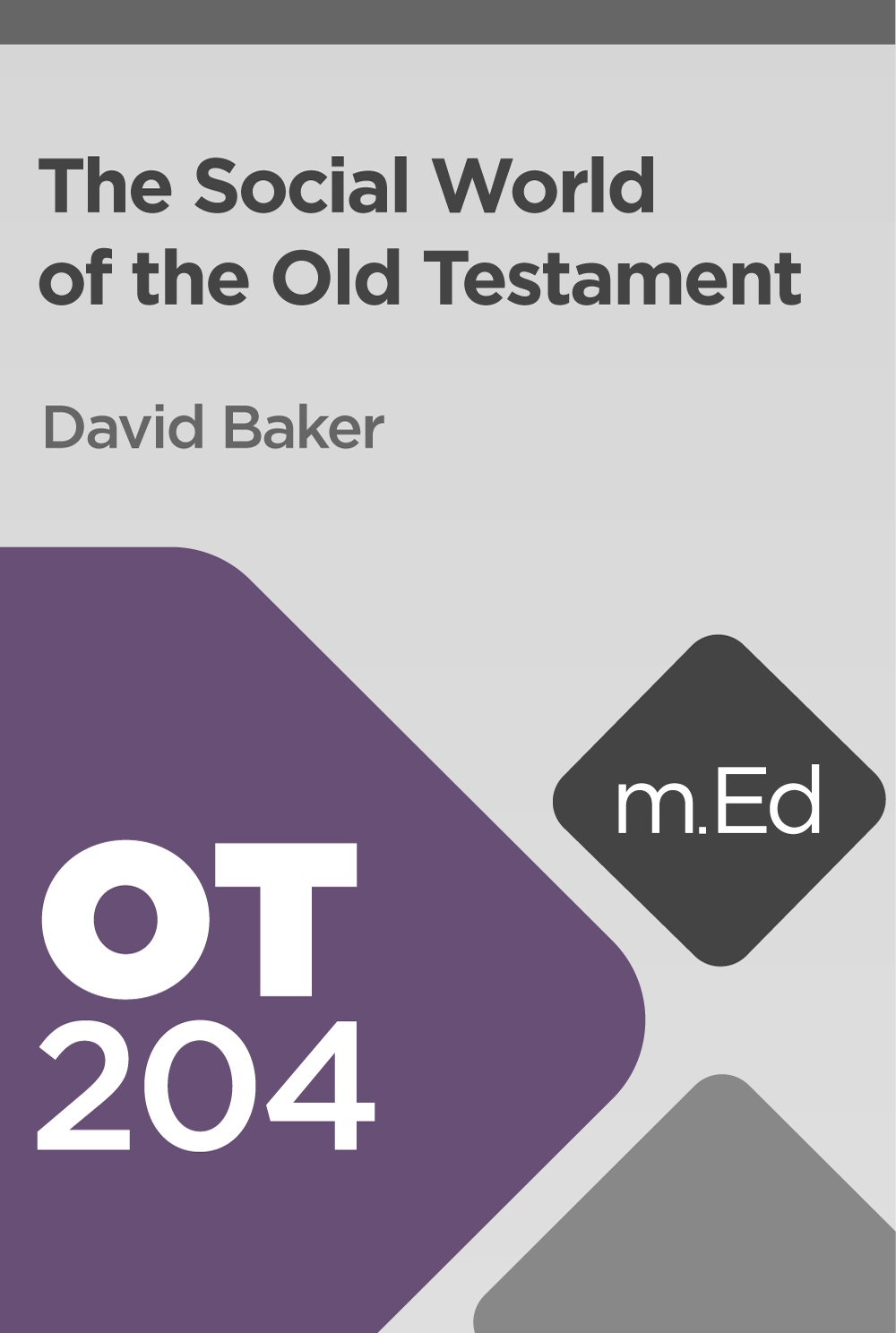 In an age of international travel and migration, we're familiar with people who look, sound, eat, and believe differently than we do. To become friends, it's helpful to understand where they come from and how they do things differently, or the same, as we do. In the same way it is necessary to understand someone who comes from a different place than we do, how much more necessary is it to understand someone who is from not only a different geographical place but also a different time than we are? The Old Testament starts at the beginning of the world. This course will undertake the task of crossing the bridges of geography, climate, time, and a landscape unknown to us: ancient Israel. Throughout the course, David W. Baker will address aspects of life from our own culture and time, as well as family structure and societal systems from ancient Israelite life. As we Learn more about the social world of the Old Testament, we will be struck not only by our differences but also by our common humanity and that we share the same dreams, hopes, and fears as they did.
Learn more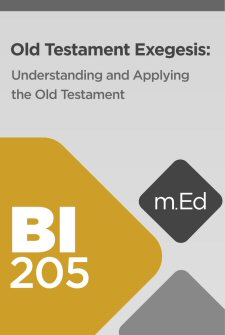 Embark on a journey of OT Hebrew exegesis with Jason DeRouchie. The books of the OT were the only Scriptures Jesus had. It was books like Genesis, Deuteronomy, Isaiah, and Psalms that shaped Jesus' upbringing and that guided his life in ministry as the Jewish Messiah. It was these Scriptures that Jesus identified as God's Word and he considered to be authoritative; it was these Scriptures he believed called people to know and believe in God and guarded them against doctrinal error and hell. This course will give you the tools you need to access meaning in the OT, then apply it to your life. It will help you to grow in reading God's living Word for depth and not just distance.
Learn more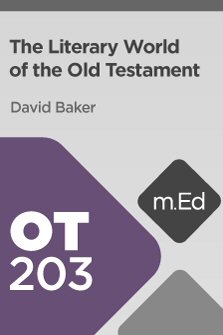 Join David W. Baker on a whirlwind tour to explore the Old Testament from many different angles and how it relates to ancient Near Eastern literature. From creation accounts and stories of destruction to Wisdom Literature, discover different biblical literary genres that have parallels in ancient Near Eastern literature. Explore extrabiblical historical texts that mention key events and figures from the Old Testament. Understand how Israel fits into and is impacted by its ancient Near Eastern environment but also how it is separate and unique, mainly on a theological level but also by its distinct worldview.
Learn more