Best Resources on Lamentations
Lamentations is set just after Jerusalem's destruction by the Babylonians in 586 BC. The book is composed of five poems that mourn the catastrophe. In Lamentations, the poet grieves, yet still has faith—crying out to God for mercy.

Although the Hebrew text of Lamentations is anonymous, tradition attributes the book to the prophet Jeremiah. Second Chronicles records that Jeremiah composed a lament for King Josiah, which indicates that he was familiar with this literary form (2 Chr 35:25).

The author of Lamentations appears to have been a witness to the Babylonians' siege of Jerusalem (see 2 Kgs 25; Jer 52). The eyewitness account emphasizes the book's message with vivid images of the temple's destruction and the suffering of God's people. The author makes clear that although the Babylonians are the cause of the suffering depicted in the book, Yahweh has allowed this to happen because His people have abandoned His ways. Although Yahweh had long held back the negative consequences of forsaking His covenant (His contract), the people refused to change their ways and chose to live outside of relationship with Him (compare Exod 24:1–8).
—Faithlife Study Bible, Lexham Press
Everything You Need to Study & Teach Lamentations
Expository Preaching Kits are curated resources all focused on helping you teach a single book of the Bible—keeping you prepared without weighing you down.
Best Commentaries on Lamentations
Paul R. House, Word Biblical Commentary (WBC), Thomas Nelson, 2004, 496 pp.
Join Paul House as he examines one of the Bible's most unusual and compelling books. He examines the textual history, historical context, literary structure, and authorship, of Lamentations, providing extensive notes and bibliographic references.
Level: Advanced
Type: Technical
R. K. Harrison, Tyndale Old Testament Commentaries (TOTC), InterVarsity Press, 2008, 192 pp.
With the ancient Near East in a state of ferment and the nation of Judah experiencing a succession of political crises, God stationed a man on the scene to speak the divine word. Jeremiah was called by God to the unhappy task of telling an unheeding nation it was going to be judged and destroyed. Often he seemed to despair, yet he continued to utter God's truth fearlessly, leaving as part of his spiritual legacy a demonstration of a man's ability to make religious life an essentially personal relationship with God. The structural analysis of this commentary, along with the historical and cultural background it provides, opens up to modern readers one of the Old Testament's most fascinating books.
Level: Basic
Type: Devotional
F. B. Huey Jr., New American Commentary (NAC), B&H, 1993, 448 pp.
In this commentary on Jeremiah–Lamentations, Dr. Huey writes with the mind of a scholar who has spent many years studying and teaching these books. But he also writes with the heart of a pastor committed to nurturing the Church with the biblical message of a holy but compassionate God determined to transform vessels broken and defiled by sin into obedient servants restored and purified by his power and grace.
Level: Intermediate
Type: Expository
J. Andrew Dearman, NIV Application Commentary (NIVAC), Zondervan, 2002, 496 pp.
The books of Jeremiah and Lamentations can't be separated from the political conditions of ancient Judah. Beginning with the righteous king Josiah, who ushered in a time of glorious but brief religious reform, Jeremiah reflects the close tie between spiritual and political prosperity and disaster, between the actions and heart of Judah and her kings and their fortunes as a nation.
Level: Intermediate
Type: Devotional
Delbert R. Hillers, Anchor Yale Bible (AYB), Yale University Press, 2008, 175 pp.
The book of Lamentations has been taken up through history both as poetry and as an expression of boundless grief. It has become part of the Jewish and Christian liturgies, as well as a source of comfort far beyond the time in which it was written. This commentary fills in the book's literary and historical background, and we emerge with a fresh respect for the artistry with which it was composed. The poetry itself demands this respect, with a translation here that carries the emotion and heartbreak of the original Hebrew.
Level: Advanced
Type: Technical
Best Books on Lamentations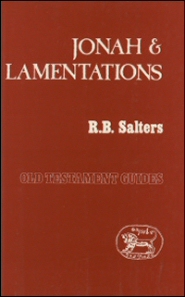 The book of Jonah stands firmly in the Old Testament tradition, but the genre and aim of its author are not easy to discern. Salters stresses the authenticity of Jonah's message to the Ninevites, along with their need for repentance and Yahweh's mercy. The purpose of the book must lie in a combination of these themes. Lamentations is a neglected book, perhaps because it has been associated with the book of Jeremiah and considered almost as an appendix. On the question of genre, it has the closest affinities with the Psalms of lament. However, whereas Psalms of lament are usually generic and tend to distance themselves from historical events, the five chapters of Lamentations have been written firmly within the context of the fall of Jerusalem. While gloom abounds, the faith of the author of Lamentations shines through. He is a practical monotheist, says Salters, who interprets the catastrophe of the fall of Jerusalem in the light of his faith.
Learn more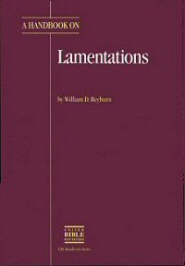 This challenge to understand the heart of the original Scriptures to put the original text into a new language was the impetus for the United Bible Societies to create handbooks for Bible translators working on this very thing. The United Bible Societies' Handbook Series is a comprehensive verse-by-verse guide to understanding exactly what is being communicated by the author in the original Scriptures.
Learn more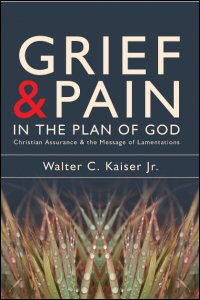 How are we to understand suffering and its place in our lives? Should we try and rationalize it away to come up with a solution that sits as comfortably as possible? Surely we should look to Scripture first? This is what Walter Kaiser does here. Looking at the Old Testament book of Lamentations, Kaiser does not offer any easy solutions—rather, he shows us how a sovereign and loving God can work through even the most painful moments.
Learn more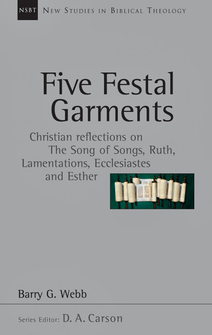 These five Old Testament books, traditionally known simply as "the Scrolls," are among the most neglected parts of the Christian Bible. In Judaism, the Song of Songs, Ruth, Lamentations, Ecclesiastes, and Esther were eventually adopted as lectionary readings for five of the major festivals. In Christian tradition, however, no consensus has emerged about their proper use. Each book presents particular difficulties regarding how it relates to the rest of Scripture and how it should be understood as the Word of God for us today.
Learn more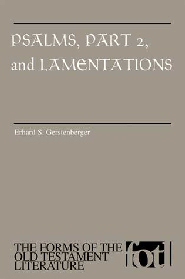 This volume completes Erhard Gerstenberger's widely praised discussion of the psalms literature and includes, as well, an admirable study of the book of Lamentations. Gerstenberger interprets the different kinds of songs and prayers that comprise the book of Psalms in light of their socio-historical settings and provides a concise formal and structural analysis of each biblical text based on an illuminating comparison with other ancient Near Eastern prayers and hymns. Seeing the biblical writings in relation to the social, cultic, religious, and theological conceptions of Israel's neighboring peoples allows contemporary readers to better grasp the purpose and spiritual meaning of Psalms and Lamentations to the Jewish community that composed them.
Learn more
Best Courses on Lamentations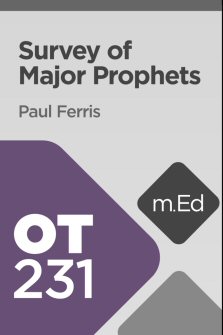 The prophets of the Old Testament conveyed the words of God to ancient Israel, promised the advent of Jesus the Messiah, and are still relevant to our modern setting. Paul Ferris educates viewers on the office of prophet, provides detailed character studies of prophets like Isaiah and Jeremiah, and outlines his methodology for teaching powerful lessons drawn from their lives and teaching. This course allows modern students and teachers of the Bible to identify themes in the ministries of Old Testament prophets and to relate them to their church, their classroom, and in a devotional sense.
Learn more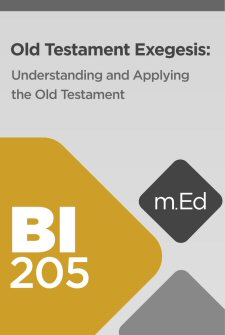 Embark on a journey of OT Hebrew exegesis with Jason DeRouchie. The books of the OT were the only Scriptures Jesus had. It was books like Genesis, Deuteronomy, Isaiah, and Psalms that shaped Jesus' upbringing and guided his life in ministry as the Jewish Messiah. It was these Scriptures Jesus identified as God's Word and that he considered to be authoritative; it was these Scriptures he believed called people to know and believe in God and guarded them against doctrinal error and hell. This course will give you the tools you need to access meaning in the OT, then apply it to your life. It will help you to grow in reading God's living Word for depth and not just distance.
Learn more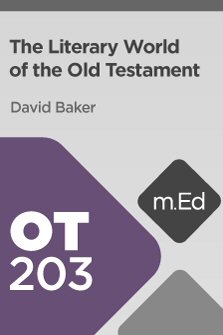 Join David W. Baker on a whirlwind tour to explore the Old Testament from many different angles and how it relates to ancient Near Eastern literature. From creation accounts and stories of destruction to Wisdom Literature, discover different biblical literary genres that have parallels in ancient Near Eastern literature. Explore extrabiblical historical texts that mention key events and figures from the Old Testament. Understand how Israel fits into and is impacted by its ancient Near Eastern environment but also how it is separate and unique, mainly on a theological level, but also by its distinct worldview.
Learn more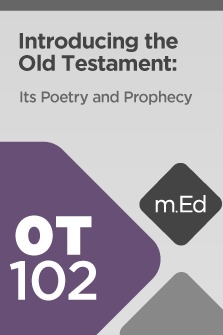 This course provides a practical foundation for reading the poetry and prophecy of the Old Testament. Dr. David Baker begins by discussing poetic writing in general, then the elements specific to both Hebrew and English poetry. Applying these elements to the text, he examines the content, structure, and themes of the Psalms, Proverbs, Lamentations, Job, Ecclesiastes, and the Song of Songs. Dr. Baker then turns to the Prophetic Books, providing historical background, theological motifs, and the structure and content of specific books. He shows that these ancient messages remain relevant in modern life.
Learn more