Scripture. Reason. Tradition.
Study scripture within your tradition like never before with a vast, interconnected library of Anglican resources. Logos Anglican is your hub for news, updates, and new resources pertaining to your faith.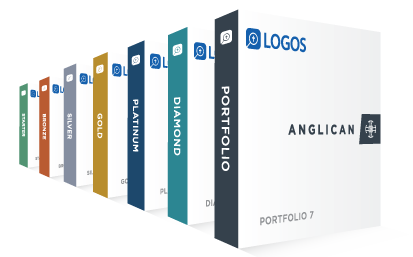 Logos 7 Anglican
Take your study to the next level with a handpicked library of Anglican resources, and powerful tools, like Factbook, Cultural Concepts, and Ancient Literature.
Recommend for me
Compare & buy
Don't miss out—get the latest news and updates from Logos!
---
"A rich resource of material, offering a wide range of theological perspectives and material for both study and discipleship."
"The Logos Anglican program is one of the best tools for personal spirituality and ministry that I have come across."
"I heartily commend these packages for all Anglicans who want a deeper, more integrated study of Scripture and tradition."
"I am thrilled to learn that Logos is releasing even more packages from this tradition that I love and call home."
"What a tremendous way to get in touch with our Anglican heritage as well as more recent Anglican scholarship."
"The plethora of resources in the Anglican base packages, makes researching topics for classroom contexts especially helpful."
"[Logos is] packed with amazing and helpful tools for Bible study and exploring the resources of the Anglican tradition."
---