Topic of the Month
Eschatology
Eschatology Isn't the End of the World
Though apocalyptic movies often enact dark and dismal doomsday scenarios of how the world might come to an end, studying eschatology provides a biblical understanding of "the end of the world"—and reveals it's not the end but rather the beginning (Rev 21:1).
What is eschatology?
The study of last things is called eschatology (from eschatos, meaning "last"). Eschatology attempts to answer questions like:
What is the rapture, and is it biblical?
Is there a literal seven-year tribulation (Rev 6–8), or is New Testament tribulation language talking about something else? What does Satan have to do with it?
Who is the antichrist?
When will Christ return? What happens when he does?
When do the end times start? Or have they already begun?
What is the role of the Church in the last days?
Why study the end times?
Though debates can be fierce (and sometimes divisive) on how things will play out as history culminates with God's promised restoration of all things (Rev 21–22), there are practical reasons to study eschatology:
It's a significant part of the Bible's narrative
It helps us combat unbiblical teaching about the end times, such as date-setting (2 Tim 4:3–4)
It impacts how we interpret and teach the rest of the Bible (2 Tim 2:15)
It helps us serve with passion and purpose (2 Tim 4:7–8)
It purifies and transforms our life in the present (1 John 3:2–3)
Eschatology is one of the most exciting acts in God's grand narrative. It's focused on Jesus, God's call to the Church, and how God will renew all things—including the earth and our own physical bodies. And it begins with what followers of Jesus are waiting for, what Paul called "our blessed hope, the appearing of the glory of our great God and Savior Jesus Christ" (Titus 2:13).
How Logos can help you study eschatology
It's impossible to know for sure how the restoration of all things will come to pass. But the book of Revelation tells us there is a special blessing for those who study it.
Here are some ways you can use Logos Bible Software to learn more about eschatology:
Collect and display key information related to the end times all in one place with the Theology Guide based on the Lexham Survey of Theology.
Explore end-times topics with library filters that make it easy to organize resources and pinpoint exactly what you are looking for.
Find key biblical references about the end times with customizable search templates.
Track what you learn with a built-in notes app designed for Bible study.
Featured
---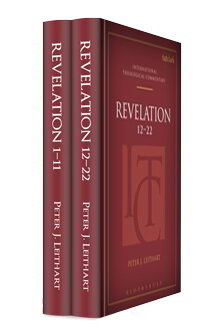 Revelation, 2 vols. (International Theological Commentary | ITC)
The Book of Revelation is the last book in the canon of the New Testament, and its only apocalyptic document, though there are short apocalyptic passages in various places in the gospels and the epistles. These two volumes on Revelation offer systematic and thorough interpretation of the book of Revelation. Revelation brings together the worlds of heaven, earth and hell in a final confrontation between the forces of good and evil. Its characters and images are both real and symbolic, spiritual and material, and it is frequently difficult to know the difference between them. Revelation's cryptic nature has ensured that it would always be a source of controversy. This commentary focuses on the theological content, gleaning the best from both the classical and modern commentary traditions and showing the doctrinal development of Scriptural truths. Scholarship on the book of Revelation has nonetheless not only endured, but even captured the imagination of generations of Bible...
$99.99
Save 49%
Your Price: $50.00