Day One Pastoral Ministry Collection (3 vols.)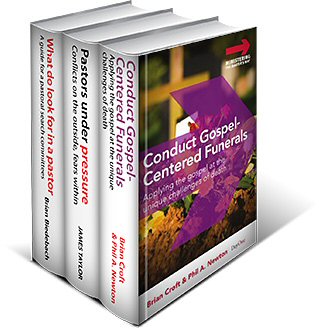 Overview
Day One Pastoral Ministry Collection (3 vols.) addresses common challenges and pitfalls pastors face in their congregation, whether it be officiating a funeral, or facing criticism from their congregation. Combining their deep love of the Word and commitment to biblical ministry, the authors in this collection offer a rich source of help and encouragement that will enthuse and benefit you in your ministry. This collection is highly beneficial for those pastors, leaders, and church members who want a deeper understanding about the role of a pastor and desire the right balance between preaching and other pastoral duties.
Logos Bible Software dramatically improves the value of any resource by enabling you to find what you are looking for instantly and with unbelievable precision. As you are reading the Day One Pastoral Ministry Collection (3 vols.), you can easily search and access topics or Scripture references you come across, for example, "death" or "discipleship."
Key Features
Refreshing insight for leading today's congregations
Includes appendixes to aid you in your ministry
All Scripture references link directly to the Bibles in your library
Individual Titles

Our calling as ministers of the gospel of Jesus Christ is to make Christ central in all we do. Yet, in many funeral occasions, the gospel of Jesus Christ is lamentably overlooked as the primary purpose of the funeral service and that upon which all true hope depends. The aim of this book is not just to inform you of all the different kinds of important logistics, challenges, and practicalities that often accompany any funeral, but so that you will know how to apply the power of the gospel in the midst of those unique challenges.
The brevity of this book betrays its value. Conduct Gospel-Centered Funerals is a superb treatment of this crucial aspect of pastoral ministry. It is both theologically faithful and practically useful. I will refer to it often when called upon to point others to the victory we have in Christ during the times of sorrow and grief that always accompany death.
—Daniel L. Akin, President, Southeastern Baptist Theological Seminary
How I wish that I had this book ten years ago! Filled with biblical and wise pastoral wisdom, this book will help the person just starting to take funerals as well as give fresh thoughts to those who have taken many. Brian Croft and Phil Newton have written a pastoral gem.
—Paul Rees, Senior Pastor, Charlotte Chapel, Edinburgh, Scotland
Brian Croft is senior pastor of Auburndale Baptist Church in Louisville, Kentucky. He is the author of several books about pastoral ministry. Through his blog, Practical Shepherding, he seeks to equip pastors and leaders to faithfully shepherd God's people.
Phil Newton is Senior Pastor of South Woods Baptist Church in Memphis, TN, a church he planted in 1987. He is the author of Elders in Congregational Life and contributor to other books and journals. He came to faith in Christ as a teenager while living in Russellville, Alabama. Called to gospel ministry a year later, he received his education at Mobile College (now the University of Mobile), B. A., New Orleans Baptist Theological Seminary, M. Div., and Fuller Theological Seminary, D. Min. He is presently a Ph. D. student at the Southeastern Baptist Theological Seminary in Wake Forest, North Carolina, where he is studying applied theology in missiology. After pastoring three churches in Alabama and Mississippi, he planted South Woods Baptist Church in Memphis, Tennessee in 1987 and continues to serve as senior pastor. He regularly engages in training young men for Christian ministry and leading international mission trips.

This book is a practical, Christ-centred guide for the modern Pastor. It addresses many problems such as criticism, discouragement, loneliness, dryness, failure and temptation. This new edition includes new chapters on retirement and being a Minister's wife.
I can recommend this book as a very helpful guide to Pastors feeling the pressure.
—The Covenanter Witness
James Taylor served in the pastorate between 1956 and 1995 as a Baptist Minister in Scotland. He was the President of the Baptist Union of Scotland, 1971–72.

Finding the right pastor is critical in the life of a church. But most churches rely on the inexperienced and sometimes blinded pulpit committees, which often gamble with the selection of their candidates because they usually don't have a clear understanding of biblical guidelines for choosing a pastor.
So how does a church find the right man for its pulpit? This book is designed to assist pastoral search committees by discussing the issues that surround six fundamental questions: Can the man preach effectively? What else should he do as pastor? Is he qualified? Is he theologically sound? Does his practical theology match his written theology? And how can a church find this man? Search committee members, church leaders, pastors who desire to keep the right balance between preaching and other shepherding responsibilities, and all who want to learn more about the role of a pastor will be helped by the clarity Brian Biedebach brings to this subject.
Perhaps no process in all of church life is more fraught with pitfalls and hazards than the task of choosing a new pastor. Pastoral search committees often consist of marginally-equipped lay people who are utterly inexperienced when it comes to examining a pastor and evaluating his giftedness. In many cases, members of search committees themselves could not pass the most elementary doctrinal exam, and they are often totally clueless about how to choose a pastor to lead and feed the flock. What to Look for in a Pastor is filled with sound advice and solid help for churches seeking pastors. Brian Biedebach's book fills a void that has needed to be addressed for a very long time.
—Phil Johnson, Grace to You
Brian has written a resource that will be helpful for churches for years to come.
—John MacArthur, Pastor-Teacher, Grace Community Church, Sun Valley, California
Brian Biedebach is a graduate of Taylor University in Upland, IN (B.A., Biblical Literature) and of The Master's Seminary in Los Angeles, CA (M.Div., D.Min.). For several years, Brian worked for an international para-church organization. While serving in Africa, the weak condition of the local church gave Brian a burden for church planting and church strengthening. Since 1999, Brian has been a full-time pastor and he is currently teaching at African Bible College as well as helping to establish an international church in Lilongwe, Malawi.
Product Details
Title: Day One Pastoral Ministry Collection (3 vols.)
Publisher: Day One
Volumes: 3
Pages: 480