The Life and Works of Arminius (4 vols.)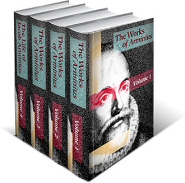 Overview
The Father of the Arminian-Wesleyan tradition, Jacob Arminius' entry into the predestination debate and his strong opposition to Calvinism continues to be consequential and controversial. Breaking with Calvinism, Arminius preached and taught that God's election was an election of believers and therefore was conditioned on faith. God gave humans free will, he argued, and the choice to accept or reject salvation. Although much of his writings were published posthumously, they sparked passionate debate, and their influence can be found in contemporary theology today.
The Works of Arminius (4 vols.) contains Jacob Arminius' major works, including his dissertation on Romans 7 and analyses of Romans 9, as well as speeches, lectures, personal correspondence, essays, as well as an in-depth biography. Students of Arminius and Calvin alike will benefit for the Logos Bible Software edition of The Works of Arminius (4 vols.).
With the Logos Bible Software edition all Scripture passages in The Works of Arminius (4 vols.) are tagged and appear on mouse-over. This makes these resources more powerful and easier to access than ever before for scholarly work or personal Bible study. With the advanced search features of Logos Bible Software, you can perform powerful searches by topic or Scripture reference—finding, for example, every mention of "grace," or "predestination."
Key Features
Detailed table of contents for each volume
Includes all of Arminius' major works
Includes The Life of Jacob Arminius by John Guthrie
Praise for the Print Edition
So many vague, inadequate, and contradictory descriptions of what purports to be Arminianism have been set forth within the last hundred years, and so many misrepresentations have been repeatedly and persistently promulgated concerning it by hostile writers, that it has been largely doubted, on the one hand, whether there were any such distinct system at all, and on the other, whether that which is called by that name does not differ far more from the notions of Arminius, than did his from those of Calvin and Beza. To clear up these doubts, to ascertain his views, and to trace their influence in the subsequent history of theological opinions, we must have recourse to the writings of Arminius himself.
—The Christian Examiner
Product Details
Title: The Works of Arminius (4 vols.)
Author: Jacob Arminius
Translators: James Nichols and W. R. Bagnall
Publisher: Derby, Orton and Mulligan, 1853
Volumes: 4
Pages: 2,102
About Jacob Arminius
Jacob Arminius was born in Oudewater, Holland in 1560. Arminius studied theology at the University of Leiden for five years, and then spent a year studying under Theodore Beza. Arminius was ordained at the age of 28 when he felt a distinct calling towards pastoral ministry. He became a popular preacher in Amsterdam where he also met and married his wife. Thirteen years later, he returned to teach at the University of Leiden, and there his classes and writings began to strongly challenge Calvinism. He died October 19, 1609, but his influence started an entire movement, Arminianism, and influenced many important theologians, including John Wesley.
More details about these resources