Christian Focus Preaching and Worship Collection (12 vols.)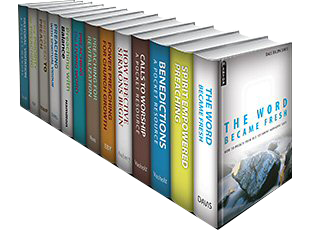 Christian Focus Preaching and Worship Collection (12 vols.)
•
Runs on Windows, Mac and mobile.
Overview
Whether you are just beginning your pastoral ministry or have been preaching for thirty years, you will find the Christian Focus Preaching and Worship Collection to be a fantastic set of resources. This twelve-volume treasury is geared towards all who preach and teach the Word, and it addresses some of the most common—as well as some of the most difficult—preaching challenges that can arise during a pastorate. Brimming with helpful insight to many aspects of sermon preparation, this indispensable Christian Focus collection will guide you as you seek to continually provide your congregation with challenging truth from the Scriptures.
Everything you need to begin your ministry or refresh and renew your passion for biblical preaching is contained within these twelve volumes! And, with Logos, these volumes more accessible than ever, with lightning-speed searching, instantly-viewable Scripture references, and much more.
Key Features
Guides to effective, Spirit-led sermon preparation
Techniques for preaching that promotes church growth and vitality
Dozens of calls to worship and benedictions, appropriate for many occasions
Product Details
Title: Christian Focus Preaching and Worship Collection
Publisher: Christian Focus
Volumes: 12
Pages: 2,696

"I am a bit puzzled over why many Christians seem to think the Old Testament is such a 'problem.' I know the usual answers to that, but I can find many of the same 'difficulties' with the New Testament. What I am not so puzzled about is why some pastors and teachers are perplexed about expounding Old Testament texts. For nearly two hundred years a skeptical brand of Old Testament criticism has largely held sway in our universities and divinity halls; it 'un-godded' the Old Testament, implied the Old Testament documents were extremely complex and involved, and managed to make Old Testament studies mostly boring, lifeless, and dull. Of course the occasional student finds this high priestly craft of Old Testament criticism attractive but many simply write the Old Testament off. If it's as complicated as they have been taught then it is far too bewildering and esoteric for them to bother about - except for dipping into the Psalms for occasional funerals.
I'm not on a crusade against the villains of Old Testament studies. One learns even from the 'villains.' And there have been far more hopeful signs in Old Testament studies in recent years. But I still believe that traditional Old Testament criticism has had the effect of killing the Old Testament for the church. This little tome can hardly reverse that, but it is meant as an exercise in reading the Old Testament for fun and profit. As my mother-in-law used to say, 'It's different anyway.' And maybe it will help.
Most of what I do in the following pages involves discussing examples of Old Testament narratives. I have tried to select examples from a broad range of possibilities. By the way, I assume that you have the biblical text handy in order to carry on your 'Berean' work."—Dale Ralph Davis, from the preface
Dale Ralph Davis has written a wonderfully straightforward, readable book entitled, The Word Became Fresh: How to Preach from Old Testament Narrative Texts. Davis, like Goldsworthy, laments how complicated we have sometimes made biblical interpretation and instead outlines a basic approach to careful, sensible reading which opens up the theology of Old Testament narratives. This is one of those books that makes you want to preach after reading it!
—Preaching.com Bible and Bible Survey Review 2007
I think Davis succeeds admirably in his goal. I found myself stirred up reading the book. He writes well and shows how, even though there are difficult and confusing parts of Scripture, it is not that difficult to find key truths. This is a very encouraging and helpful book.
—Ray Van Neste, Director, R. C. Ryan Center for Biblical Studies, Union University, Jackson, Tennessee
With many examples, and interesting illustrations, Davis teaches us how to grapple honestly with what sometimes can be intimidating, difficult and uncomfortable portions of Scripture...This book is not only suitable for preachers and teachers, but can be read with great profit by all Christians who want to get more of a handle on Old Testament narrative.
—Evangelical Times
Davis maintains that avoidance of difficult texts 'gets us and nowhere and impoverishes the church.' His excellent chapter on appropriation/application includes the damming sentence: "I hold a reader who does not appropriate and/or a teacher who will not apply Scripture is practicing abortion on the Bible." You may or may not want to imitate Davis Style but if you read this book you will want to lift his structures and insights straight off the page. And that is no bad thing for the church.
—Ann Benton, author and wife of John Benton, Evangelicals Now
There is no more gifted expositor of the Old Testament in our day than Ralph Davis. His book not only brings scholarly research to bear on the subject, but also reflects his many years of preaching week after week through the Old Testament. What a gift to the church to have such a fine book.
—Richard Pratt, President, Third Millennium Ministries, Orlando, Florida
Dale Ralph Davis lives in rural Tennessee with his wife. Prior to that he was pastor of Woodland Presbyterian Church, Hattiesburg, Mississippi and Professor of Old Testament at Reformed Theological Seminary, Jackson, Mississippi.

One of the great dangers that faces today's preachers is the problem of an over intellectual approach. Careful, meditative and painstaking exegesis brings a potential liability, that of losing the vitality, which must accompany exposition.
The Puritans called it 'that certain unction;' Martyn Lloyd-Jones called it 'an access of power;' others have called it 'the anointing.' If you desire that your preaching be lifted up to a position in which you are being used by the Spirit as a channel, then Arturo Azurdia can help you.
The insights in this book are gained from Art's careful study and practical experiences of being used by the Holy Spirit in his ministry. Art seeks a balance between the Holy Spirit and the Word. He proceeds to show the need for the unction and describes the work of the Holy Spirit in preaching, and impresses upon his readers the benefits of being Spirit-filled ministers. His main points are supported by the New Testament and by those people considered to be great evangelical preachers of the past. He shows that the empowering of the Holy Spirit is a sovereign work of God, and that the minister of the Word should be a person of constant prayer. His last chapter, "Pray me full" affirms this and is helpful to all ministers.
When you finish reading this book not only will you have a better idea of the role of the Spirit in preaching, but you will also know better how to preach in dependence on the Holy Spirit. Everyone who is preaching, or preparing to preach, needs to read this book.
—Joseph A. Pipa, Jr., President, Greenville Presbyterian Theological Seminary, Greenville, South Carolina
You will be delighted by this book. . . . If your praying for the Spirit's power has become formal or thoughtless then this book can change both you and your ministry—by the Spirit's power.
—Edmund P. Clowney
Arturo Azurdia believes that much modern preaching is powerless. Sadly, he is right. . . . in a searching and warm-hearted analysis, he shows how the situation should and can be remedied.
—John Blanchard
Arturo G. Azurdia III is Associate Professor of Pastoral Theology/Director of Pastoral Mentoring at Western Seminary, Portland, Oregon. He was the founding minister of Christ Community Church in Fairfield, California, where he subsequently pastored for nineteen years. He is married to Lori and they have 2 children.

Benedictions, invocations to depart with God's blessings, are a feature of the church—every liturgical structure ends with them. They were a feature of the synagogue in Christ's time—indeed Christ himself uses them when he dismisses his disciples on a new task. The word benediction derives from two Latin words that mean "to speak well of."
Benedictions are pronounced by ministers at the close of worship services as an expression of hope and encouragement to God's people to face whatever their future might hold. This makes them a Biblical norm for the end of worship—something we should consider doing each time we leave God's presence and go out into the world. If you are involved with leading worship in the church or in the home your next question will be 'Where do I go to find them?' Fortunately, Robert Vasholz has done the legwork for you. He has collected in this one book the benedictions found in scripture along with some additional scripture enriched blessings for use during worship. Use them to help Christians have a greater effect on the world.
Robert I. Vasholz is Professor Emeritus of Old Testament at Covenant Theological Seminary in St Louis, Missouri. Though Dr. Valshoz retired in 2007, he continues to serve God's people through his teaching, preaching and publishing projects.

In the common practice of Christian churches, across many traditions, a call to worship is typically a few lines of Scripture (or a combination of Scripture texts) expressed at the beginning of a church service. The call to worship exhorts God's people to turn from worldly distractions and to focus hearts, minds and actions on revering him.
If you are involved with leading worship in the church or in the home your next question will be 'Where do I go to find them?' Fortunately, Robert Vasholz has done the legwork for you in this book.
The first section is designed to address specific events common to the Church such as Christmas or Easter. The second section pertains to calls to worship that ask for an audible response from God's people. The third part offers a number of calls to worship from the minister alone. It is my honest desire that this will serve as a proper and dignified way to enhance public corporate worship and to invite God's people to be attentive to the service that follows.
. . . .very simply a collection of 'calls to worship' designed to encourage the congregation to turn to God and focus on him. There are different ideas for different events, from Easter to Baptism services, some uttered just by the pastor and those which require a response from the congregation.
—Christian Marketplace
In the call to worship God calls us to give him praise, but the command is not onerous. It is an invitation to respond to God's revelation of himself and his grace. In offering this invitation God is both host and honoree, and God's people are both invited and compelled by his mercy to give him glory. God gives us the privilege of welcome into his presence that we might reciprocate with the gift of worship. Right perception of this gift exchange encourages the worship leader to speak the call to worship with the warmth of heart and openness of gesture that such an occasion of mutual blessing deserves.
—Bryan Chapell, distinguished professor of preaching, Knox Theological Seminary

Ben Awbrey focuses on the most neglected parts of the sermon—where it all begins! Gain help in the following stages of your sermon:
Must hear Preaching
Introducing the sermon
Getting Attention
Securing Interest
Stating the purpose
Setting the context
The Sermon Proposition
This volume on preaching is suitable for all levels of experience!
The three 'undervalued' components of expository sermon preparation include introductions, illustrations and conclusions... In all of my considerable reading over a lifetime on biblical exposition, this excellent volume on 'introductions' by Dr. Ben Awbrey proves to be the most thorough and complete that I have ever encountered.
—Richard Mayhue, Senior Vice-President, The Master's Seminary, Sun Valley, California
. . . .there is no shortage of strategists and innovators in the evangelical community who think that they have better ways for reaching the culture than by preaching God's Word. Ben Awbrey knows better than that... I have long appreciated his desire to help other preachers make the most of their gifts and calling. His insights have proved invaluable to hundreds of pastors and young preachers.
—John MacArthur, Pastor, Grace Community Church, Sun Valley, California
Dr. Ben Awbrey is Assistant Professor of Preaching at Midwestern Baptist Theological Seminary, Kansas City, Missouri. He has been a pastor in Oklahoma and Louisiana and studied at New Orleans Baptist Theological Seminary, Southwestern Baptist Theological Seminary, Talbot Theological Seminary, and Central State University.

Power Preaching for Church Growth
Author: David Eby
Publisher: Christian Focus
Publication Date: 2009
Pages: 256
Do pastors and church leaders today really need a wake-up call to return to the apostolic priorities of preaching and prayer as the primary means to accomplish church growth? In an age in which the church has become infatuated with pragmatism, success models, sociological methodologies, management techniques and marketing, the answer is a resounding "Yes." The goal of this book is to exhort and encourage pastors and church leaders to escape the full court press of expediency and to restart as offense of biblical priorities and methods. The church will not impact society until she regains her love for preaching and a no-compromise commitment to sound, biblical exposition.
The value of this is that it not only shows us where the problems are but gives us a healthy reminder of the essentiality of prayer and preaching.
Dave Eby has put his finger on something very crucial, namely the absence of any emphasis on preaching in the Church Growth Movement...its focus on the book of Acts is compelling.
—John Piper, Senior Pastor, Bethlehem Baptist Church, Minneapolis, Minnesota
It offers no 'quick fix' for the church in our day, but it does call us back to be preachers of the word, dependent upon God. The author states: "I want to motivate pastors to return to the glorious task of prayer-bathed proclamation as the primary means of church growth". Such a clarion call is desperately needed as the church approaches a new millennium of evangelism.
—Iain D. Campbell, Minister, Point Free Church of Scotland, Isle of Lewis
David Eby has pastored independent and Presbyterian churches in the US for 34 years. He and his wife of 40 years are now missionaries in Uganda. David teaches at Westminster Theological College and is the Dean of Westminster Theological Seminary in Kampala, which he helped to establish in 2007. He has studied hundreds of volumes of literature of the church growth movement, is committed to training East African pastors in biblical church growth to lead healthy, God-centered, grace-saturated, Christ-exalting churches through gospel-driven preaching.

In recent years a new buzzword has appeared on the church scene: Revitalization. Unlike marketing buzzwords this concept carries with it real substance and stands to make a lasting impact on the church. This idea, used specifically about the local congregation, carries with it the hope of renewed vigor; redirected purpose; restoration of healthy growth and the refreshments of the Holy Spirit over the entire life of the church.
It is Mike Ross's premise that churches in need of revitalization need revitalized pulpits. The challenge is for Pastors to lead the revitalization of declining congregations through the primacy of the pulpit. Why?—because Church revitalization can never be maintained unless it is the product of a Biblical pulpit.
Mike perceptively examines historic and contemporary preaching and assesses which changes are necessary for church revitalization. He then proposes practical steps that can be taken to 'rebirth' the local church through revitalized preaching.
He takes us into the heart experiences of those who hear the revitalizing Word, and humbly describes the congregation of trinity Church 'Often people weep during the sermons. Some have lingered long after the services in a spirit of prayer. And still others have been moved to confession of sin and to seek counseling for help in troubled areas of their lives' Others have left the church! Ten of the twenty chapters in this thoroughly commendable book refer to Christological, ecclesiastical, missiological, doctrinal, and ethical themes, with a strong appeal for preaching with deliberate balance. But the first step in revitalization is said to be a discovery of Christ and what he has done. Then the flame of love for him which burns in the heart of the preacher will ignite the church with similar devotion. According to this book there is real hope for dying churches. This much needed news is worth reading.
—Timothy Alford, Stowmarket, Grace Magazine, January 2007
Not many books on church revitalization these days see preaching as crucial, at least not expository preaching. So it is both a relief and blessing to listen to wise, tested counsel from a minister of the Word who has put his method into practice. . . .
—Ligon Duncan, Senior Minister, First Presbyterian Church, Jackson, Mississippi
. . . .both readable and extremely helpful. Michael wonderfully affirms Biblical preaching and does not allow cultural fads to diminish our confidence in God's promise to save men and women through the "foolishness of preaching," he does point out the appropriate ways to connect to the culture without being conformed by it.
—Harry L. Reeder, Pastor of Preaching & Leadership, Briarwood Presbyterian Church, Birmingham, Alabama
A clarion call on the need for biblical preaching by a seasoned and effective preacher designed to encourage preachers to preach better, to God's glory and with a view to seeing the Holy Spirit pour forth blessing. I highly recommend it as vital reading for every preacher.
—Derek Thomas, Professor of Systematic and Practical Theology, Reformed Theological Seminary, Jackson, Mississippi
This excellent book argues that church revitalization can never take place and be maintained unless it is the product of vital expository preaching. As evangelicals, have we lost confidence in pulpits, preachers and preaching, reducing the proclamation of the living Word of God to mere explanation? The bottom line is that the revitalizing of the Church necessitates first a revitalization of preaching. We either heed the call or drift.
—Robin Sydserff, Minister, St Catherine's Argyle Church of Scotland, Edinburgh, Scotland
Mike Ross is senior pastor of Covenant Presbyterian Church in Charlotte, North Carolina.
Preaching the Living Word
Author: David Jackman
Publisher: Christian Focus
Publication Date: 2008
Pages: 224
A collection of advice on preaching, this volume discusses:
How to put preaching back to its position of centrality in the church
How to make preaching more effective
How to structure Bible exposition
How to preach from different parts of scripture
How to preach doctrine
This resource is a comprehensive overview of how to make preaching memorable and accurate, and it helps the congregation to understand God's Word in a biblically literate way.
This will be an extremely helpful book for all who preach and for seminaries/colleges. It is not a book about style but about how to extract the best from the Word of God when delivering a message. The speakers are all able preachers and share their ideas about how to make the Bible relevant to the hearers.
In (Preaching the Living Word) there is the teaching of Scripture and its timely application to the contemporary world and church.
—George McEwen, Covenanter Witness
David Jackman was the President of the Proclamation Trust & was the founder-Director of the Cornhill Training Course, London. Currently he teaches part-time on the Cornhill course as well as engaging a worldwide ministry for proclamation trust. Proclamation Trust's aim is to effectively communicate the gospel, especially through preaching. Previously he was the minister of Above Bar Church, Southampton.

Imagine that preaching is like a 'see-saw' or 'teeter-totter.' It is not much fun unless the people on both sides are roughly equal in weight. If not then one will suspended in the air, the other stuck on the ground both going nowhere!
Is this what you want of your congregation? Are they left high and dry or down in the dumps by their experience? Donald Hamilton doesn't want them to suffer this fate! Preaching with Balance is intended primarily for those who preach to the same congregation on a regular basis. This is the situation that most preachers find themselves in, yet most preaching books seem more intent on just providing a boost to the preacher without giving advice on how to maintain an improvement in preaching. Preaching with Balance comes complete with useful appendices on developing an annual preaching plan, planning topical and linear sermon sets and includes a useful sermon evaluation form.
The book is written from an evangelical standpoint and contains much of help to all who preach. It also presents many challenges with respect to our heart attitudes and motives.
—Evangelicals Now
My colleague at Columbia International University Seminary and School of Missions has produced for us an enormously practical work on all the critical issues of preaching in today's world. I commend Preaching with Balance without reservation. Someone has said that balance may be just another word for deadness, but that is certainly not true with this very helpful discussion of faithfully and fruitfully proclaiming God's Word. The topics covered are balance in theological and personal perspective, in preaching purpose, in homiletical variety, and in sermon content and delivery. Dr. Hamilton makes the point that most congregations would be pleased to hear better preaching, and most preachers would be pleased to be more effective in the pulpit. This text, carefully studied and applied, will greatly help to fulfill both desires.
—Larry Dixon, Professor of Systematic Theology and Church History, Columbia International University, South Carolina
For too long homileticians have camped out on the practical "how to" while blatantly neglecting foundational matters in preaching. Don Hamilton has brought a corrective to the work. Preaching with Balance truly is a balanced approach to preaching, addressing theology and philosophy as well as practical application. To top it off, Hamilton weds hermeneutical integrity, homiletical ingenuity and healthy sermon delivery into one volume—a much-needed feature in books on preaching. It's got it all! And all of us who preach will do a better job of handling God's Word rightly as a result of reading this book.
—Jim Shaddix, Teaching Pastor, Riverside Baptist Church, Denver, Colorado and Author of The Passion Driven Sermon
Preaching With Balance" covers all the bases for a preacher to maintain balance in the preaching task. The author is insightful and incisive when handling issues of balance. He cautions the preacher of the possibility of getting into a rut. This book is a plumb line for all preachers. It is an invaluable contribution to the preaching fraternity. A must for the preacher's shelf.
—Dr. George Sumadraji (Rajoo), Academic Dean, Durban Bible College, Durban, South Africa
...through Preaching with Balance, a firm hand reaches out to steady preachers both neophyte and veteran. Through seven wisely placed steps Dr. Donald Hamilton enables us to firmly plant our feet, steadily keep our balance, humbly move ahead—all while faithfully declaring, "Thus says the Lord!
—Paige Paterson, President, Southwestern Baptist Theological Seminary, Fort Worth, Texas
Donald Hamilton is Stephen F. Olford Professor of Preaching, Columbia International University, Columbia, South Carolina.

Preaching with Spiritual Vigour
Author: Murray A. Capill
Publisher: Christian Focus
Publication Date: 2003
Pages: 248
Two trends are to be avoided in preaching. On the one hand a subjectivism and entertainment orientation for the crutch of popularity; on the other, an intellectualism, a zimmer frame encouraging impressions of depth and thoughtfulness. We need guidance and help for our preaching that doesn't send us skittering down the road of the latest fad adapted from the world.
Richard Baxter is regarded as one of the Christian church's models of pastoral practice, many books have been written about his pastoral skills and methods to aid the modern pastor, but Baxter was also an effective preacher. It is one of the reasons why his ministry showed that spark of vitality that changed his surrounding community for the better.
Murray Capill set out to discover Baxter's secret. From a thorough study of Baxter's preaching ministry he has constructed a useful framework for us to follow. Not theoretical or historical in orientation, this volume seeks to inspire and assist pastors to greater preaching vitality.
Capill makes a timely challenge to those who say that all preachers need to do is rightly to analyze Scripture. Baxter saw that there must be a thorough understanding of the spiritual issues in a text. The author highlights the man who saw himself as 'but a pen in God's hand'. The book shows us what a mighty pen he was.
—Jonathan Wood, The Banner of Truth
Murray A. Capill is Principal of Reformed Theological College, in Victoria, Australia. He comes from New Zealand where he pastored a church in Auckland for 10 years. Murray is married to Wendy, and they have five children living at home.

Prepared to Preach offers an accessible and concise aid for all those who have been challenged to preach or feel a growing compulsion to do so. This is an essential read for all those who are wondering precisely where to start in preparing to expound God's word, whether it is for the Divinity Student, the layperson, the parachurch worker or the short-term missionary. This is a comprehensive yet digestible guide. Scharf focuses on the attitudes and skills those inexperienced in preaching need to develop, whilst at all times re-enforcing that although there are a number of things you, the preacher, must do, it is what God does that is at the heart of preaching. This book illuminates to us how to prepare our minds to preach, how to prepare the congregation to hear and obey God's word, how to prepare the message God gives you to preach, and also how to deliver the message you have prepared.
Throughout it all Scharf is motivated by a tremendous concern to equip preachers so that they might clearly express God's word.
I read this book last night and it is very, very good. It manages in 174 easy to read but rich pages to cover the scope of preparation for preaching and teaching the word of God. So good is this book that in time I anticipate giving a copy and (if I can) requiring that all the teachers at Grace read it and interact with me about it. It mixes the important disciplines of prayer, study, examination of our own lives, etc. as they relate to being a mouthpiece for God. It is theologically rooted, emphasizing God's call and preparation of the preacher-teacher. And it is interested as much in the content of the Text as the hearers—a very difficult balance to strike. He includes an excellent six question analysis to evaluate the thrust and function of a passage. He briefly shows how to use a commentary. And best of all, I think I can hand this to a very typical Christian with no formal Bible education, and they will, with work, be ready to give a correct devotional to their family at home or teach a shepherd group at church.
—Andrew Franseen, Pastor
The keynote that Scharf strikes throughout is preparation: first the preparation of the preacher, and second, the preparation of the message. Preaching is not mere explanation—it is proclamation of the living and enduring Word of God. In the detailed chapters on preparing the message Scharf excels. His careful and logical approach will surely result in better preaching—there is no higher commendation for a book on preaching.
—Robin Sydserff, Minister, St. Catherine's Argyle Church of Scotland, Edinburg, Scotland
Greg Scharf is Associate Professor and Chair of the department of Pastoral Theology at Trinity Evangelical Divinity School in Deerfield, Illinois, USA. He has served as president of the Evangelical Homiletics Society and is married with 3 sons, 2 daughters-in-law and one granddaughter.

"This little book is written for ordinary ministers who preach regularly to ordinary people in ordinary places... Most of us preach in gatherings that are smaller than we would wish and tougher than we might have hoped when we entered pastoral ministry... There is a voice on our shoulders who whispers as we prepare, and then as we preach, 'Is it really worth it?"—From the Introduction.
Christopher Ash tells us that it is worth it. More than that, he sets out a charter for preaching that draws from the very roots of the Old Testament—showing us that nothing in the world is more worthwhile—for preaching is God's strategy to rebuild a broken world.
All in all I found this short book to be as helpful as anything that I've read in a long while on expository preaching. I commend it warmly to all.
—Alistair Begg, Senior Pastor, Parkside Church, Chagrin Falls, Ohio
Above all, I want to encourage us to our desks, our prayer, our preparation, and our love for people, with a new spring in our steps as we labor at loving people by preaching to them week by week. My prayer is that this book will encourage the discouraged preacher to persevere with fresh zeal and enthusiasm, because I have convinced you that this Sunday men and women can hear the voice of the living God from your mouth.
—Christopher Ash, Director, Cornhill Training Course, London
Christopher Ash is an ordained minister in the Anglican Church and Director of the Cornhill Training Course, a one-year course designed to provide Bible-handling and practical ministry skills to those exploring their future role in Christian work.