Discipleship Journal Anthology (Issues 1–150)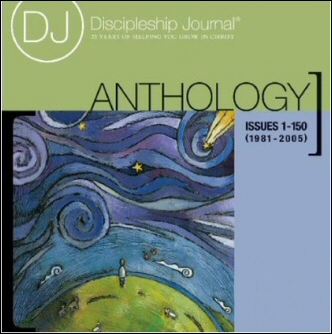 Discipleship Journal Anthology (Issues 1–150)
•
Runs on Windows, Mac and mobile.
Overview
This updated version includes 25 years of Discipleship Journal's award-winning articles and graphics! These journals work great with your existing Logos digital library. With Logos Bible Software, you have quick access on your PC to over 3,500 Discipleship Journal articles at the click of a mouse.
In terms of usefulness, ease of application and readability few collections can match The Discipleship Journal Anthology. Search every article for your desired topic or passage in only seconds with the electronic version of this heralded publication. Christians, especially pastors, will love using this huge set of resources.
Includes 150 Issues of the Discipleship Journal!
Enjoy complete portability and instant access to Discipleship Journal's first 25 years of award-winning articles and artwork on your personal desktop or laptop computer with the new Discipleship Journal Anthology. Incorporating all of the latest, user-friendly features of this top-rated Bible software program, the Logos Bible Software version includes the following features:
Rapid search by word, topic, title, author, issue, or verse
Nearly every article ever published in Discipleship Journal®
All Bible studies, "On Your Own" sections, and sidebars tied to the original articles and theme sections
Free link to The Message and the KJV versions of the Bible with option to unlock additional Bible versions
Recommended resources hot-linked to thousands of publisher and ministry websites
Original artwork and poster pages
Reproducible materials for your small groups and Sunday school classes
Bible reference tools—and many additional resources that can be unlocked
For a massive collection of journals from world-renowned scholars across a variety of disciplines, check out the Master Journal Bundle 3.1.
Product Details
Title: Discipleship Journal Anthology (Issues 1–150)
Publisher: Discipleship Journal