Morris Jastrow Near Eastern Studies Collection (5 vols.)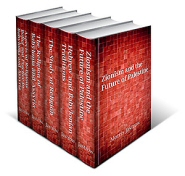 Morris Jastrow Near Eastern Studies Collection (5 vols.)
•
Runs on Windows, Mac and mobile.
Overview
The Morris Jastrow Near Eastern Studies Collection (5 Vols.) is a journey into the fascinating era of Babylon and Assyria, guided by one of the 20th century's preeminent scholars of that period. A Professor of Semitic languages, Morris Jastrow's astute research awards extraordinary insight into the ancient Euphrates Valley and its people. Jastrow provides a comprehensive view of the culture and religion that existed in Mesopotamia, including an examination of their languages, deities, myths and legends, and worship practices, as well as their advances into astrology, astronomy, philosophy, and mathematics. With the Assyro-Babylonian epoch occupying a prominent place both in the historical and in the prophetical literature of the Old Testament, Jastrow's groundbreaking work is indispensable for gaining a complete understanding of the Bible.
Also included in this collection is Morris Jastrow's controversial book Zionism and the Future of Palestine, a treatise on political Zionism. Written just after the first World War, this volume is historically important for its unique perspective and war-weary reflection.
With Logos Bible Software, the Morris Jastrow Near Eastern Studies Collection (5 Vols.) is now completely searchable, with passages of scripture appearing on mouse-over, as well as being linked to Greek and Hebrew texts and English translations in your library.
Key Features
Detailed maps and illustrations
Discussion of Scriptural landmarks
Thorough appendices
Praise for the Print Edition
. . . . the most industrious of the writers on Babylonian subjects, and his long researches into the various phases of Babylonian religion have made him the foremost authority upon this subject.
—The American Journal of Theology
Product Details
Title: Morris Jastrow Near Eastern Studies Collection (5 vols.)
Author: Morris Jastrow
Volumes: 5
Pages: 2,236
About Morris Jastrow
Morris Jastrow (1861–1921) graduated from the University of Pennsylvania where he became a Professor of Semitic languages and worked in the school's library. He served as an editor for the Jewish Publication Society's Jewish Encyclopedia from 1911–1906. A prolific researcher and writer, Jastrow published over a dozen books and became president of the American Oriental Society in 1915.
More details about these resources