Matthew Poole's Commentary on the Holy Bible (3 vols.)
Matthew Poole's Commentary on the Holy Bible (3 vols.)
•
Runs on Windows, Mac and mobile.
Overview
Matthew Poole was one of the most influential Puritan ministers and thinkers of the seventeenth century. A Protestant clergyman in England during a time of religious persecution, he fled the country due to threats of assassination. Poole was known as a devoted Christian, full of integrity and perseverance, in addition to being a great theologian and writer. His commentary series has been a standard for over four hundred years and continues to be a trusted resource for pastors and laity. Poole's exposition offers insight on the entire Bible, going verse-by-verse. He includes a brief introduction and summary for each chapter of the Bible, as well as each book. Poole's commentary is characterized by questions and answers, cultural context, historical impact, and cross-references. He provides practical and readable information, highly applicable for pastors and those seeking more context and information for Scripture.
This beloved commentary series will be of great benefit to the every-day Bible reader, as well as pastors and seminary students. It includes an introduction to the series by friends of Matthew Poole, who published his works after his death. Many theologians have used Poole's commentaries for their own study, including Charles Spurgeon. This edition uses the same edition published in 1853 in New York by Robert Carter and Brothers, the same work used in the Hendrickson edition, which is the set standard.
Key Features
Useful and practical commentary on the whole Bible
Each book and chapter contains a summary and introduction
Provides insight verse-by-verse
Includes introduction to Matthew Poole's life
Praise for the Print Edition
If I must have only one commentary, and had read Matthew Henry as I have, I do not know but what I should choose Poole. He is a very prudent and judicious commentator . . . not so pithy and witty by far as Matthew Henry, but he is perhaps more accurate, less a commentator, and more an expositor.
—Charles Spurgeon, author
Individual Titles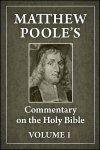 This first volume includes an introduction to Matthew Poole and provides commentary for Genesis through the book of Job.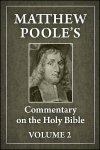 The second installment of Poole's commentary contains Psalms through Malachi.
Product Details
Title: Matthew Poole's Commentary on the Holy Bible (3 vols.)
Author: Matthew Poole
Series: Commentary on the Holy Bible
Publisher: Robert Carter and Brothers
Volumes: 3
Pages: 3,069
About Matthew Poole
Matthew Poole was born in 1624 in England. He became a minister at age twenty-four after seminary. Poole was known for being consistently cheerful and a deep theological thinker. He completed two works during his lifetime, Synopsis Criticorum and Commentary on the Holy Bible (3 vols.). Poole ministered during the Act of Uniformity in 1662 and underwent great persecution for not joining the Church of England, including attempts on his life. He escaped to Amsterdam and died there in 1679, supposedly from being poisoned. His work continues to be influential for today's readers of the Bible.
More details about this resource