Zondervan Counterpoints Collection (14 vols.)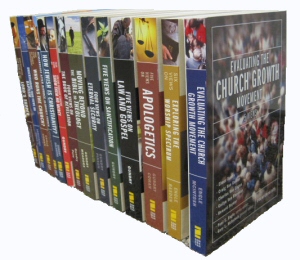 Zondervan Counterpoints Collection (14 vols.)
•
Runs on Windows, Mac and mobile.
Overview
Apologetics, worship, church growth, communion, divorce, the end times—these are some key areas of concern for many in the Church. With dozens of contributing authors from varying theological backgrounds, the Zondervan Counterpoints Collection (14 vols.) is an invaluable set of resources for Christians today, focusing on these topics and more. Many of the volumes in this unique collection lay out four or five separate views on a theological matter, giving the reader the chance to weigh the many sides that can arise on a particular issue. All views presented come from extensive research completed by respected biblical scholars and theologians.
The advantage of this collection is huge: the thought-provoking and varying points of view presented offer great soil with which one can cultivate a sound biblical foundation. Whether you are a student, pastor, teacher, youth worker, or layperson, these volumes are a fantastic tool for understanding contemporary Christian issues you may face today in the light of solid scriptural truth.
Key Features
An analysis of the Church Growth movement
Differing points of view on communion, remarriage after divorce, the book of Revelation, and more
Nearly 4,000 pages of relevant information regarding the Church and theology today
Individual Titles
Christians generally recognize the need to live a holy, or sanctified, life. But they differ on what sanctification is and how it is achieved. Five Views on Sanctification brings together in one easy-to-understand volume five major Protestant views on sanctification. Writing from a solid evangelical stance, each author describes and defends his own understanding of the doctrine, and responds as well to the views of the other authors.
This book addresses such practical questions as: How does one achieve sanctification in this life? How much success in sanctification is possible? Is a crisis experience following one's conversion normal—or necessary? If so, what kind of experience, and how is it verified?
Contents and contributors:
"The Wesleyan Perspective," Melvin E. Dieter
"The Reformed Perspective," Anthony A Hoekema
"The Pentecostal Perspective," Stanley M. Horton
"The Keswick Perspective," J. Robertson McQuilkin
"The Augustinian-Dispensational Perspective," John F. Walvoord
Does the Bible support the concept of "once saved, always saved," or can a person lose his or her salvation? How do the Scriptures portray the complex interplay between grace and free will? These and related questions are explored from different angles in this thought-provoking Counterpoints volume.
The contributors each state their case for one of four prominent views on eternal security: classical Calvinist, moderate Calvinist, reformed Arminian, and Wesleyan Arminian. In keeping with the forum approach of the Counterpoints series, each view is first presented by its proponent, then critiqued and defended. This fair and respectful approach allows you to weigh for yourself the strengths and weaknesses of the different doctrinal stances. By furnishing you with scholarly and thoughtful perspectives on the topic of eternal security, this book helps you sift through opposing views to arrive at your own informed conclusions.
Contents and contributors:
"A Classical Calvinist View," Michael S. Horton
"A Moderate Calvinist View," Norman L. Geisler
"A Reformed Arminian View," Stephen M. Ashby
"A Wesleyan Arminian View," J. Steven Harper
J. Matthew Pinson is president of Free Will Baptist Bible College in Nashville, Tennessee.
The Bible has long served as the standard for Christian practice, yet believers still disagree on how biblical passages should be interpreted and applied. Only when readers fully understand the constructs that inform their process of moving from Scripture to theology—and those of others—can Christians fully evaluate teachings that claim to be "biblical." Here, scholars who affirm an inspired Bible, relevant and authoritative for every era, present models they consider most faithful to Scripture.
Contents and contributors:
"A Principlizing Model," Walter C. Kaiser, Jr.
"A Redemptive-Historical Model," Daniel M. Doriani
"A Drama-of-Redemption Model," Kevin J. Vanhoozer
"A Redemptive-Movement Model," William J. Webb
Moreover, due to the far-reaching implications this topic holds for biblical studies, theology, and church teaching, this book includes three additional reflections by Christopher J. H. Wright, Mark L. Strauss, and Al Wolters on the theological and practical interpretation of biblical texts.
Dr. Gary T. Meadors is professor of Greek and New Testament at Grand Rapids Theological Seminary. He is author of Decision Making God's Way and a contributor to the Evangelical Dictionary of Biblical Theology.
Is the book of Revelation a blueprint for the future that needs decoding if we want to understand current events? Is it a book of powerful imagery, with warnings and promises for the church throughout the ages? Or is it essentially an imaginative depiction of historical events in the first century? Four Views on the Book of Revelation explores the four main views in which Revelation is understood: preterist, idealist, classical dispensationalist futurist, and progressive dispensationalist.
Contents and contributors:
"A Preterist View of Revelation," Kenneth L Gentry, Jr.
"An Idealist View of Revelation," Sam Hamstra, Jr.
"A Progressive Dispensationalist View of Revelation," C. Marvin Pate
"A Classical Dispensationalist View of Revelation," Robert L. Thomas
C. Marvin Pate taught for thirteen years at Moody Bible Institute. Now he is chair of the department of Christian theology and professor of theology at Ouachita Baptist University. Pate has authored, co-authored, or edited twenty books.
Christians are often shocked to read that Yahweh, the God of the Israelites, commanded the total destruction—all men, women, and children—of the ethnic group known as the Canaanites. This seems to contradict Jesus' command in the New Testament to love your enemies and do good to all people. How can Yahweh be the same God as the Father of our Lord Jesus Christ? What does genocide in the Bible have to do with the politics of the twenty-first century? This book explores, in typical Counterpoints format, the Old Testament command of God to exterminate the Canaanite population and what that implies about continuity between the Old and New Testaments.
Contents and contributors:
"Strong Discontinuity," C. S. Cowles
"Moderate Discontinuity," Eugene H. Merrill
"Spiritual Continuity," Daniel L. Gard
"Eschatological Continuity," Tremper Longman III
Are Messianic congregations necessary or should Jewish believers be incorporated into the Gentile church? The question of how Christian Jews relate their Jewish practices and customs to the church has been an issue within Christianity since the first century. Contemporary contributors who have lived and wrestled with this issue present informed arguments and counter-arguments. The book concludes with a chapter on the future for Messianic Jews and a directory of messianic movement organizations.
Contents and contributors:
"Messianic Congregations are not Necessary," William Varner
"Messianic Congregations May Exist within the Body of Messiah, as Long as They Don't Function Contrary to the New Testament," Arnold G. Fruchtenbaum
"The Future of Messianic Judaism," David Stern
Among born-again Christians, twenty-seven percent have experienced divorce as compared to twenty-four percent in the general population. Yet no consensus exists among evangelicals on their views of remarriage, leaving many Christians confused. This single volume summarizes and explores three main evangelical views: no remarriage, remarriage after adultery or desertion, and remarriage for a variety of reasons. Each of the three contributors offers his point of view succinctly with biblical support, and each interacts with the others to help readers come to their own conclusions.
Contributors and contents:
"No Remarriage After Divorce," Gordon J. Wenham
"Remarriage (two grounds)," William A. Heth
"Remarriage (variety of reasons)," Craig S. Keener
Mark Strauss is professor of New Testament at Bethel Seminary in San Diego. He has written The Davidic Messiah in Luke-Acts, Distorting Scripture?, The Challenge of Bible Translation and Gender Accuracy, and Luke in the Zondervan Illustrated Bible Background Commentary series. Forthcoming books include The Gospels and Jesus, Mark in the revised Expositor's Bible Commentary series, and Mark in the Zondervan Exegetical Commentary series.
Churches have split and denominations have formed over the issue of church government. Yet while many Christians can explain their particular church's form of rule and may staunchly uphold it, few have a truly biblical understanding of it. What model for governing the church does the Bible provide? Is there room for different methods? Or is just one way the right way? In Who Runs the Church? Four predominant approaches to church government are presented by respected proponents.
Contents and contributors:
"Episcopalianism," Peter Toon
"Presbyterianism," L. Roy Taylor
"Single-Elder Congregationalism," Paige Patterson,
"Plural-Elder Congregationalism," Samuel E. Waldron
What is the significance of water baptism? Who should be baptized? Is infant baptism scriptural? Which is the proper baptismal mode: sprinkling, pouring, or immersion? Should people be rebaptized if they join a church that teaches a different form of baptism? Should baptism be required for church membership? These and other questions are explored in this thought-provoking book.
Contents and contributors:
"Baptist View: Baptism as a Symbol of Christ's Saving Work," Thomas J. Nettles
"Reformed View: Baptism as a Sacrement of the Covenant," Richard L. Pratt, Jr.
"Lutheran View: God's Baptismal Act as Regenerative," Robert Kolb
"Christian Churches/Churches of Christ View: Believers' Baptism as the Biblical Occasion of Salvation," John D. Castelein
John H. Armstrong is president of ACT 3 in Carol Stream, Illinois and served as a pastor for more than twenty years. He is an adjunct professor of evangelism at Wheaton College Graduate School. His online commentaries regularly appear at www.Act3online.com. He holds degrees from Wheaton College, Wheaton Graduate School, and Luther Rice Seminary. He is the author or editor of a number of books including The Catholic Mystery, Five Great Evangelists, Understanding Four Views on the Lord's Supper, and Understanding Four Views on Baptism.
Who should participate in the Lord's Supper? How frequently should we observe it? What does this meal mean? What happens when we eat the bread and drink from the cup? What do Christians disagree about and what do they hold in common? This volume in the Counterpoints: Church Life series allows four contributors to make a case for the following views: Baptist, Reformed, Lutheran, and Roman Catholic.
Contents and contributors:
"Baptist View: Christ's Presence as a Memorial," Russell D. Moore
"Reformed View: The Real Presence of Christ," I. John Hesslink
"Lutheran View: Finding the Right Word," David P. Scaer
"Roman Catholic View: Christ's True, Real, and Substantial Presence," Thomas A. Baima
Product Details
Title: Zondervan Counterpoints Collection
Publisher: Zondervan
Volumes: 14
Pages: 3,968
More details about these resources
Show More