Mobile Ed: NT348 Book Study: Paul's Letters to the Colossians and Philemon (5 hour course)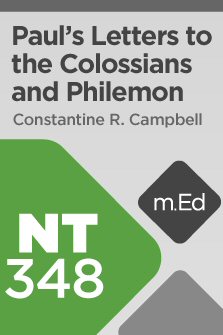 Mobile Ed: NT348 Book Study: Paul's Letters to the Colossians and Philemon (5 hour course)
•
Runs on Windows, Mac and mobile.
Overview
Join Dr. Constantine Campbell as he explores the theology and themes of Colossians and Philemon. Discover the implications of the Christ hymn in Col 1:15–20, which Dr. Campbell calls "the most profound Christological statement in the New Testament." See how Paul addresses the "Colossian heresy," as well as social and ethical issues like slavery and reconciliation. Through Dr. Campbell's verse by verse commentary and engaging exposition you'll gain a deeper understanding of how Christians are called to live and what spiritual maturity looks like.
Learning Objectives
Upon successful completion you should be able to:
Theologically interpret Paul's Christology in Colossians chapter one
Understand the social issues present in Colossae at the time of Paul's writing
Teach Colossians to a congregation with accuracy and balance
Course Outline
Introduction
Introducing the Speaker and the Course
Unit 1: Introduction to Colossians
Overview of Colossians
Comparing Colossians with Ephesians
Colossians: Structure
Colossians: Background
Locating Colossae with the Atlas Tool
Colossians: Themes
Searching for Prepositional Phrases in Colossians
Christ's Sufficiency and Supremacy
Unit 2: Theological Instruction (Col 1:1–2:23)
Address (Col 1:1–2)
Identifying the Groups Paul Addresses in Colossians 1:1–2
Thanksgiving (Col 1:3–8)
Prayer (Col 1:9–14)
Christ Hymn, Part 1 (Col 1:15–17)
Exploring All Hymns in the New Testament
Christ Hymn, Part 2 (Col 1:18–20)
Impact of the Gospel (Col 1:21–23)
Revelation of Christ (Col 1:24–27)
Paul's Ministry: Goals (Col 1:28–29)
Paul's Ministry: Desires (Col 2:1–5)
Paul's Ministry: Summary (Col 1:21–2:5)
Growing in Christ Alone (Col 2:6–8)
Participation in Christ (Col 2:9–12)
Results of Participation in Christ (Col 2:13–15)
Colossians: Application for Today
Confronting the Heresy (Col 2:16–19)
False Rules (Col 2:20–23)
Summary of Paul's Attack on the Heresy
Union with Christ in Colossians
Unit 3: Practical Instruction (Col 3:1–4:18)
Living in the Resurrection (Col 3:1–4)
Examining Paul's Use of First Class Conditional Statements
Setting Aside the Old (Col 3:5–11)
Putting on the New (Col 3:12–14)
Investigating Biblical Teaching on Forgiveness
Living in Peace (Col 3:15–17)
Summary (Col 3:1–17)
Wives and Husbands (Col 3:18–19)
Determining the Significance of the Phrase "In the Lord"
Complementarianism (Col 3:18–19)
Children and Parents (Col 3:20–21)
Slaves and Masters (Col 3:22–4:1)
The New Testament and Slavery
Prayer and Speech (Col 4:2–6)
Final Greetings (Col 4:7–18)
Preaching from Colossians
Unit 4: Philemon
Introducing Philemon
Opening Greeting (Philemon 1–3)
Thanksgiving (Philemon 4–7)
Preamble to Paul's Appeal (Part 1, Philemon 8–12)
Researching Paul's Use of Endearing Terms
Preamble to Paul's Appeal (Part 2, Philemon 13–16)
Paul's Request (Philemon 17–22)
Closing Greetings and Blessing (Philemon 23–25)
Philemon and Brotherhood in Christ
Preaching from Philemon
Conclusion
Product Details
Title: NT348 Book Study: Paul's Letters to the Colossians and Philemon
Instructor: Constantine R. Campbell
Publisher: Lexham Press
Publication Date: 2015
Product Type: Logos Mobile Education
Resource Type: Courseware, including transcripts, audio, and video resources
Courses: 1
Video Hours: 5
About the Instructor
Dr. Constantine R. Campbell is associate professor of New Testament at Trinity Evangelical Divinity School. He is the author of Colossians and Philemon: A Handbook on the Greek Text (Baylor, 2013); Paul and Union with Christ: An Exegetical and Theological Study (Zondervan, 2012), which won the 2014 Christianity Today Book Award in Biblical Studies; and numerous other books.
Getting the most out of Mobile Ed
Logos Mobile Education is a highly effective cross-platform learning environment that integrates world class teaching with the powerful study tools and theological libraries available in Logos Bible Software. Every course provides links to additional resources and suggested readings that supplement the lecture material at the end of every transcript segment.
This course was produced with screencast videos. These videos provide tutorials showing you how to use Logos Bible Software in ways that are tied directly into the content of the course. We are now producing Activities resources as a replacement for screencast videos. We plan on updating this course to include this additional Activities resource in the future for no extra charge.