Mobile Ed: NT225 Survey of the Pastoral Epistles (5 hour course)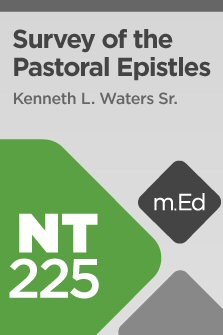 Mobile Ed: NT225 Survey of the Pastoral Epistles (5 hour course)
•
Runs on Windows, Mac and mobile.
Overview
Explore the content and major themes of 1 and 2 Timothy and Titus with New Testament Professor Kenneth Waters Sr. You'll examine the doctrine of salvation, learn the difference between "imminent" and "immanent" eschatology, gain background information on Timothy and Titus, and see the bigger picture of where and how these letters fit in with the rest of Paul's journeys and our own spiritual formation.
Dr. Waters also looks at the controversies that surround the interpretation of these texts. You'll gain new insight into Paul's remarks about slavery and the roles of women in the church.
Learning Objectives
Upon successful completion you should be able to:
Better understand internal elements of the pastoral epistles such as authorship, and see them in light of their place in the corpus of Pauline writing
Connect Pauline ethics to contemporary practice
Uncover new insight in regards to eschatology
Course Outline
Introduction
Introducing the Speaker and the Course
Unit 1: Authorship
Arguments for Paul
Arguments against Paul
Implications
Unit 2: Seven Themes
1. Sound Doctrine
Reverse Interlinears, Inline Search, and First Class Conditionals
Sound Doctrine: Subthemes 1–6
Sound Doctrine: Subthemes 7–8
Conclusions about Proto-Gnosticism
2. Salvation: Already/Not Yet
Using Inline Search and Louw-Nida Numbers
Salvation Subthemes
Salvation through Childbearing (1 Timothy 2:15): Four Options
Childbearing (1 Timothy 2:12–15): An Allegory
Using Commentaries with Ancient Literature for Exegesis
Childbearing (1 Timothy 2:12–15): Ephesian Culture
Salvation as Present and Future: Summary
3. Salvation in Our Conduct and Relationships
Salvation in Relationships: In the Household
Excursus: Slavery in the Transformed Haustafeln
4. Salvation Is Trinitarian
Using Propositional Outlines to Study Chiasms
Excursus: Election versus Predestination
5. God and Christ
Excursus: God and Jesus Christ (Titus 2:13)
6. Christ Will Return
7. Household of God
Using BDAG to Search for Multiple Words Simultaneously
Paterfamilias
Excursus: Priscilla and Women in the Church
Unit 3: Ethics and Eschatology: A Comparative Discussion
Holy Spirit or Sound Doctrine as Agent of Transformation
Sound Doctrine and the Spirit of Christ
Purity and Justification
Salvation, Works, and Eschatology
Kingdom of God: Immanent in Luke-Acts
Kingdom of God: Imminent in Pastoral Epistles
Unit 4: Paul's Journeys and Correspondence
First Missionary Journey
The Jerusalem Council
Jewish Roots of the Jerusalem Compromise
Second Missionary Journey
Third Missionary Journey
Journey to Rome
Coupling the Interactive Atlas with Louw-Nida Place Numbers and Media Browser
Paul's Correspondence
Concluding Years of Paul's Ministry
Paul in Ephesus (Part 1)
Paul in Ephesus (Part 2)
Enhancing Factbook with Media Browser and Biblical Event Navigator
Unit 5: Timothy and Titus
Timothy's Background
Timothy's Parents
Timothy: Paul's Helper
Timothy: Paul's Ambassador and Companion
Timothy: Bishop and Prisoner
Titus and Crete
Titius Justus
Titus: Paul's Companion and Ambassador
Paradigms for Paul
Unit 6: Epistles as Occasional Correspondence
1 Timothy: Background and Purpose
Construct a Commentary Concordance with a Visual Filter
1 Timothy: Church Order and Conduct
1 Timothy: Piety and Relationships
Titus: Background and Occasion
2 Timothy: Background and Occasion
2 Timothy: Warning about Last Days
Conclusion
About the Instructor
Dr. Kenneth L. Waters, Sr. is professor of New Testament and associate dean of the division of religion and philosophy at Azusa Pacific University. He specializes in Gospel studies, the Pauline Epistles, apocalyptic literature, biblical ethics, New Testament and early Christian literature, and African-American religious history. Dr. Waters has authored several books, including Afrocentric Sermons: The Beauty of Blackness in the Bible (Judson Press, 1993). In addition to being active in overseas missions, he has served as a senior pastor for over 28 years.
Getting the most out of Mobile Ed
Logos Mobile Education is a highly effective cross-platform learning environment that integrates world class teaching with the powerful study tools and theological libraries available in Logos Bible Software. Every course provides links to additional resources and suggested readings that supplement the lecture material at the end of every transcript segment.
This course was produced with screencast videos. These videos provide tutorials showing you how to use Logos Bible Software in ways that are tied directly into the content of the course. We are now producing Activities resources as a replacement for screencast videos. We plan on updating this course to include this additional Activities resource in the future for no extra charge.
More details about these resources