Mobile Ed: NT301 The Gospels as Ancient Biography: A Theological and Historical Perspective (4 hour course)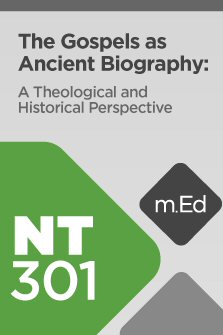 Mobile Ed: NT301 The Gospels as Ancient Biography: A Theological and Historical Perspective (4 hour course)
•
Runs on Windows, Mac and mobile.
Overview
Dr. Jonathan Pennington, a specialist in the Gospels, discusses how to interpret these ancient biographies based on their genre rather than focusing only on their content. This course shows how a literary reading of the Gospels reveals the beauty of Jesus' life.
Grow your understanding in the New Testament. Earn a Mobile Ed Certificate of Completion when you invest in your education. Learn more about the New Testament Certificate Programs.
Learning Objectives
Upon successful completion you should be able to:
Explain the genre of the gospels
Approach the account of Jesus' life from a literary perspective
Understand strategies for reading the gospels together
Course Outline
Introduction
Defining "Gospel"
The Gospels as Greek Biographies
Why Do We Need the Gospels?
Cultural Hermeneutics for the Gospels
A Literary Reading of the Gospels
The Joy and Angst of Having Four Gospels
What Is Our Goal in Reading the Gospels?
Conclusion
Product Details
Title: NT301 The Gospels as Ancient Biography: A Theological and Historical Perspective
Instructor: Jonathan T. Pennington
Publisher: Lexham Press
Publication Date: 2015
Product Type: Logos Mobile Education
Resource Type: Courseware, including transcripts, audio, and video resources
Courses: 1
Video Hours: 4
About the Instructor
Dr. Jonathan T. Pennington is the associate professor of New Testament interpretation at Southern Seminary in Louisville, Kentucky. He also served as a visiting professor at Southeastern Seminary, as well as the Institute of Biblical Studies in Orlando, Florida and Melbourne, Australia.
Getting the most out of Mobile Ed
Logos Mobile Education is a highly effective cross-platform learning environment that integrates world class teaching with the powerful study tools and theological libraries available in Logos Bible Software. Every course provides links to additional resources and suggested readings that supplement the lecture material at the end of every transcript segment.
This course was produced with screencast videos. These videos provide tutorials showing you how to use Logos Bible Software in ways that are tied directly into the content of the course. We are now producing Activities resources as a replacement for screencast videos. We plan on updating this course to include this additional Activities resource in the future for no extra charge.