Mobile Ed: NT252 The Parables of Jesus (6 hour course)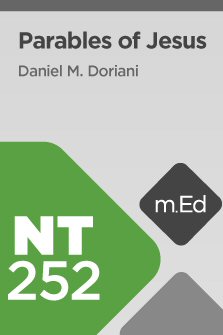 Mobile Ed: NT252 The Parables of Jesus (6 hour course)
•
Runs on Windows, Mac and mobile.
Overview
The parables of Jesus are colorful, startling, and often confusing. In this course, Dr. Dan Doriani explains this unique narrative type and walks you through proper interpretation of the parables, examining their images, themes, and applications for modern readers.
Learning Objectives
Upon successful completion you should be able to:
Explain the motivation behind parable usage in the gospels
Describe the various sub-genres of parables found in the gospels
Present compelling and enlightening teaching on themes within the parables of Jesus
Course Outline
Introduction
The Purpose of Parables
Why Jesus Taught in Parables
Parables Describing the Kingdom of God
Parables about Life in the Kingdom of God
Parables of Confrontation
Parables of Instruction about the Future
Parables of Discipleship
Conclusion
About the Instructor
Dr. Daniel M. Doriani (STM, PhD) is vice president of strategic academic projects and professor of theology at Covenant Seminary. He is the author of several books, including Getting the Message: A Plan for Interpreting and Applying the Bible and commentaries on Matthew and 1 Peter in the Reformed Expository Commentaries series.
Getting the most out of Mobile Ed
Logos Mobile Education is a highly effective cross-platform learning environment that integrates world class teaching with the powerful study tools and theological libraries available in Logos Bible Software. Every course provides links to additional resources and suggested readings that supplement the lecture material at the end of every transcript segment.
This course was produced with screencast videos. These videos provide tutorials showing you how to use Logos Bible Software in ways that are tied directly into the content of the course. We are now producing Activities resources as a replacement for screencast videos. We plan on updating this course to include this additional Activities resource in the future for no extra charge.
More details about these resources