Mobile Ed: NT286 Survey of the General Epistles (11 hour course)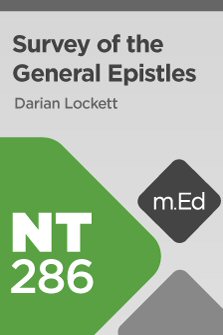 Mobile Ed: NT286 Survey of the General Epistles (11 hour course)
•
Runs on Windows, Mac and mobile.
Overview
This course covers the seven biblical letters known as the Catholic Epistles. After an overview of the Catholic Epistles in general, students will explore issues such as authorship and audience in James, as well as themes such as perfection/wholeness, faith, works and justification. First and Second Peter are covered next with a focus on submission, suffering and responding to false teachers. The course concludes with a look at Jude and the letters of John.
Learning Objectives
Upon successful completion you should be able to:
Understand how the Catholic Letters complement one another and recognize the value of reading them together
Apply teachings on the work of Jesus to draw nearer to God in your own life
Explain the similarities and differences of James' and Paul's teaching on faith, works and justification
Describe the benefits of suffering in a Christian's life, as well as how to endure it
Explain what Peter meant when he talked about Jesus preaching to the spirits in prison
Sort out the confusing teaching about sin in 1 John
Course Outline
Introduction
Introducing the Speaker
Introducing the Course
Unit 1: Canon and the Catholic Epistles
Why "Catholic" Letters?
Canon and Canonical Criticism
The Apostolos
Features of the Catholic Epistles
Unity of the Catholic Epistles
Unit 2: James: Wholeness before God
Genre of James
The "Two Ways" Tradition
Author of James
Audience of James
Structure of James
From Trials to Perfection
No Wisdom for the Double-Minded
Reasons for Boasting
Trial and Temptation
The Implanted Word
Metaphor for Self-Reflection
Worthless vs. Pure Religion
Favoritism in the Christian Community
Competing Standards of Judgment
Wholeness and Mercy
Contrast of Faiths
Faith and Works Inseparable
Works and Justification in James
Do James and Paul Contradict Each Other?
Tamed and Untamed Tongues
Duplicitous Tongues
Wisdom from Above and Below
Misalignment with God
Call to Repentance
Judging Your Brother Is Judging the Law and Judging God
Merchants and Rich Oppressors
Patience
Do Not Swear Oaths
Prayer
The Way to Wholeness
Unit 3: First Peter: Suffering for Doing Right
Author of First Peter
Audience of First Peter
Structure of First Peter
God's Triune Engagement in Our Salvation
God the Father's Transforming Benefits
Joy in Jesus Christ
Holy Spirit Revelations
Call to Holiness
Love Empowered by God's Word
Spiritual Milk
Living Stones
Lifestyle Evangelism
Structure of 1 Peter 2:13–3:12
Submission to Governors
Submission of Slaves
Submission of Jesus
Submission of Wives
Christian Response to an Unbelieving Culture
Christian Witness to the World
Jesus' Victory over Cosmic Powers
Flood Story Parallels
Sin and Judgment
Glorify God through Vigilance and Service
Rejoice in Suffering, Trust God
Shepherds under Submission
Humility and Hope
Final Greetings and Benediction
Unit 4: Second Peter: Responding to False Teaching
Author of Second Peter
Argument for Pseudonymous Authorship
Audience of Second Peter
Structure of Second Peter
Basis for Christian Living
Practice Christian Virtues
Peter's Purpose in Writing
Refuting the "Myth" Charge: Eyewitness to the Transfiguration
Refuting the "Myth" Charge: Fulfillment of Prophecy
Refuting the "Human Origin of Prophecy" Charge
Introducing the False Teachers Theme
The Certainty of Divine Judgment and Deliverance
Denunciation of False Teachers
Shared Goals of First and Second Peter
The Charge of the Scoffers
Refuting the Scoffers' Charge: Argument from Creation and the Flood
Refuting the Scoffers' Charge: Inevitable Judgment despite God's Patience and Forbearance
Final Exhortations and Benediction
Unit 5: Jude: Standing Firm in the Faith
Literary Sharing between Jude and Second Peter
Genre of Jude
Midrash in Jude
Author of Jude
Audience of Jude
Structure of Jude
Urgent Appeal to Contend for the Faith
Typological Types and Antitypes of the Intruders: Groups
Typological Types and Antitypes of the Intruders: Individuals
Judging the Intruders: First Enoch
Why Did Jude Use First Enoch?
Intruders Foretold by Apostolic Prophecy
Keeping Yourselves in the Love of God
Mercy on All?
Doxology and Closing
Unit 6: Epistles of John: The Incarnate Christ
Genre of First John
Author of First John
Audience of First John
Structure of First John
Christological Prologue
God Is Light
Correcting Theological Misperceptions
Wrong Claims of Knowing, Abiding, and Living
Little Children, Fathers, and Young Men
Secessionists and Anointed Ones
God Is Father
Renounce Sin
Be Obedient
Be Animated by the Right Spirit
Be Loving
Keep the Faith
Testimony of God
That You May Know
Second and Third John
Conclusion
Harmony of the Catholic Epistles
Product Details
Title: NT286 Survey of the General Epistles
Instructor: Darian Lockett
Publisher: Lexham Press
Publication Date: 2016
Product Type: Logos Mobile Education
Resource Type: Courseware, including transcripts, audio, and video resources
Courses: 1
Video Hours: 11
About the Instructor
Dr. Darian Lockett (PhD, University of St. Andrews) is an associate professor of biblical and theological studies at the Talbot School of Theology, Biola University.
Darian grew up in the Kansas City area, where he graduated from the University of Kansas in 1998 (BA in history) and Midwestern Seminary in 2001 (MDiv). In 2002, he and his family moved to St. Andrews, Scotland, where they lived for three years while Dr. Lockett completed his PhD in New Testament. While in Scotland, he filled the pulpit for several small churches in the East Neuk of Fife.
Academically, Dr. Lockett is particularly interested in the Catholic Epistles, hermeneutics, biblical theology, and political/economic philosophies and Scripture.
Getting the most out of Mobile Ed
Logos Mobile Education is a highly effective cross-platform learning environment that integrates world class teaching with the powerful study tools and theological libraries available in Logos Bible Software. Every course provides links to additional resources and suggested readings that supplement the lecture material at the end of every transcript segment.
This course comes with an Activities resource that functions as a type of "workbook" for the course. This resource includes learning activities such as: places for you to respond to reflection questions, exercises that will challenge and show you how deepen your understanding of this course by using specific Logos tools and resources, tutorial videos on different features of Logos Bible Software, and links to relevant Logos guides and tools. A link to open the Activities resource is conveniently placed at the end of every segment.
More details about these resources