The Whole Works of James Ussher (18 vols.)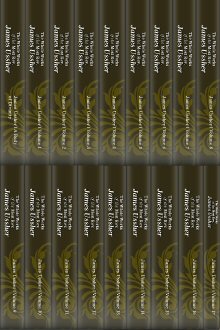 Overview
One of the most important biblical scholars and theologians of the seventeenth century, James Ussher has made a recent resurgence in Christian literature with the reprinting of his books. Ussher's writings influenced generations of Christian thought and his research and scholarly work earned high praise—even from those opposed to his ideas. An expert on the writings of the early Church Fathers, Ussher had a giant impact on the Westminster Assembly and Reformation theology. The Whole Works of the Most Rev. James Ussher (18 vols.) contains his most important works, some in their original Latin.
One of Ussher's most famous works, Annales Veteris Testamenti, was his attempt to recount the history of the world from creation until 70 AD. A controversial subject now, chronological studies of this kind were common for that era—and Ussher produced one of the most well-sourced, fascinating history books from a Christian framework that is still cherished today. Likewise, Ussher's A Body of Divinity has reemerged as a powerful book for many Christians: its question-and-answer format creates an engaging and practical guidebook for the Christian faith. Just two of the 18 remarkable volumes contained in this collection, The Whole Works of the Most Rev. James Ussher (18 vols.) is packed with spiritual insights and early English and Irish Church history.
With the Logos Bible Software editions, all Scripture passages are tagged and appear on mouseover. This makes these resources more powerful and easier to access than ever before for scholarly work or personal Bible study. With Logos' advanced search features, you can perform powerful searches by topic or Scripture reference—finding, for example, every mention of "free will," or "Paul."
Key Features
Biography of James Ussher
Noted works presented in their original Latin
Over 10,000 pages of historical, theological, and spiritual insights
Praise for James Ussher
Archbishop James Ussher was a leader par excellence among the Irish Puritans. His colorful history is inseparable from that of Irish Christianity and from major events transpiring simultaneously in England and Scotland. Ussher's range of achievements are outstanding, including ancient languages, patristics, ancient and Irish history, theology, and chronology.
—Joel R. Beeke, Puritan Reformed Theological Seminary
Reformed believers have unknowingly stood on the theological shoulders of Ussher. He was an instrumental figure among the Irish Puritans.
—Online reviewer
All in all, this is excellent work that deserves a much wider audience in contemporary Christianity. With the resurgence of Puritan studies, now is the time to begin seriously studying those that shaped the minds of the Puritans themselves.
—Online reviewer
Raised in a Bible-believing Calvinistic environment, Dr. Ussher soaked himself in the Holy Scriptures without ceasing. He also read the Early Church Fathers systematically, every day, for eighteen years. Head of Ireland's foremost Theological Faculty, Ussher was internationally the greatest Anglican antiquarian and theologian of his age, if not of all time.
—Dr. Francis Nigel Lee
Product Details
Title: The Whole Works of James Ussher (18 Vols.)
Author: James Ussher
Publisher: Hodges, Smith, and Co.
Volumes: 18
Pages: 10,183
About James Ussher
James Ussher (1581–1656) was born in Dublin, Ireland. He was a professor of theological controversies at Trinity College, Dublin, where he advanced in office from bachelor of divinity to doctor of divinity to vice-chancellor, and finally to vice-provost. James I nominated him Bishop of Meath in 1621. In 1625, he succeeded Christopher Hampton as Archbishop of Armagh. A prolific writer, he produced dozens of works in Latin and English over his long and successful career.