Bible Lessons International: Old Testament (10 vols.)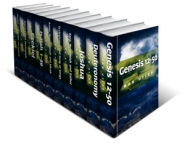 Bible Lessons International: Old Testament (10 vols.)
•
Runs on Windows, Mac and mobile.
Overview
Bible Lessons International:Old Testament is full of pertinent information for pastors, Sunday school leaders and Bible study group leaders. This collection is packed with powerful content and written in a way which makes for easy reading. Bible Lessons International: Old Testament is a beneficial addition to your library with word studies for each lesson that give a deeper view into the specific passages covered in each section.
Each book of the Old Testament is discussed in depth with a detailed background for the events surrounding the passage being studied. Another feature of Bible Lessons International: Old Testament is the lists contained in each section showing various Bible passages as well as their differences and the background into specific words used. Chapters conclude with discussion questions as well as helpful resources which correspond to the verses. These discussion questions can be beneficial for leading a small group in addition to assisting in your own personal study.
Key Features
Detailed background into verses
List of discussion questions at the end of each section
Beginning of the book contains a detailed introduction of the book and the content covered
Table of Contents which mentions the topics covered and lists the verses which correspond with them
Product Details
Title: Bible Lessons International: Old Testament
Publisher: Bible Lessons International
Author: Dr. Bob Utley
Volumes: 10
Pages: 3,402
About Bob Utley
Dr. Bob Utley is a dynamic and inspirational Bible teacher. He feels that the Lord has given him a gift of relating to all types of people, especially those who have been turned off by "religiosity." Bob was born in 1947 in Houston, Texas. He is married to the former Peggy Rutta and they have three children and three grandchildren. He has earned degrees from East Texas Baptist College, Southwestern Baptist Theological Seminary, and Trinity Evangelical Divinity School and has done post-graduate work at Baylor University, Wycliffe Bible Translators' Summer Institute of Linguistics, and Trinity Evangelical Divinity School. He has pastored several churches in Texas. Currently Bob conducts revivals and Bible conferences both in the United States and abroad.
More details about these resources