Dr. Robert A. Morey Upgrade Collection (6 vols.)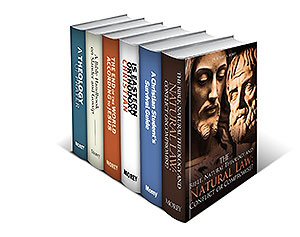 Dr. Robert A. Morey Upgrade Collection (6 vols.)
•
Runs on Windows, Mac and mobile.
Overview
As the Executive Director of Faith Defenders apologetics ministry and the author of more than 40 books on a wide range of topics, Dr. Morey is respected for his scholarship and careful research. As you will see by reading the descriptions below, many well-known figures have endorsed Dr. Morey's books, including John MacArthur, D. James Kennedy, John Ankerberg, Dr. Erwin Lutzer, and John W. Whitehead.
Some of the views expressed in these titles have stirred up controversy, and Dr. Morey has even received death threats because of his writings against radical Islam. Here at Logos we believe in publishing titles on every topic worthy of study. A well-rounded seminary library contains all the books necessary to develop your own views and to research views with which you disagree . . . it is in such a spirit of open inquiry that we offer this collection of books.
Logos is pleased to offer an upgrade collection, featuring the six latest releases from Dr. Robert Morey! Each book in the Dr. Robert A. Morey Upgrade Collection (6 vols.) is well-organized, clearly and concisely written, and includes discussion questions for further reflection and study, and these latest books in the series are no exception.
Key Features
Addresses theological and practical issues in the modern Church
Evangelical response to key topics
Over 1,350 pages included
Praise for the Author
Dr. Robert A. Morey is an excellent speaker and writer on the subject of cults and the occult, His books are excellent resource tools on these subjects. It is my pleasure to recommend him to churches everywhere throughout our land.
—D. James Kennedy, founder, Coral Ridge Presbyterian Church, Fort Lauderdale, FL
I have known Dr. Robert Morey for a number of years and welcome this opportunity to recommend him to you. Dr. Morey is a man with an excellent understanding of the historic Christian faith and a particular skill as a defender of the Faith. I heartily recommend him to you.
—John Ankerberg, president, Ankerberg Theological Institute, Chicago, IL
It is a genuine privilege for me to recommend Dr. Robert A. Morey as a competent biblical scholar in the field of apologetics, Bible teaching and evangelism. I have known Dr. Morey for over 30 years and it has been a delight to me to see his developing a fantastic grasp of biblical truth, and his unique ability to translate that exalted truth of God's Word into down-to-earth, meaningful and methodical ways his audiences can make use of it.
—Herbert Ehrenstein, editor, Eternity Magazine
Dr. Robert Morey is one of the finest biblical scholars in the field of comparative religious studies (apologetics) in North America. His books and presentations have been tremendously useful. I highly recommend him to you.
—Kevin Johnson, pastor, Emmaus Road Church, Hopkins, MN
Product Details
Title: Dr. Robert A. Morey Upgrade Collection (6 vols.)
Author: Robert A. Morey
Publisher: Faith Defenders
Volumes: 6
Pages: 1,397
About Robert A. Morey
Robert A. Morey is an internationally recognized scholar in the fields of comparative religions, the cults, and the occult as well as on Islam. He is the author of over 40 books, some of which have been translated into Spanish, Swedish, Hungarian, Norwegian, Dutch, German, French, Italian, Chinese, Turkish, and Farsi. He is scholar in residence with the Research and Education Foundation and the executive director of Faith Defenders.
More details about these resources