Studies on Jonah (3 vols.)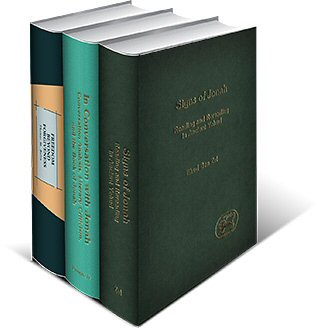 Overview
This three-volume academic collection on the book of Jonah uses literary techniques to examine the meaning and implications of this much-discussed book of the Old Testament. It moves beyond basic assumptions and traditional views of the book of Jonah, to literary criticism and exegetical discussion. Studies on the Book of Jonah (3 Vols.) emphasizes how the book of Jonah was received initially, and what that tells us about Hebrew culture at the time. This collection also focuses on the relationship between reader and text and how the book functions as a narrative conversation. In addition, it gleans theological understanding, observing the nature of God and its ramifications for humanity.
Each volume has helpful introductions to literary thinking and methodologies, as well as detailed table of contents. They are academic yet accessible, written for students, professors, and those interested in how the book of Jonah has been read and the formation of its literary structure. This collection is a must-have for those wishing to expand their knowledge of this familiar story from the Old Testament. They also have extensive notes, cross-references, bibliographies, and indexes.
Key Features
Literary and exegetical analysis
Provides solid commentary and context
Contains notes and indexes to direct study
Individual Titles
Bolin analyzes biblical and extra-biblical traditions and motifs in the book of Jonah, and argues that the book's portrayal of the relationship between God and humanity, much like those of Job and Ecclesiastes, emphasizes an absolute divine sovereignty beyond human notions of mercy, justice, or forgiveness. God is understood as free to forgive, yet he still punishes, and is unfettered by the constraints imposed by attributes of benevolence. The only proper human response to God is fear at his power and acknowledgment of him as the source of welfare and woe.
Thomas Bolin is Associate Professor of Old Testament in the Department of Theology at St Mary's University, San Antonio, Texas.

In this absorbing volume, professor Raymond Person explores the role of conversation in narrative and critical analysis, specifically in the book of Jonah. He affirms the necessity of examining conversation as one of the primary elements of all narratives, believing that understanding how conversation operates will lend greater understanding of the text. Person provides commentary on the book of Jonah from this perspective, as well as an introduction to this line of critical thinking. He also analyzes in terms of plot, character, tone, and other literary criticisms common to narrative and story. In addition, there is a discussion of implied reader and actual reader. Person includes a bibliography and indexes to guide study.
Raymond F. Person, Jr. is professor of Religion and Philosophy at Ohio Northern University.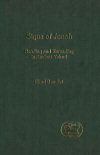 Signs of Jonah emphasizes how the book of Jonah was received by its readers, and how it can help understanding of the culture and society of the time. Zvi focuses on how the audience would have read it, and even how they would have reread it, since books and stories are repeated and pondered time after time. He zeros in on indications throughout the text for how the text would have been read by its intended readers and actual readers. Zvi believes that the literary style and key literary strategies provide social commentary.
Ehud Ben Zvi is Professor of History and Classics at University of Alberta.
Product Details
Title: Studies on Jonah (3 vols.)
Publisher: Sheffield Academic Press
Volumes: 3
Pages: 611
More details about these resources