Mobile Ed: NT334 Book Study: Paul's First Letter to the Corinthians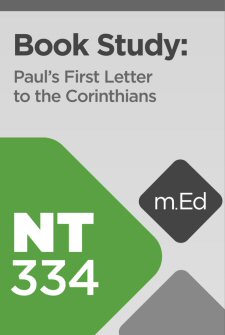 Mobile Ed: NT334 Book Study: Paul's First Letter to the Corinthians
•
Runs on Windows, Mac and mobile.
Join the free Craig Blomberg Cohort and spend the next 14 weeks studying Paul's First Letter to the Corinthians with Craig Blomberg!
Overview
In Book Study: Paul's First Letter to the Corinthians (NT334) Craig Blomberg steps through the text to explain the big picture and the many issues and controversies found in 1 Corinthians. You will be encouraged in your Christian walk to understand and express your spiritual gifts and to see the contemporary relevance of the issues faced by the Corinthian church. This study reveals the pastoral heart of Paul in both addressing moral and community issues of Christian leadership, factionalism, lawsuits, sexuality and food sacrificed to idols whilst keeping rehabilitation always in mind. Taking a broad-brush approach, you will gain a balanced perspective on spiritual gifts and the importance of love before diving in to examine the controversial topics of tongues and prophecy. There is something of relevance for every Christian in this study which shows that the same issues facing the first century church can be found in the church today.
Learning Objectives
Upon successful completion you should be able to:
Understand the relevance of 1 Corinthians for today
Identify the major themes, structure and narrative flow of 1 Corinthians
Describe the main controversies and interpretive issues
Product Details
Title: Mobile Ed: NT334 Book Study: Paul's First Letter to the Corinthians
Instructor: Craig L. Blomberg
Publisher: Lexham Press
Publication Date: 2016
Product Type: Logos Mobile Education
Resource Type: Courseware, including transcripts, audio, and video resources
Courses: 1
Video Hours: 12
About Craig Blomberg
Craig Blomberg is distinguished professor of New Testament at Denver Seminary, where he has been teaching since 1986. Blomberg earned degrees from Augustana College, Trinity Divinity School, and Aberdeen University in Scotland. He previously taught at Palm Beach Atlantic College and spent one year in Cambridge as a research fellow with Tyndale House. He has been on translation committees for the New Living Translation, English Standard Version, and the Holman Christian Standard Bible.
Bloomberg is the author, coauthor, or coeditor of numerous books and more than 80 articles in journals or multiauthor works. A recurring topic of interest in his writings is the historical reliability of the Scriptures, and he has also covered such diverse issues as wealth and poverty, hermeneutics, and women in ministry. His books include Jesus and the Gospels: An Introduction and Survey, 2nd ed., Zondervan Exegetical Commentary on the New Testament: James, A Handbook of New Testament Exegesis, Making Sense of the New Testament, Preaching the Parables, and the NIV Application Commentary: 1 Corinthians.
Getting the most out of Mobile Ed
Mobile Ed is a highly effective mobile learning environment that incorporates the powerful study tools found in Logos Bible Software.
With any Logos library base package, you will be able to view the lectures and interact with the transcripts. For the best learning experience, we recommend you use Logos Platinum.
Readings for the courses are often tailored to Platinum because the larger library provides access to a wide range of suggested resources and increases search results for further study.
The Platinum collection best matches the resources used in screencasts. It includes a breadth of commentaries, original-language studies, and over 1,400 resources to deepen your study.