Christian Focus Church Leadership Collection (4 vols.)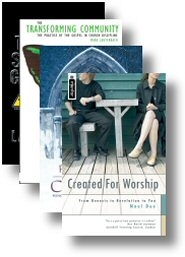 Christian Focus Church Leadership Collection (4 vols.)
•
Runs on Windows, Mac and mobile.
Overview
Leadership in the Church is so much more than learning the latest management and growth techniques, it involves incorporating and facilitating Christ's worldview outward. The Christian Focus Church Leadership Collection (4 vols.) provides the kind of informational empowerment that anyone in Church leadership needs. The Christian Focus Church Leadership Collection covers important topics for Church leaders regarding Christ's desire for the Church, how the Church can fulfill her role in the world, the transformational nature of community, the value of Church discipline, the theology and need for worship, and the need to have and communicate a healthy understanding of the end time consequence of a life apart from Jesus.
With the Logos Bible Software edition all Scripture passages in the Christian Focus Church Leadership Collection (4 vols.) are tagged to original language texts and English translation. This makes these resources more powerful and easier to access than ever before for scholarly work or personal Bible study. With the advanced search features of Logos Bible Software, you can perform powerful searches by topic or Scripture reference—finding, for example, every mention of worship, and the Church.
Key Features
Very strong academic studies into a variety leadership oriented topics
A systematic look at worship from Genesis through Revelation
A look at important Church related issues like the call of the Church, the primacy of preaching, the import of preaching from the Old Testament, questions related to Church growth and the import of unity between denominations and across theological spectrums
An in-depth look at various theological views on the afterlife
Key words and Scriptures linked to your Logos library
Product Details
Title: Christian Focus Church Leadership Collection
Publisher: Christian Focus Publications
Volumes: 4
Pages: 944
Individual Titles
Individual Overviews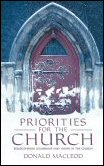 Priorities for the Church: Rediscovering the Leadership and Vision in the Church
Author: Donald MacLeod
Publisher: Christian Focus Publications
Publication Date: 2003
Pages: 144
Jesus promised that as long as the earth remains His Church will continue. When we survey the Church and how it relates to the world sometimes we have to wonder why he would bother. The Church is not a building, nor is it a structure of government; it is a body of believers. Christians make up the Church, and it is our responsibility to prayerfully think through how the Church can address its role in society. Sitting idly by is no longer an option.
As the church drifts along, splintered, distracted, all too willing to slip from its theological moorings, and often showing a remarkable lack of love, its influence on society dwindles— either becoming indistinguishable from the world or becoming so unrelated that it appears to be a relic of an entirely different era. Donald Macleod brings his customary flourish to this most pressing topic. His effortless ability to communicate complicated issues ensures that the message he conveys is clear.
Donald MacLeod, is the Principal of the Free Church of Scotland College, Edinburgh. Regarded as one of Britain's most prominent theologians he has written extensively on a wide range of issues.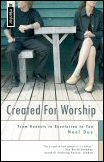 Created for Worship: From Genesis to Revelation to You
Author: Noel Due
Publisher: Christian Focus Publications
Publication Date: 2005
Pages: 320
Noel Due has produced a hugely important work into the biblical theme of worship, demonstrating the centrality of worship for human existence. He traces the theology of worship in the Bible and shows its significance for all the people of God. There is a comprehensive analysis of worship from Genesis to Revelation, investigating captivating areas from worship in the letters of Paul and Peter to Jesus and the transformation of worship.
As Christians we should aspire to worship God with all of our being, and Noel Due reveals to us the intensity of the battle for true worship and sheds invaluable light on the issues informing our understanding of worship.
Noel Due is Senior Pastor of Coromanderal Baptist Church, Blackwood, South Australia. He was previously the Pastoral Theology Lecturer at the Highland Theological College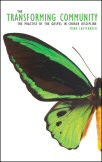 The Transforming Community: The Practice of the Gospel in Church Discipline
Author: Mark Lauterbach
Publisher: Christian Focus Publications
Publication Date: 2003
Pages: 256
Jesus, in his ministry, received the empty, the broken, the lost and the diseased. Mark Lauterbach shows how compassion, mediated through a functioning body of believers, provides the answers to human waywardness and maintains the integrity of the Church. Although this is a book about church discipline, it is really about a Spirit-empowered community. Mark uses real situations from his experience to help us turn principles into practice.
. . . . A biblically sensitive and pastorally wise book on a subject many people would just as soon forget about: accountability among Christians. True church discipline is not about reinforcing legalisms but rather nurturing believers with a covenanted community of faith.
—Timothy George, Dean of Beeson Divinity School, Samford University, Birmingham, Alabama
I have never read a book like this or even close to this. Written with a rare combination of biblical insight, and seasoned compassion, born of many years 'in the trenches' of local church leadership.
—Ray Pritchard, Senior Pastor, Calvary Memorial Church, Illinois
Mark Lauterbach is a pastor with Sovereign Grace Ministries in San Diego.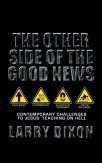 In a time of Christian confusion and evangelical erosion, the teachings of Jesus regarding the destiny of the wicked needs to be emphasized. Is there a biblical doctrine of Hell or are Christians free to hold a variety of viewpoints on this issue? In this book Larry Dixon examines many of the current theories on Hell and encourages the reader to take the Bible's teaching on Hell as seriously as Jesus did in order to tell people the Good News that we know so that they won't spend eternity on The Other Side of the Good News.
Dixon looks at three alternative views to the traditional doctrine of hell, universalism, annihilationism and post-mortem conversion. In the last chapter he asks "Does it make any difference what view Christians hold about the other side?" and "Can there be alternative positions within the church?"
A topic which is of great importance . . . This is a book which every serious student of the Bible and theology must read.
—Millard Erickson, Distinguished Professor ot Theology Baylor University's Truett Seminary
Larry Dixon is Professor of Systematic Theology and Church History at Columbia International University, South Carolina.
More details about these resources