Mobile Ed: NT156 The Significance of the Resurrection (2 hour course)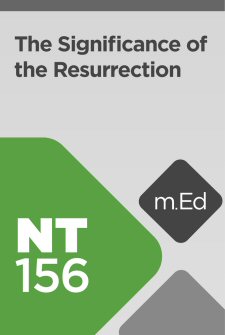 Mobile Ed: NT156 The Significance of the Resurrection (2 hour course)
•
Runs on Windows, Mac and mobile.
Overview
This insightful course on Jesus' death and resurrection is presented by a team of respected Christian theologians, including Douglas J. Moo, Ben Witherington, Elyse Fitzpatrick, Darrell L. Bock, and Michael W. Goheen. These instructors have written multiple contemporary studies on this historical event and its significance for the Christian, and students will be able to gain the clearest insight with their guidance. Under these instructors you will discover new perspectives on the texts that are perennially used as sources of discussion on Jesus' sacrifice and defeat of sin.
Learning Objectives
Upon successful completion you should be able to:
Relate the Jewish cultural elements present at the time of Jesus' death that indicated the timing of his burial
Connect the New Testament resurrection account to elements within the Old Testament
Better understand the meaning of the resurrection theologically and missiologically
Course Outline
Introduction
Unit 1: The Death and Burial of Jesus
A Case Study: Madeline
The Cross and the Gospels
Trial before Pilate
The Cross and Christus Victor
The Crucifixion
At the Foot of the Cross
Jewish Piety Required Burial
Unit 2: The Resurrection of Jesus
An Introduction to Resurrection
Resurrection and the Old Testament
The Significance and Meaning of the Resurrection of Jesus
Jesus' Post-Resurrection Appearances: Function
The Resurrection in Matthew: The Great Commission
Resurrection and the New Realm
Attaining to the Resurrection
Product Details
Title: NT156 Understanding Easter: The Significance of the Resurrection
Instructors: Elyse Fitzpatrick, Douglas J. Moo, Mark L. Strauss, Ben Witherington, Craig A. Evans, Darrell L. Bock, Michael W. Goheen, Joel Willitts, Daniel M. Doriani, Robert B. Sloan, and John Schwandt
Publisher: Lexham Press
Publication Date: 2016
Product Type: Logos Mobile Education
Resource Type: Courseware, including transcripts, audio, activities, and video resources
Courses: 1
Video Hours: 2
Also Included
Meditations on the Life of Christ
Instructors: David deSilva, Peter Leithart, Jay Sklar, Joel Willitts, Ken Waters, Tremper Longman, Greg Forster, and Joshua Jipp
Video Hours: 1.5
Meditations on the Life of Christ is a devotional resource with contributions from top biblical and theological scholars. Each segment begins with a Scripture passage read aloud, followed by a meditation. Drawn from both Old and New Testaments, each passage has been chosen to focus on a major event in Christ's life, moving chronologically through his incarnation, birth, baptism and revelation, temptation and suffering, triumphal entry, the Last Supper, crucifixion, resurrection, ascension, and the coming of his Spirit. Accordingly, the collection is keyed to church seasons and holy days, starting with Advent, moving through Christmas, Epiphany, Lent, Palm Sunday, Maundy Thursday (celebrating the Last Supper), Good Friday, Easter, Ascension, and Pentecost.
Getting the most out of Mobile Ed
Logos Mobile Education is a highly effective cross-platform learning environment that integrates world class teaching with the powerful study tools and theological libraries available in Logos Bible Software. Every course provides links to additional resources and suggested readings that supplement the lecture material at the end of every transcript segment.
This course comes with an Activities resource that functions as a type of "workbook" for the course. This resource includes learning activities such as: places for you to respond to reflection questions, exercises that will challenge and show you how deepen your understanding of this course by using specific Logos tools and resources, tutorial videos on different features of Logos Bible Software, and links to relevant Logos guides and tools. A link to open the Activities resource is conveniently placed at the end of every segment.