Pastorum Series Collection (14 vols.)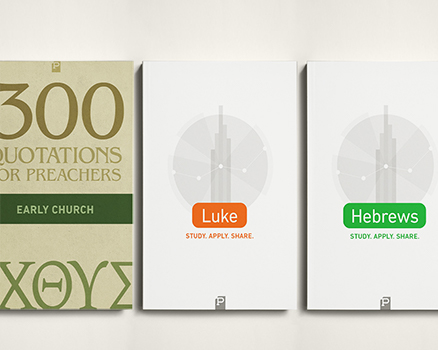 Present richer, more memorable sermons and reduce your preparation time with the Pastorum Series Collection.
These pastoral resources will enhance your ministry and presentation skills by:
Jumpstarting the sermon-planning process
Saving you countless hours of research time
Suggesting links to your Logos library and introducing new resources
Providing application suggestions
Making it easy for you to present prayers, quotations, and intriguing biblical data with elegance
Aiding in worship planning
Connecting your congregation with church history
Key Features
450 prayers—each with an accompanying slide to use in your sermon or message, each with links to its original source in Logos. By categorizing each quote by theme, title, type, and affiliated Scripture, we've made it easier for you to find the perfect prayer for any occasion.

Featuring prayers from these books and people:

The Bible
Augustine of Hippo
Francis of Assisi
Thomas à Kempis
John Calvin
Charles Spurgeon

Over 2,000 quotations, each with an accompanying slide to use in your sermon or message, each with links to its original source in Logos, and all categorized by Scripture, author, and theme so you can articulate how your message connects with the history of Christian thought.

Quotations from:

Church fathers like Augustine of Hippo, John Chrysostom, Jerome, Justin Martyr, and Tertullian
Medieval theologians like Anselm of Canterbury, Francis of Assisi, Thomas à Kempis, Bernard of Clairvaux, and Thomas Aquinas
Reformation greats like John Calvin, Richard Hooker, John of the Cross, Martin Luther, and Teresa of Ávila
Puritans like Richard Baxter, Stephen Charnock, John Owen, Samuel Rutherford, and Richard Sibbes
Modern pastors and thinkers like G. K. Chesterton, J. C. Ryle, Charles Spurgeon, B. B. Warfield, and John Wesley
Christians throughout the ages, celebrating season of Advent and Christmas

300 fresh preaching illustrations—from stories to statistics—compiled by veteran pastor Jim L. Wilson. These illustrations are categorized by themes and affiliated Scriptures and links to the original source are provided where applicable.
Studying, sharing, and application material for Mark, Luke, Philippians, Hebrews, and James. Included per passage:

5–7 study questions with corresponding links to Logos resources
2 application ideas that focus on 2 different themes from the passage
2 memorable worship service ideas that coordinate with the message and help solidify the application
Slides with statistical graphics that bring intrigue to presentations and insight to study
Product Details
Title: Pastorum Series Collection
Editors: Elliot Ritzema, Rebecca Brant, Elizabeth Vince, Jim L. Wilson, and Jeffrey E. Miller
Publisher: Lexham Press
Volumes: 14
About the Editors
Elliot Ritzema is the editor of 1,500 Quotations for Preachers, 300 Quotations for Preachers, 400 Prayers for Preachers, and the Study, Apply, Share series. He is also a Lexham English Bible editor, a contributor to the Faithlife Study Bible, and a regular contributor to Bible Study Magazine. He holds an MDiv from Regent College.
Rebecca Brant has developed content for Connect the Testaments, Faithlife Study Bible, Lexham Bible Dictionary, and Bible Study Magazine. She is a regular contributor to Bible Study Magazine and is coauthor of Mary: Devoted to God's Plan.
Elizabeth Vince has developed content for the Faithlife Study Bible, Lexham Bible Dictionary, Bible Study Magazine, and Connect the Testaments. She is a coauthor of Mary: Devoted to God's Plan and a regular contributor to Bible Study Magazine.
About the Author of 300 Illustrations for Preachers
Jim L. Wilson started preaching when he was 17 and became a pastor when he was 18. He is the director of the Doctor of Ministry Program and an associate professor of leadership formation at Golden Gate Baptist Theological Seminary, where he teaches leadership and preaching seminars to DMin candidates.
Wilson is an award-winning writer with hundreds of pieces in print in 60+ publications, including some published by Christianity Today International, Focus on the Family, and Lifeway Christian Resources. He is author, contributor, or co-author of more than a dozen books, including Future Church and Soul Shaping.
About the Author of the Study, Apply, Share Volumes
Jeffrey E. Miller has served as contributing editor on three commentaries, is the author of Hazards of Being a Man, and is the coauthor of the Zondervan Dictionary of Bible and Theology Words and A New Reader's Lexicon of Greek New Testament. He earned a ThM from Dallas Theological Seminary, has pastored for 11 years, and has taught for three.
More details about these resources
Show More