Richard Watson's Biblical and Theological Dictionary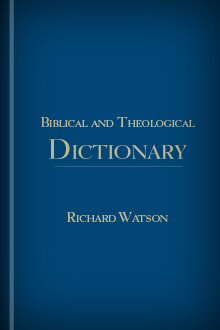 Richard Watson's Biblical and Theological Dictionary
•
Runs on Windows, Mac and mobile.
$16.00
* Projected price. Future bids may change this price.
Place Your Bid!
Click on the highest price you'd pay. If the final price is lower, that's what you'll pay.
Overview
This was the standard biblical and theological dictionary for almost a century. Even now, this classic Bible dictionary finds extensive use and citation in modern systematic theologies and biblical reference works, if not in historical studies. The Biblical and Theological Dictionary compiles references and explanations of biblical characters and places from the best modern and ancient sources. It includes an exposition of the principal doctrines of Christianity and discusses Jewish and Christian sects and heresies.
This unique digital edition integrates completely with Logos Bible Software. Articles link to Logos' Bible Word Study, Bible Facts, Guides, Information Panel, and other features and research tools. Use it to look up any word in your research simply by right-clicking on the word and selecting the dictionary—and then compare its article with similar articles from your other reference works.
Key Features
Articles on ancient Jewish cultural and religious traditions
Over 1,000 pages of extensive biblical reference work
Exhaustive digital tagging brings articles to your right-click menu and Factbook
Product Details
About Richard Watson
Richard Watson (1781–1833) was a British Methodist theologian and missionary advocate. Considered one of nineteenth-century Methodism's most important figures, Watson was a prolific writer and preacher. He served as the secretary to the Wesleyan Missionary Society from 1821 to 1825. His Theological Institutes were considered institutional standards for years, and was the first attempt to systematize John Wesley's theology and Methodist doctrine.
Sample Pages