Heath's German and English Dictionary (2 vols.)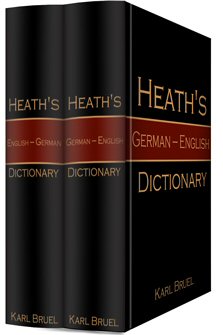 Heath's German and English Dictionary (2 vols.)
•
Runs on Windows, Mac and mobile.
$30.00
Reg.: $59.99
Print: $70.00
* Projected price. Future bids may change this price.
Place Your Bid!
Click on the highest price you'd pay. If the final price is lower, that's what you'll pay.
Overview
Get the most out of your literary or theological German studies with one of the most-trusted language dictionaries of our time.
First compiled in 1888, this long-running English-German and German-English dual dictionary is perhaps better known as Cassell's German Dictionary, which is one of today's most widely-used German-English dictionaries in the world. This 1906 revised and enlarged edition features over 1,300 pages and separate dictionaries for German-English and English-German articles, and is exactly the same as Cassell's New German Dictionary from 1909. Heath's German and English Dictionary was compiled by the best linguists in both languages, first overseen by Elizabeth Weir, and later thoroughly edited and revised by Karl Hermann Bruel, a renowned Cambridge scholar in foreign language pedagogy, who would remain an editor for each subsequent edition of Cassel's German Dictionary for nearly 30 years.
Dictionaries in Logos Bible Software become generators of instant digital information. Right-clicking on any word, in any language, in any book, brings up a context menu that brings definitions of that word right under your cursor. Translations are only a few pixels away. When reading any English or German resource, you'll have access to multiple translations, definitions, and synonyms. Notes and highlights are saved to your account, so you can view any annotations you make in your dictionary as you peruse it. And with mobile functionality, you can take this 1,300-page dual dictionary with you everywhere you go without weighing you down.
Although it is one print volume, this product will download as two resources.
Key Features
Two dictionaries for the price of one—German-English and English-German
Copyright-free, so you can copy as much lexicographical information as you need
Amazing functionality in Logos Bible Software
Product Details
Title: Heath's German and English Dictionary
Original Editor: Elizabeth Weir
Editor: Karl H. Bruel
Edition: Revised and Enlarged
Publisher: D.C. Heath & Co.
Publication Date: 1906
Pages: 1,366
Languages: German and English
Resource Type: Dictionary
About Karl Bruel
Karl Hermann Bruel (1860–1932) was born in Hannover and educated at Lyceum II Gymnasium, where the headmaster, W. Weidasch, was a Schiller scholar who believed in the compulsory teaching of foreign languages. Breul was obliged to study Greek, Latin, French, and English, and volunteered to take classes in Hebrew. His principal tutor was Adolf Ley, former French and German tutor to Lord Kitchener.
In 1878, Breul entered Tübingen University. He continued to study during his military service, working on South German dialects, particularly Swabian. In 1879, he left Tübingen for Strassbourg and spent a semester studying English and French philology. In the winter of that year, he left for Berlin and the Friedrich Wilhelm Universität, where he remained until taking his doctorate in 1883, with a thesis on an Old English epic Sir Gowther, and a lengthy treatise on comparative literature connected with the legend of Robert le Diable.
In 1884, after briefly teaching in German secondary schools, Breul left Berlin for Paris to further his studies of French and romance languages and literatures. During this time, he translated Tobler's book on French versification into French, with the assistance of his friend, Léopold Sudre.
In 1884, Breul was appointed the first lecturer in Germanic language and literature at Cambridge University, and five years later he was appointed a Reader. In 1886, he was elected a Fellow of King's College and in 1896 he was awarded a D.Litt. In 1897, he was one of the co-founders of the Modern Language Quarterly. In 1902, he was offered a professorship at the University of London, but refused it. In 1910, he was appointed the first Schröder Professor of German at Cambridge. He was president of the English Goethe Society.
Among his publications include The Teaching of Modern Foreign Languages in Secondary Schools, Students' Life and Work in the University of Cambridge, A Handy Bibiographical Guide to the Study of German Language and Literature for the Use of Students and Teachers of German, and Betrachtungen und Vorschläbetreffend die Gründung eines Reichsinstituts für Lehrer des Englischen in London.
Sample Pages