Mobile Ed: BI190 The Use of the Old Testament in the New Testament: Methodology and Practice (5 hour course)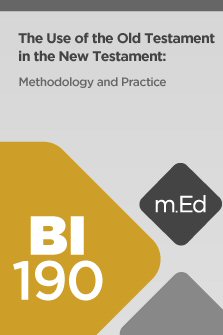 Mobile Ed: BI190 The Use of the Old Testament in the New Testament: Methodology and Practice (5 hour course)
•
Runs on Windows, Mac and mobile.
Overview
In this course, Dr. Jeannine Brown shows how we can better understand what the New Testament writers were communicating, by looking at how they referenced the Old Testament. Dr. Brown begins by explaining why New Testament writers referenced the Old Testament, and the four ways in which they did so. She then walks through references in Matthew, John, Philippians, and 1 Peter.
See how Jesus is portrayed as the new Adam in John's Gospel. Discover connections between Jesus' teaching and the stories of Cain and Abel, Noah, Sodom, and others. Learn new methods for interpreting Scripture, and come away with a fuller picture of how Jesus fulfills the hopes of the Old Testament and completes the story God began with Israel.
Contents
Introduction
Introducing the Speaker and the Course
Unit 1: The Old in the New
Overview
The Old Testament in the Gospel of John
Comparing Texts: Ezekiel 34 and John 10
Proof Texts from the Old Testament
A Journey through Hosea 11 to Matthew 2
Unit 2: First-Century Interpretive Traditions
Catena: A Connected Series of Related Texts
Jewish Interpretive Practice: Four Categories
Why Use the Old Testament?
Using Timelines and Layouts to Study the Septuagint
How New Testament Authors Use Old Testament Texts: Part 1
How New Testament Authors Use Old Testament Texts: Part 2
How New Testament Authors Use Old Testament Texts: Part 3
Unit 3: Kinds of Old Testament References in the New Testament
Citations: Focus on Galatians 3:8
Citations: Focus on Matthew
Searching for Old Testament Quotations in the New Testament
Allusions: Focus on Matthew 18:21–22
Searching for Old Testament Allusions in the New Testament
Echoes: Focus on John 20:15–16
Storied Echoes: Type Scenes
Storied Echoes: Old Testament Characters in the New Testament
The Septuagint's Role in Making Connections
Premises and Methods of Old Testament Usage in the New Testament: Part 1
Premises and Methods of Old Testament Usage in the New Testament: Part 2
Unit 4: Christological Lenses in the New Testament
A Focus on the Righteous Sufferer
A Focus on the Servant of Yahweh
A Focus on the Representative of Israel/Humanity
A Focus on the Priest
A Focus on the Davidic King
A Focus on the Prophet
Review and Introduction
Unit 5: The Old Testament in Philippians
Background to Philippians
Investigating Graeco-Roman Context: Aretē
Isaiah in Philippians
Exodus, Deuteronomy, and Daniel in Philippians
Unit 6: The Old Testament in Matthew
Background to Matthew
Genesis 1:27, 2:24 in Matthew
Cain and Abel in Matthew 5
Cain and Abel in Matthew 18
Cain and Abel in Matthew 23
Finding Theological Meaning in the Septuagint: Genesis 4:3–5
Isaac in Matthew
Matthew's Use of People and Places from Genesis
Genealogy Connections in Matthew
Sodom and Gomorrah in Matthew
Using Passage Lists and Merging: Sodom and Gomorrah
The Land of Canaan in Matthew
Review of Old Testament Usage in Matthew
Unit 7: The Old Testament in John
Background to John
Renewal of Creation in John
Searching Louw-Nida and Ancient Literature: Logosin John 1:1
The Motif of Life in John
Genesis Allusions in John 18–20
Jesus as New Adam in John
Comparing Translations of the Hebrew and the LXX: "Adam" and "Man"
Jesus Breathes Life
Unit 8: The Old Testament in 1 Peter
Background to 1 Peter
The Sojourner/Exile Theme in 1 Peter
Old Testament Calls to Holiness in 1 Peter
The History of Interpretation: A Royal Priesthood
Psalm 34 as a Metatext for 1 Peter
Psalm 34 Themes in 1 Peter
Conclusion
The Old Testament: Indispensable to the New
Product Details
Title: BI190 The Use of the Old Testament in the New Testament: Methodology and Practice
Instructor: Jeannine K. Brown
Publisher: Lexham Press
Publication Date: 2015
Product Type: Logos Mobile Education
Resource Type: Courseware, including transcripts, audio, and video resources
Courses: 1
Video Hours: 5
About Jeannine K. Brown

Dr. Jeannine K. Brown has taught at Bethel Seminary for nearly two decades in the areas of New Testament, hermeneutics, and integration. Her books include Scripture as Communication: Introducing Biblical Hermeneutics, Becoming Whole and Holy: An Integrative Conversation about Christian Formation, and the forthcoming volume on Matthew in the Teach the Text Commentary series. She's also associate editor of the Dictionary of Jesus and the Gospels, 2nd ed..
Getting the most out of Mobile Ed
Logos Mobile Education is a highly effective cross-platform learning environment that integrates world class teaching with the powerful study tools and theological libraries available in Logos Bible Software. Every course provides links to additional resources and suggested readings that supplement the lecture material at the end of every transcript segment.
This course was produced with screencast videos. These videos provide tutorials showing you how to use Logos Bible Software in ways that are tied directly into the content of the course. We are now producing Activities resources as a replacement for screencast videos. We plan on updating this course to include this additional Activities resource in the future for no extra charge.