Mobile Ed: AP211 Show and Tell: Apologetics in the Postmodern Context (6 hour course)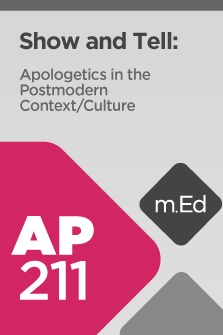 Mobile Ed: AP211 Show and Tell: Apologetics in the Postmodern Context (6 hour course)
•
Runs on Windows, Mac and mobile.
Overview
Dr. Jim Belcher's course offers a necessary look at postmodern culture and how living in this time affects believers, unbelievers, preaching, apologetics, and the future church. He begins with the philosophical and social background to postmodernism, considers characteristics of postmodern people, and suggests the consequences for these individuals and the community. Finally, Dr. Belcher provides a solution for sharing Christianity in this context.
Learning Objectives
Upon successful completion you should be able to:
Identify the general mindset of postmodernism but distinguish between hard and soft postmodernism
Develop a well-balanced apologetic that avoids the dangers of over-contextualizing or under-contextualizing the gospel
Sympathetically address postmodernism's effects on how the emerging generation views truth and morality, its own sense of authentic self, and how to live in free community
Apply missionary-like thinking to the task of reaching out to the emerging postmodern generation
Course Outline
Unit 1: The Reason for This Course
Learning from Lesslie Newbigin and Tim Keller
Finding a Passage and Creating a Collection
Contextualization and Culture
Dangers of Contextualization
How Apologetics Helps Us Overcome Fear
Using Psalms Explorer to Study Fear in the Psalms
Paul as an Example of Contextualization
Unit 2: Philosophical Foundations
From the Medieval World to the Enlightenment
The Failure of Modernism
The Postmodern Turn
Pessimistic and Optimistic Postmodernism
Using Wikipedia and Combing Notes from Different Resources
Unit 3: Postmodernism: Five Characteristics
Morally Aimless: Moral Relativism
Using the Factbook and Creating Quote Slides
Morally Aimless: Morals Only a Social Construct
Morally Aimless: Moral Individualism
Morally Aimless: Blind to the Moral Dilemma
Captive to Consumerism
Broken Relationships
Binge Drinking
Lacking Interest in Social and Political Life
Postmodern Characteristics: Conclusions
Exploring the Ten Commandments
Unit 4: Postmodernism: Three Losses
Lost Horizons (Part 1)
Lost Horizons (Part 2)
Lost Sense of Self
Lost Freedom
The Losses: Bottom Line
Unit 5: Postmodernism and Apologetics
"Boosters" versus "Knockers"
Example of Culturally Sensitive Christian Apologetic
Healthy Contextualization: Confronting and Completing
Common Ground: Human Beings Are Moral Animals
Common Ground: Human Life Is Shaped by Liturgy
Common Ground: Examples of Social Liturgy
Denying Reality: Fear of Death
Denying Reality: Transference
Denying Reality: Is "Normal" Really Normal?
Denying Reality: The Solution to Facing the Fear of Death
Adapting Our Preaching to This Apologetic
Regaining the Ideal Self: Biblical Narrative
Regaining the Ideal Self: Illustrated by Eustace Scrubb
Using Clause Search to Find Where Jesus Calls
Regaining the Ideal Self: Dead to Sin but Alive to God
Creating a Custom Guide to Study a Book of the Bible
Calling: The Secret Signature of the Soul
Regaining Horizons: C. S. Lewis and the Power of Story
Regaining Freedom in Community: Dietrich Bonhoeffer
Finding Information about Dietrich Bonhoeffer in Your Library
Product Details
Title: AP211 Show and Tell: Apologetics in the Postmodern Context
Instructor: Jim Belcher
Publisher: Lexham Press
Publication Date: 2014
Product Type: Logos Mobile Education
Resource Type: Courseware, including transcripts, audio, and video resources
Courses: 1
Video Hours: 6
About Dr. Jim Belcher
Dr. Jim Belcher is the president of Providence Christian College in Pasadena, California and former associate professor of practical theology at Knox Theological Seminary in Fort Lauderdale, Florida. He is the founding and former lead pastor of Redeemer Presbyterian Church (PCA) in Newport Beach, California, where he served from 2000–2010 and led a period of steady growth. He is the author of the award-winning book Deep Church: A Third Way Beyond Emerging and Traditional (InterVarsity Press, 2009).
Dr. Belcher is the former founding and lead pastor of Redeemer Presbyterian Church in Newport Beach, California, where he served from 2000–2010, and led a period of steady growth. He was the cofounder of the Restoring Community Conference: Integrating Social Interaction, Sacred Space and Beauty in the 21st Century, a conference for city officials, planners, builders, and architects. He and his wife, Michelle, have four children and live in southern Florida.
Getting the most out of Mobile Ed
Logos Mobile Education is a highly effective cross-platform learning environment that integrates world class teaching with the powerful study tools and theological libraries available in Logos Bible Software. Every course provides links to additional resources and suggested readings that supplement the lecture material at the end of every transcript segment.
This course was produced with screencast videos. These videos provide tutorials showing you how to use Logos Bible Software in ways that are tied directly into the content of the course. We are now producing Activities resources as a replacement for screencast videos. We plan on updating this course to include this additional Activities resource in the future for no extra charge.