Start Next Now: How to Get the Life You've Always Wanted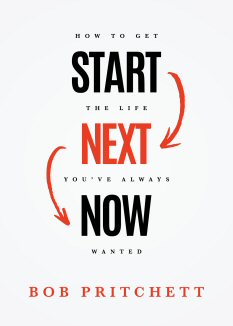 Start Next Now: How to Get the Life You've Always Wanted
•
Runs on Windows, Mac and mobile.
What do you really want to do?
Advance your career? Get a different job? Increase your earnings? Or maybe your goal has nothing to do with a job. Whatever it is, you have permission to do something incredible, and Start Next Now can give you the courage, the confidence, and the next steps to start your next now.
Start Next Now is a fast-paced kick in the pants with an actual plan to start achieving your goal before you even finish the book. This is more than inspirational puffery from a life coach; it's blunt, funny, practical advice on how to get ahead, with specific action steps you can take today.
Bob Pritchett quit his job at Microsoft to cofound a company that today employs over 400 people. In Start Next Now, he shares the principles that brought him success. You can do it, too. It might be hard, it might take time, and you might not even want to. But you can start finding out right now.
Get more out of Start Next Now! Visit StartNextNow.com for an interactive reading experience, interviews, and more ideas on how you can start next now!
Praise for Start Next Now
Stop WHATEVER you're doing right now, and read this book—all of it! It's a quick read that will make ALL the difference in your career.
—Johnnie Moore, president, The KAIROS Company
In Start Next Now, Bob Pritchett provides an incredibly efficient way to discover specific, practical steps to advance yourself professionally, personally, and spiritually. He also explains one of my passions, which is the relationship between compensation, happiness, and meaningful work, and how to find the right balance.
—Dan Price, founder and CEO, Gravity Payments
Bob Pritchett has outlined simple and highly effective strategies for taking your reality to the next level. Through compelling stories and practical advice, Start Next Now will help change your paradigm. It is blunt, real, and highly engaging—a must-read, chock-full of motivation to challenge your status quo and get you focused on reaching your goals. Bob's inspiring and in-your-face perspectives will become bullet points for leadership training experts for years to come. So, there is no time to lose. Stop reading this endorsement and start reading Start Next Now. You will be glad you did!
—John Bornschein, vice chairman, National Day of Prayer Task Force
Just entering your career and need guidance? Stuck in your job and need direction? Doing ok but not moving forward? Start Next Now is for you! Biblical, balanced, witty, clear, honest, practical advice for getting the life you've always wanted.
—Dr. Mark Futato, professor and author
Contents
Introduction: Permission to Try Anything
Step One: Identify Your Next

What Do You Want?
Money Doesn't Buy Happiness
Life as an Imposter

Step Two: Start Doing the Next Thing Now

Always Turn to Goal
Keep Moving
Despise Comfort
Confront Fear

Step Three: Set Yourself Up for Success

Distinguish Yourself
Increase Your Visibility
Ask Questions

Step Four: Evaluate Your Employment

Get on the Right Bus
Making More Money
Money Is Only Part of Pay
Getting a Raise
Can You Afford This Job?

Step Five: Reach for Your Next Milestone

Identify the Next Milestone
Keep Doing the Next Thing

Conclusion: Be Intentional
Product Details
Title: Start Next Now: How to Get the Life You've Always Wanted
Author: Bob Pritchett
Publisher: Kirkdale Press
Publication Date: 2015
Pages: 117
Format: Logos Digital, Hardcover
Trim Size: 5x7
ISBN: 9781577996453
About Bob Pritchett
Bob Pritchett started a business at age 19 and leads it today. In 24 years Faithlife Corporation (formerly Logos Bible Software) has grown to more than 440 employees serving more than 2.5 million users around the world. Over years of mentoring interns, promoting employees, and raising two kids, Bob has learned exactly what life and career advice young people need most, and how rare it is for any of them to take it. But what amazing stuff happens when they do! Bob is a 2005 winner of the Ernst & Young Entrepreneur of the Year award, and was included in the Puget Sound Business Journal's 40 Under 40. He blogs at http://BobPritchett.com.
Bob's first book, Fire Someone Today, And Other Surprising Tactics for Making Your Business a Success, was published by Thomas Nelson in 2006 and translated into Korean and Russian.
More details about these resources