Mobile Ed: ED205 Discipleship in History and Practice (10 hour course)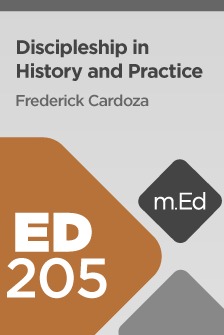 Mobile Ed: ED205 Discipleship in History and Practice (10 hour course)
•
Runs on Windows, Mac and mobile.
Overview
Explore the meaning and purpose of discipleship and study principles of discipling. Gain practical insight into leading discipleship ministries and equip yourself and others to make disciples. Dr. Cardoza guides you through the history of Jewish and Christian education from the Old Testament to the modern day and casts vision for discipleship and the development of discipleship programs.
Learning Objectives
Upon successful completion you should be able to:
Understand the principles of discipleship
Apply the four keys for effective discipleship (systematic, scalable, sequential, and sustainable programming)
Analyze the history of disciple making
Course Outline
Unit 1: An Introduction to Discipleship
What a Disciple Is
Key Principles of Biblical Discipleship
Defining and Describing Discipleship
A Biblical Overview of Discipleship
Informing Discipleship through Religious and Christian Education
Unit 2: A History of Disciple Making
Religious Education in the OT

Religious Education in the Pentateuch
Religious Education in the Historical Books
Religious Education in the Poetic Books
Religious Education in the Prophets

Religious Education in the Intertestamental Period

Challenges and Changes in Jewish Religious Education
The Rise of the Jewish School
Jewish Sects' Effect on Jewish Religious Education
Religious Education and Development of the Oral Tradition
Hellenistic Influence on Jewish Religious Education

Christian Education in the NT

Christian Education in the Gospels
Christian Education in NT History
Christian Education in the Epistles
Christian Education in NT Prophecy

Christian Education in the Patristic Age

Education in Local Churches with Jewish Converts to Christianity
Discipleship Using the Didache
Discipleship through Catechesis
Discipleship through Catechetical Schools
Early Church Challenges in Discipleship Philosophy

Christian Education in the Middle Ages

Discipleship at the Dawn of the Dark Ages
How Rome's Fall Affected Christian Education
Discipleship during Feudalism
Discipleship through Asceticism and Monasticism
Discipleship during the Crusades and Scholasticism

Christian Education in the Renaissance

Discipleship in the Age of Individualism and Renaissance Humanism
Christian Education Champions during the Renaissance

Christian Education in the Reformation

Discipleship and Martin Luther
Discipleship and Ulrich Zwingli
Discipleship and Philipp Melanchthon
Discipleship of John Calvin and John Knox
Key Educational Contributions of the Reformation

Christian Education in the Enlightenment

How Discipleship Was Affected by the Enlightenment
Modern Philosophy, Scientism, and Discipleship
Educators during the Enlightenment

Christian Education in Colonial and Contemporary America

How the New World Received the Gospel
Education and Discipleship in the American Colonies
Christian Higher Education in the Colonies
Discipleship through the Sunday School Movement
Discipleship through the Youth Movements of the 20th Century
Unit 3: General Principles for Discipleship
Boundaries and Parameters for Disciple Making

Desired Outcomes for Genuine Discipleship
Common Dangers in Discipleship
Understanding Spiritual Metamorphosis
The Difference between Christian Education and Indoctrination
Protecting Discipleship from Indoctrination
The Triumvirate of Biblical Discipleship
The Bible and Curriculum in Discipleship

Defining Transformational Discipleship

Understanding Transformation of the Soul through Sanctification
Cognitive Learning in Discipleship
Affective Learning in Discipleship
Behavioral Learning in Discipleship
The Keys to Transformational Discipleship

Doing Personal Discipleship

Biblical Characteristics of Disciplers
Key Practices of Effective Disciplers
Identifying Who to Personally Disciple
Entering into a Discipling Relationship
Casting a Vision to a Person You Would Like to Disciple
Basic Principles to Guide Personal Discipleship Meetings
Sample Discipleship Session Schedule
Suggested Initial Discipleship Content

Principles of Discipleship Programming

The Profession of Christian Education
Academic Preparation for Discipleship Ministry Leadership
Old Testament Principles for Church Discipleship
Intertestamental Principles for Church Discipleship
New Testament Principles for Church Discipleship
Unit 4: Leading Discipleship Programming
Practice of Programming

Understanding the Life Transformation Continuum
Stages of Spiritual Development
Building and Evangelistic Apparatus
Examples of Building an Evangelistic Apparatus
Building a Discipleship Platform
Examples of Building a Discipleship Platform
Suggestions for Evangelistic Programming
Suggestions for Discipleship Programming
Programming for Spiritual Growth
Leadership for Discipleship Programming
Shepherding Others as Program Leaders

Praxis of Programming

Understanding Church Discipleship Expectations
Cautions about Using Discipleship Programming
Four Keys for Effective Discipleship: Systematic Programming
Four Keys for Effective Discipleship: Scalable Programming
Four Keys for Effective Discipleship: Sequential Programming
Four Keys for Effective Discipleship: Sustainable Programming
Product Details
Title: ED205 Discipleship in History and Practice
Instructor: Frederick Cardoza
Publisher: Lexham Press
Publication Date: 2016
Product Type: Logos Mobile Education
Resource Type: Courseware, including transcripts, audio, and video resources
Courses: 1
Video Hours: 10
About Freddy Cardoza
Dr. Freddy Cardoza is currently director of distributed learning and instructional technology at Biola University and department chair of Christian education at Talbot School of Theology in Los Angeles. He has served in Christian higher education and local church ministry for 20 years, and his work specializes in leadership, higher education administration, discipleship, digital learning, and media.
Dr. Cardoza is the executive director of the Society of Professors in Christian Education (SPCE), which is an academic society of evangelical professors representing some 200 seminaries, universities, and liberal arts colleges, who teach in the areas of spiritual formation, Christian ministries and Christian education.
He received a PhD in leadership from Southern Baptist Theological Seminary, and has completed the required coursework for the EdD (ABD). He earned an MA from Southeastern Baptist Theological Seminary, and holds a BS in church ministries from Liberty University.
Dr. Cardoza is a member of the Evangelical Theological Society (ETS), the Association of Youth Ministry Educators (AYME), and the Religious Conference Management Association (RCMA). He serves as adjunct faculty at Golden Gate Baptist Theological Seminary, regularly develops print and digital training resources, and is a small group leader at Saddleback Church.
Getting the most out of Mobile Ed
Logos Mobile Education is a highly effective cross-platform learning environment that integrates world class teaching with the powerful study tools and theological libraries available in Logos Bible Software. Every course provides links to additional resources and suggested readings that supplement the lecture material at the end of every transcript segment.
This course comes with an Activities resource that functions as a type of "workbook" for the course. This resource includes learning activities such as: places for you to respond to reflection questions, exercises that will challenge and show you how deepen your understanding of this course by using specific Logos tools and resources, tutorial videos on different features of Logos Bible Software, and links to relevant Logos guides and tools. A link to open the Activities resource is conveniently placed at the end of every segment.
More details about these resources