Mobile Ed: Ministry Leadership Bundle (4 courses)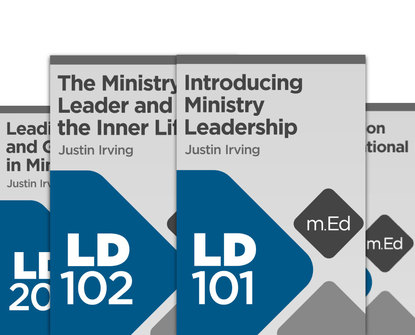 Mobile Ed: Ministry Leadership Bundle (4 courses)
•
Runs on Windows, Mac and mobile.
LD202 is temporarily unavailable on mobile.
Overview
In this four-course Ministry Leadership Bundle, Dr. Justin Irving illustrates the importance of personal and spiritual formation for effective ministry leadership. A variety of leadership theories are presented and discussed in these courses, with special attention given to the question, "What's the difference between leadership and management?" Through taking these courses you will gain a better understanding of how to ensure your ministry leadership is biblically based, culturally relevant, and practically effective.
Product Details
Title: Ministry Leadership Bundle
Instructor: Justin Irving
Publisher: Lexham Press
Publication Date: 2016
Product Type: Logos Mobile Education
Resource Type: Courseware, including transcripts, audio, and video resources
Courses: 4
Video Hours: 42
About Justin Irving
Dr. Justin Irving is the director of the doctor of ministry program and professor of ministry leadership at Bethel University in St. Paul, Minnesota. Dr. Irving has served as a worship leader and a pastor of leadership development and outreach in the local church. He has focused his writing and research on servant leadership, team leadership in the global context, self-sacrificial leadership, and the relationship between servant leadership and the effectiveness of teams in diverse ethno-linguistic communities.
Getting the most out of Mobile Ed
Mobile Ed's integration with Logos Bible Software creates an unparalleled learning environment. Lectures are fully searchable and linked to the rest of your library. We transcribe every word so you can focus on adding your own reflections as you watch and read along. Suggested readings open with a click, and video tutorials show you how to use Logos to research your topic even further.
With any Logos base package, you will be able to view the lectures and interact with the transcripts. For the best learning experience, we recommend Logos Platinum.
Readings for the courses are often tailored to Platinum because the larger library provides access to a wide range of suggested resources and increases search results for further study.
The Platinum collection best matches the resources used in video tutorials. It includes a breadth of commentaries, original-language studies, and over 1,400 resources to deepen your study.