Baker Encountering the Bible Series (8 vols.)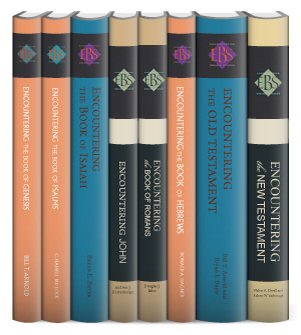 Baker Encountering the Bible Series (8 vols.)
•
For a more current iteration of this collection, see here.
Overview
Each volume in the Baker Encountering the Bible collection is designed for classroom use and includes a number of helpful features, including a bibliography for further research, a glossary of key terms, chapter objectives, chapter outlines, study questions, and focus boxes. These eight volumes will help students of the Bible understand both the world of the Scriptures and the issues addressed in modern scholarship. The books offer the expertise of renowned biblical scholars through an engaging and down-to-earth presentation. Each volume also provides ample introduction to the modern academic field of Biblical Studies. With these resources, surveying the books, culture, and context of the Bible is informative and enjoyable.
The Logos version integrates seamlessly into your personal digital library and allows you to access dictionaries and other reference resources with a click. Read your preferred Scripture translation alongside the text for a more robust understanding of the people and places of the Bible.
Images are not included in Encountering the Old Testament and Encountering the New Testament.
Key Features
Focus boxes addressing ethical and theological concerns
Highlight essays isolating key issues
Learning objectives and a chapter outline
End-of-chapter study questions, review questions, and chapter summaries
Product Details
Individual Titles