Exploring the New Testament (2 vols.)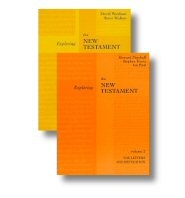 Overview
The Exploring the New Testament Collection are two textbooks which cover the New Testament, both written by authors who have extensive experience in teaching students in their first two years of university-level study. This series is perfect for someone looking for a New Testament survey that can be as broad or immersive as you see fit. The series easily facilitates teaching the material to classes or small groups.
Each book provides an exploratory approach which encourages and enables students to engage the Scriptures for themselves, and not simply as passive learners. They offer activities and challenges at introductory and intermediate levels, together with key background information needed to enable students to work at the required level, and ideas for further thought and reading.
With your Logos Bible Software the entire Exploring the New Testament Collection is fully searchable and easily accessible. Scripture references are linked to your favorite Bible translations and original texts, and important theological concepts are linked to dictionaries, encyclopedias, and the wealth of resources in your digital library.
Key Features
What do you think? boxes provide reflective questions to ponder or use for group discussions.
Digging deeper boxes offer deeper research into topics providing 2–3 hours of immersive study.
Essay topics at the end of each chapter provide topics for further research.
Complex information is clearly shown in various graphs, charts, maps and diagrams.
Every chapter includes suggestions for further reading for extra illumination into engaging ideas.
Product Details
Title: Exploring the New Testament Collection
Publisher: SPCK
Volumes: 2
Pages: 638
Individual Titles
Individual Overviews

This book is written in an exploratory approach which propels students toward engaging the Gospels and Acts for themselves. It offers activities and challenges to both the Scriptural novice and to those a little more comfortable with handling the Scriptures, offering important background information that will enable the student to work at the required level. On top of that, Exploring the New Testament, Vol. 1: The Gospels and Acts offer ideas for deeper thought and further reading for even greater challenge. It is an excellent textbook for courses on the Gospels and Acts.
[A] gem… avoiding the twin dangers of overwhelming the student with detail or oversimplifying complex issues, the authors offer invaluable summaries, charts and questions that will deepen learning…
—Michael B. Thompson, Vice-Principal, Ridley Hall
I know no better book for its purpose and I am sure it will be extensively used.
—Richard Bauckham, Professor of New Testament Studies, St. Mary's College, University of St. Andrews
David Wenham studied theology in Cambridge and Manchester Universities and taught in central India for several years. On his return home he was Director of the Tyndale House Gospels Research project, moving from that to the staff of Wycliffe Hall in the University of Oxford. He is the author of books on the parables of Jesus and has also focused his studies on the relationship between Jesus and Paul, with his Paul, Follow of Jesus or Founder of Christianity? (Eerdmans 1995) and Paul and Jesus: The True Story (SPCK 2002) He is also involved in parochial ministry in a group of villages north of Oxford.
Steve Walton has been a lecturer in Greek and New Testament Studies at London Bible College since 1999, having previously taught New Testament at St. John's College, Nottingham and Bedford College. He is a member of a number of scholarly societies, and chairs the Acts seminar of the British New Testament Conference.

With Exploring the New Testament, Vol. 2: The Letters and Revelation students will discover: the kind of literature they are dealing with; the historical context and background of the letters and Revelation; the major questions in the scholarly study of these books; the structure and purpose of each book; the major themes and theology of each book; and the issues for today arising from each major area of study.
Howard Marshall has spent most of his career teaching in the University of Aberdeen, where he is now Honorary Research Professor of New Testament. He is a former President of the British New Testament Society and currently is Chair of the Tyndale Fellowship for Biblical Research. He has written commentaries on the Greek text of the Gospel of Luke and the Pastoral Epistles as well as on the English text of Acts, 1-2 Thessalonians and 1-3 John. He has a preaching ministry in the North of Scotland Mission Circuit of the Methodist Church and elsewhere. He has four married children.
Stephen Travis has taught New Testament at St. john's College, Nottingham since 1969, where he is now also Vice-Principal and Director of Research. He has also enjoyed short spells of teaching (and learning!) in India, Australia and Sri Lanka. He has written at both a scholarly and a popular level on a variety of biblical themes, particularly the Christian hope. A Methodist layman, he has served the church on a number of theological commissions. He is married to Pat and they have a grown up daughter.
Ian Paul has studied maths and theology and has taught in Nottingham and Salisbury. His doctrinal thesis on metaphor and the interpretation of Revelation (Power to See the World Anew) was published by Paternoster and Eerdmans in 2002. He is on the staff of St. Mary's, Poole and is Managing Editor of Grove Books Ltd. He is married with three young children.
More details about these resources