Women in the Church Collection (6 vols.)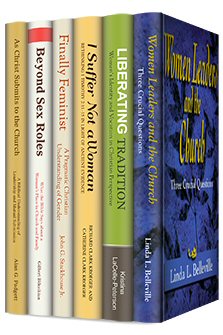 Overview
Discussions about gender roles and women in church leadership continue in many Christian denominations. With good people and thorough arguments on each side of the divide, there seems to be little hope for a synthesis or even constructive dialogue. The Women in the Church collection includes six volumes of well-documented, biblical scholarship on both the complementarian and egalitarian sides of the debate, making it a valuable resource for any Christian hoping to seriously engage in this important conversation.
Respected authors offer various perspectives on gender roles, biblical identity, women in church and social leadership, sexuality, and other relevant issues. Professors and students in theology and gender studies, pastors, church leaders, and thoughtful lay readers will appreciate this collection for its spectrum of views on controversial topics.
The Logos edition makes this resource even more relevant, saving you time and strengthening your study. Clicking any Scripture reference links directly to your preferred English translation and original-language texts for easier biblical analysis of these important issues. Perform comprehensive searches by topic to compare the perspectives of theologians, scholars, and ministry professionals.
Key Features
Contains recent scholarship on issues of gender equality and biblical identity
Offers various perspectives on women in church and social leadership
Examines controversial issues in light of Scripture
Contributors
Linda L. Belleville
Richard Clark Kroeger
Catherine Clark Kroeger
Alan G. Padgett
Gilbert Bilezikian
Kristina LaCelle-Peterson
Product Details
Title: Women in the Church Collection
Publisher: Baker
Volumes: 6
Pages: 1,322
Christian Group: Evangelicals
Individual Titles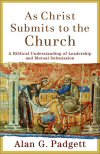 Does Christ submit to the church? Should Christians submit to each other? What about husbands and wives? In this volume, theologian Alan Padgett offers a fresh look at the ethics of submission, gender roles, and servant leadership in the New Testament. Through his careful interpretation of Paul's letters and broader New Testament teaching, the author shows how Christ's submission to the church models an appropriate understanding of gender roles and servant leadership. As Christ submits to the church, so all Christians must submit to, serve, and care for one another. Padgett articulates a creative approach to mutual submission and explores its practical outworking in the church today, providing biblical and ethical affirmation for equality in leadership.
As Christ Submits to the Church is an insightful, compelling, and much-needed work, not only on the specific issue of women in leadership, but also on the distinctive nature of Christian leadership in general. Combining theological and exegetical skills, Padgett has given us a scholarly yet broadly accessible book that moves us beyond some of the impasses that have bogged down the discussion on this hot topic. Regardless of one's stance on the women-and-leadership issue, As Christ Submits to the Church is a must-read for all who care about Christlike leadership.
—Gregory A. Boyd, senior pastor, Woodland Hills Church, St. Paul, Minnesota
Exploring critical questions regarding biblical interpretation, As Christ Submits to the Church offers a thoroughly Christian understanding of submission and service within marriage and the church. Alan Padgett opens much sky over the heads of those engaged in the evangelical conversation on gender and authority. This book is well worth our time and attention.
—Mimi Haddad, president, Christians for Biblical Equality
Alan G. Padgett is professor of systematic theology at Luther Seminary in St. Paul, Minnesota, and the author or coauthor of several books, including Christianity and Western Thought (volumes 2 and 3), But Is It All True?: The Bible and the Question of Truth, and Science and the Study of God. His scholarship ranges over philosophy, theology and science, and New Testament studies. Padgett is also an ordained minister in the United Methodist Church.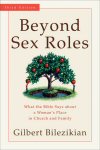 This biblical and theological study offers an accessible examination of the key texts of Scripture pertinent to understanding female roles, affirming full equality of the sexes in family and church. The book advocates an interpretive method that sees God's revelation of himself and his will as progressive. Using a creation-fall-redemption hermeneutical model, Beyond Sex Roles leads readers in developing a coherent method of interpretation for understanding the roles of women in church and family.
Gilbert Bilezikian deliberately avoids using scholarly jargon and complex argumentation in the main text of the book to encourage readers to interact with the biblical research. The aim is for nonspecialized readers to be able to follow his discussion step-by-step, evaluate arguments, consider alternative views, and arrive at independent conclusions. This classic work on the egalitarian viewpoint will be a useful guide in undergraduate courses on gender and church life.
Because Bilezikian presents his thesis with an obvious and unqualified submission to the Word of Scripture, his work is profoundly significant.
—Calvin Theological Journal
Although some will disagree with Bilezikian's conclusions, Beyond Sex Roles provides much food for thought to men and women concerned with being obedient to God in how they conduct their relationships.
—Today's Christian Woman
What impresses me is how many features of Beyond Sex Roles anticipate (and undoubtedly helped shape) the current egalitarian consensus. One is the insight that gender equality is the goal of a progressively revealed and inexorably restoring movement of God's Spirit through Scripture and history. Already back in the 1980s Bilezikian was drawing us into this hopeful and compelling vision. And the book was never about just gender. It is infused with the conviction that Christ was, and by his Spirit still is, dismantling all the vertical structures of power and oppression in a fallen human society, in order to make way for one new, liberating and inclusive community of God. The author invites us to live ahead of the curve.
—Glen G. Scorgie, professor of theology, Bethel Seminary
Gilbert Bilezikian is professor emeritus of biblical studies at Wheaton College. He is a charter member and elder at Willow Creek Community Church and the author of a number of books, including Community 101.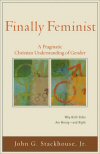 In Finally Feminist, John Stackhouse proposes a way forward by affirming both the patriarchal and the feminist (or complementarian and egalitarian) reading of Scripture. He argues that these emphases exist side by side in the Bible. He then provides biblical, theological, and practical arguments for his own understanding: Equality is the biblical ideal, but patriarchy is allowed and regulated by a God who has larger kingdom purposes in mind. Stackhouse then tests his understanding by exposing it to the objections of other theories and concludes with two appendixes that tease out some practical implications.
This is a clear and engaging articulation of a fresh set of evangelical perspectives on gender. Full of intriguing theological and exegetical suggestions and written with disarming frankness, Stackhouse's book seeks to stimulate good argument and counterargument, and it surely deserves to be debated long and hard.
—John Webster, professor, St. Mary's College, University of St. Andrews
This book is remarkable not only for its wisdom about gender relations but also for the method Stackhouse employs for reading difficult biblical texts. His strategy is to start with the big question: How does God act, as depicted throughout the Bible? He then asks what conclusions we can draw for understanding God's purposes in gender relations. He has an answer that speaks to both sides of this thorny debate.
—Nancey Murphy, professor of Christian philosophy, Fuller Theological Seminary
John G. Stackhouse Jr. (PhD, University of Chicago) is Sangwoo Youtong Chee Professor of Theology and Culture at Regent College. He is the author or editor of 11 books, including Making the Best of It: Following Christ in the Real World. He is a former president of the Canadian Evangelical Theological Association.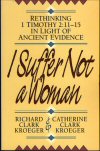 "I suffer not a woman to teach, nor to usurp authority over the man, but to be in silence."
—1 Timothy 2:12 KJV
This passage troubles those who desire greater leadership roles for women in ministry but who also want to remain loyal to Scripture. Did Paul forbid a woman to exercise her leadership and teaching gifts, or was he dealing with a particular error in the church? According to I Suffer Not a Woman, Paul was reacting to a specific problem that was sweeping churches: a myth, taught mostly by women, which later became a foundation for Gnosticism. This book offers an in-depth look at the Greek text of 1 Timothy 2:11–15 in the context of the Pastoral Epistles and in its historical context. By illuminating the first-century culture of Ephesus, the authors shed light on the ancient-world thought patterns Paul faced and offer a responsible alternative understanding of this much debated passage.
A fascinating study on the backgrounds of ancient Ephesus and of the church to which Paul wrote the one biblical statement that is invoked the most frequently to deny Christian women the use of their spiritual gifts. It will now become impossible to interpret legitimately the Pauline prohibition without recourse to this valuable resource.
—Gilbert Bilezikian, professor of biblical studies emeritus, Wheaton College
Working from a wide range of primary sources, I Suffer Not a Woman draws the reader into ancient-world thought patterns. The authors provide a compelling case for interpreting the text in 1 Timothy as a refutation of false teaching, rather than as a narrow restriction on women's role. . . . This book must be taken seriously and deserves a wide audience.
—Gretchen Gaebelein Hull, author, Equal to Serve
Richard Clark Kroeger is a retired pastor and college professor.
Catherine Clark Kroeger is founder and president emerita of Christians for Biblical Equality and is an adjunct professor of classical and ministry studies at Gordon-Conwell Theological Seminary.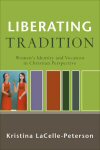 In this work, Kristina LaCelle-Peterson seeks both to affirm the central place of Scripture in the Christian life and to highlight the liberating nature of the Gospel for both men and women. To do this, she first considers the biblical ideal for human beings and then offers a biblical foundation for each of the topics under discussion—from identity and body image to language for God. She also examines the cultural nature of gender roles and the ways in which these roles have become entangled with ecclesial expectations.
Liberating Tradition provides readers with a clear Christian perspective on the issues that women face in the twenty-first century. The book does not provide a Christian gloss on the field of gender studies as it exists, but rather provides Christian women with a gender-informed Christian platform from which to enter into dialogue in that field.
LaCelle-Peterson has written a book that is at once biblical, engaging, comprehensive, forthright, balanced, and caring. It should be especially helpful for those on the 'women's side' of the debate to read something as irenic as this; and hopefully these same features will calm some of the rhetoric on the other side. I am glad to commend it to all.
—Gordon D. Fee, professor emeritus, Regent College
Powerfully written, powerfully argued. A real manifesto for those desiring a biblical understanding of the manifold issues associated with our concepts of gender.
—Catherine Kroeger, founder and former president, Christians for Biblical Equality
Kristina LaCelle-Peterson (PhD, Drew University) is associate professor of religion at Houghton College in Houghton, New York, and is an ordained elder in the Free Methodist Church.
Women Leaders and the Church: Three Crucial Questions
Authors: Linda L. Belleville
Publisher: Baker
Publication Date: 2000
Pages: 224
In Women Leaders and the Church, author Linda L. Belleville addresses the issues that have polarized Christians for generations. She discusses the three major questions surrounding the controversy: In which ministries can women be involved? What roles should women play in society? Can women hold positions of authority in the church?
Belleville looks to the past for answers to these contemporary questions. She examines Greek, Roman, and Jewish societies and compares women's roles in those cultures to their roles in the early church. With careful scholarship and logical argumentation, she concludes that God gifts women and men equally. Both men and women will benefit from the historical analysis and modern implications of Women Leaders and the Church.
Dr. Linda Belleville is professor of New Testament at Bethel College and Graduate School in Mishawaka, Indiana.