Mobile Ed: PD331 Wealth and Stewardship in the Bible: A Practical Guide (7 hour course)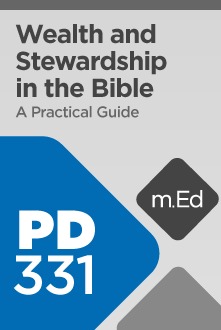 Mobile Ed: PD331 Wealth and Stewardship in the Bible: A Practical Guide (7 hour course)
•
Runs on Windows, Mac and mobile.
Overview
Dr. Keith Reeves presents a biblical theology of wealth, showing that although the Old Testament often views wealth positively and the New Testament negatively, there is a theme of stewardship throughout. Dr. Reeves leads you through key biblical passages and discusses such topics as saving, debt, investment, vocation and more. He also presents case studies showing how biblical guidelines apply to a number of specific life situations.
Course Outline
Unit 1: The Old Testament View of Wealth
What Is Wealth?
The Land
Learning about Land Inheritance with Morphology Search and Bible Word Study
Ownership of the Land
Provision for Nonlandowners
The Monarchy: Taxation and Centralization
The Monarchy: The Confiscation of Naboth's Vineyard
The Monarchy: Additional Critiques from the Prophets
Discovering and Comparing Weights and Measures
The Exile
Children as Wealth
A Definition of Stewardship
Discover Greek Words for Underlying Hebrew
Examples of Stewardship
Lessons in Stewardship, Part 1
Using Clause Participants to Understand Words
Lessons in Stewardship, Part 2
Lessons in Stewardship, Part 3
Alternative Voices
Unit 2: The New Testament View of Wealth
Comparing Old and New Testament Views
Wealth in the Gospel of Luke
Is Luke's View of Wealth a Mandate?
Jesus' Actions Regarding Wealth
Consider Jesus' Occupation Using Bible Word Study, Atlas, and Factbook
The Parable of the Rich Fool
The Parable of the Dishonest Manager
The Parable of the Rich Man and Lazarus
The Parable of the Pounds
Zacchaeus
Wealth in the Book of Acts
Widows in Acts
Paul's Offering to the Church in Jerusalem
James
Using the Topic Guide to Find Dictionary Entries
The Love of Money
Working and Eating
Interacting with Systematic Theologies and Ancient Literature through the Passage Guide
Unit 3: Personal Stewardship
What Is Stewardship?
Generosity
Self-Control and Gratitude
Prudence
Economics in One Lesson
It All Begins with Savings
Long-Term Savings
Tithing and Debt
Borrowing for College
Investing in the Stock Market
Ten Tips for Saving Money
Spending Money on Yourself
Conspicuous Consumption
Unit 4: Stewardship in Family, Church, and Work
The Family
Stewardship in the Church
Stewardship and Work
What Is Vocation?
How Do You Find a Vocation?
Vocation and Spiritual Gifts
Examples of Callings
Types of Vocations for Christians
Preparation for Vocation
Unit 5: Stewardship and the Greater Society
Economic Systems Matter
Causes of Wealth
Causes of Poverty
Why I Am No Longer a Socialist
Capitalism
Why Don't You Hear This in Church?
American Affluence
Income Inequality
Jubilee and Income Redistribution
Explore the Year of Jubilee with the Factbook and Interactives
The Role of Government
Christian Citizens
Is Government the Solution?
Relationships Matter
Consumer Society or Productive Society?
Unit 6: Responding to Needs: Guidelines
How Should We Be Generous?
Do We Have the Resources?
How Does This Square with Moral Proximity?
Will Your Generosity Solve the Problem?
Will You Create Dependency?
The Conviction of the Holy Spirit
Unit 7: Responding to Needs: Case Studies
Family Inheritance
Medical Need versus Capital Campaign
Loss of a Job
Saving for a Child's Education
Teaching Stewardship in Churches
Business Owners
Giving Money Away
Giving Ten Percent
The Church and the Homeless
The Christian and the Beggar
Lawsuits
Helping Poor Money Managers
Unit 8: Romans as a Fund-Raising Letter
The Purpose of Romans
The Body of Paul's Letter to the Romans
Grammatical Construction Comparison, Part 1
Grammatical Construction Comparison, Part 2
Why Is This Relevant?
Using Propositional Outlines to See the Significance of a Greek Phrase in Context
Punctuating Romans 1:13–14
Lessons Learned about Wealth
Product Details
Title: PD331 Wealth and Stewardship in the Bible: A Practical Guide
Instructor: Keith Reeves
Publisher: Lexham Press
Publication Date: 2014
Product Type: Logos Mobile Education
Resource Type: Courseware, including transcripts, audio, and video resources
Courses: 1
Video Hours: 7
About Keith Reeves
Dr. Keith Reeves is Professor of New Testament and Early Christian Literature at Azusa Pacific University in Southern California. He is the author of The Resurrection Narrative in Matthew: A Literary-Critical Examination (Mellen Biblical Press) and coauthor of What Christians Believe about the Bible: A Concise Guide for Students (Baker Academic).
Dr. Reeves has served as founding editor of the Journal for Christian Theological Research (1996-2007), chair of the Computer Assisted Research Group of the Society of Biblical Literature, and editor of the Gorgias Press The Bible in Technology series. He has presented widely at conferences and seminars on areas of biblical and theological studies, including the use of technology in biblical research and study—which makes him a great fit for Logos Mobile Education.
Getting the most out of Mobile Ed
Logos Mobile Education is a highly effective cross-platform learning environment that integrates world class teaching with the powerful study tools and theological libraries available in Logos Bible Software. Every course provides links to additional resources and suggested readings that supplement the lecture material at the end of every transcript segment.
This course was produced with screencast videos. These videos provide tutorials showing you how to use Logos Bible Software in ways that are tied directly into the content of the course. We are now producing Activities resources as a replacement for screencast videos. We plan on updating this course to include this additional Activities resource in the future for no extra charge.