Fortress Press Homiletics Collection (13 vols.)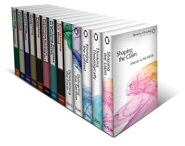 Fortress Press Homiletics Collection (13 vols.)
•
Runs on Windows, Mac and mobile.
Overview
Each of the volumes in the 13-volume Fortress Press Homiletics Collection offers brief introductions to the basics of preaching from diverse perspectives. Never before have seminary students and pastors had such a solid homiletical tool to help them develop the insights, framework, and skills necessary for powerful, transformative preaching as the books in this collection. This collection contains practical guides for effective preaching with tips for preparing and delivering sermons that are meaningful and appropriate. These books will help preachers create sermons that fit the listeners, and the authors offer tips and ideas for biblical texts and topics of interests.
With the Fortress Press Homiletics Collection, you'll explore the nuances of clear and effective communication, learn how to effectively use your voice and body in the act of preaching, and discover the strengths and weaknesses of particular sermon forms and structures. These authors also combine excellence in preaching with pastoral sensitivity, and write from the conviction that the Gospels contain not only words of salvation but also words of comfort and hope for grieving people.
The Fortress Press Homiletics Collection also contains valuable books on the specific challenges that come with preaching particular sections of Scripture. Bonnie Bowman Thurston weighs in on preaching from the Gospel of Mark, and renowned Johannine scholar Robert Kysar offers advice on preaching sermons from the Gospel of John. Brian C. Stiller's volume teaches preachers how to align contemporary homiletic scholarship with postmodern assumptions, and uses the parables to illustrate how to preach to today's culture.
Key Features
Bibliographies
Time tested wisdom gleaned from experienced preachers
Topical and subject indexes
Appendices, including lectionary aids
Product Details
Title: Fortress Press Homiletics Collection
Publisher: Fortress Press
Volumes: 13
Pages: 2,090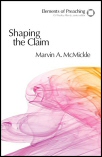 Shaping the Claim: Moving from Text to Sermon
Author: Marvin A. McMickle
Publisher: Fortress Press
Publication Date: 2008
Pages: 96
Shaping the Claim helps the preacher discover the core of the message to be preached—the sermonic "claim."
In order to be effective, says McMickle, a sermon needs to address the hearers at three distinct levels; the head or the intellect, the heart or passion and conviction, and the hand or an expected and desired response. In order to discover the biblical "claim" that a sermon should make upon a particular congregation at a particular time, McMickle presents a helpful three-step process:
What?
So What?
Now What?
Marvin A. McMikle is the pastor of Antioch Baptist Church in Cleveland, Ohio, and professor of homiletics at Ashland Theological Seminary in Ashland, Ohio. He is the author of From Pulpit to Politics: Reflections on the Separation of Church and State.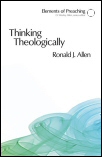 Preachers are not simple representatives of a particular theological world. Each preacher manifests characteristics that arise from that person's particular approach to life, theology, and preaching. Rather than teaching how one can preach theology or deal with particular theological issues from the pulpit, Ronald J. Allen shows how preaching is informed by the preacher's own theology.
A valuable introduction to preaching, Thinking Theologically does not advocate for, nor is it written from, a particular theological stance. Rather it provides historical background and explores major theological perspectives so that preachers can grasp their own understanding of authority, the Bible, the relationship of God to the sermon, and the purpose of the sermon.
We've needed this book for a long time. Ron Allen provides preachers with a wise tour through the current wilderness of theological options, highlighting the best and most useful qualities of each theological movement, and raising questions that will spur further insight and reflection. This is an immensely helpful book that should be read by every student of preaching today.
—John S. McClure, The Divinity School, Vanderbilt University
Ronald J. Allen is the Nettie Sweeney and Hugh Th. Miller Professor of Preaching and New Testament at Christian Theological Seminary in Indianapolis. One of the most widely published authors in homiletics, he has written or coauthored over thirty books, including Wholly Scripture: Preaching Themes from the Bible and, with Clark Williamson, Preaching the Gospel without Blaming the Jews: A Lectionary Commentary.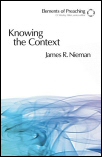 While everyone might affirm that preaching needs to engage its listeners deeply, the initial move for novice preachers is to think this can be attained by livelier content and delivery of the sermon. All too quickly, however, one learns that there are many factors beyond what a preacher says and how she or he may say it that affect whether proclamation can actually be heard. Effective preaching requires the complex work of knowing the context in which preaching occurs, while avoiding the twin dangers of pandering to a situation's particulars or generalizing them into stereotypes. Knowing the Context reveals how to engage contexts for preaching, especially ways to examine contexts more responsibly, so that the sermon might more amply bring the word of Scripture to bear on the worlds and lives of listeners.
In this volume, James Nieman shows how preaching is oriented to specific locales, cultural situations, audiences, and occasions. Unlike other books that tell preachers how to preach to specific audiences, Knowing the Context helps readers analyze the situations in which they find themselves and shows how text and context are in a continuing dialogue and how to tailor sermons to their context.
'Preachers, take the sermon's context into account.' Strangely, though, almost no one is very clear about exactly what this means, or how a preacher might actually do it. Now James Nieman shines some much-needed light on the issue of preaching context. With his characteristic clarity and the skill of a master teacher, Nieman makes a persuasive case for the importance of taking the context of preaching seriously, and he gives us the tools we need to do something about it.
—Thomas G. Long, Candler School of Theology, Emory University
James R. Nieman is Professor of Practical Theology and directs the Doctor of Ministry program at Hartford Seminary. He is coauthor of Preaching to Every Pew: Cross-Cultural Strategies and edits the International Journal of Practical Theology.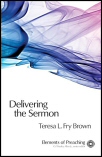 Delivering the Sermon: Voice, Body, and Animation in Proclamation
Author: Teresa L. Fry Brown
Publisher: Fortress Press
Publication Date: 2008
Pages: 100
In this book, Teresa L. Fry Brown introduces preachers to the effective use of voice and body in the animation of the word in the preaching moment. Suggestions and exercises for enhancing voice, diction, and nonverbal engagement of the listener are included in each chapter. These exercises may be used with groups or for individual enhancement of sermon delivery.
Delivering the Sermon combines the latest research in communications, speech pathology, and homiletics with the author's own experience as a speech language pathologist to enable preachers to improve their effectiveness in preaching.
Teresa L. Fry Brown is Associate Professor of Homiletics, Candler School of Theology, Emory University, Atlanta, Georgia. She is an ordained minister in the African Methodist Episcopal Church. Her Ph.D. is in Religion and Social Transformation.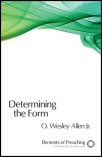 Determining the Form
Author: O. Wesley Allen Jr.
Publisher: Fortress Press
Publication Date: 2008
Pages: 96
This title offers preaching students and clergy an overview of some of the most common sermonic forms and provides insights for determining which forms are most—and least—amenable to the claim that they want to make in their sermon. Many, if not most, sermons wind up being somewhat formless and thus less effective than they might be in communicating the gospel. Rather than training students in a single rhetorical form, this volume will demonstrate a variety of options without advocating for any particular form.
Accomplished preachers can think of rhetorical strategy in a nuanced manner, but beginning preachers are well-served by having a knapsack of simple sermonic forms they can turn to when building a sermon out of a sermonic claim. This book will offer preachers a strong foundation in considering sermonic form and a handful of basic, reliable rhetorical structures to use in the pulpit.
O. Wesley Allen Jr. is Assistant Professor of Homiletics and Worship at Lexington Theological Seminary, Lexington, Kentucky. An ordained United Methodist elder with a Ph.D. in New Testament, his books include Reading the Synoptic Gospels: Basic Methods for Interpreting Matthew, Mark, and Luke and The Homiletic of All Believers: A Conversational Approach.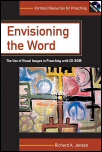 In this one-volume resource kit, Jensen helps preachers use visual images creatively and responsibly. How, how much, when, what equipment, use of teams, relationship to exegesis, different varieties of images, sources—all the essential topics and concerns are addressed here.
Jensen first discusses how vital, if controversial, image making has always been in Christian tradition and then demonstrates how preaching with images is both profoundly traditional and necessary to contemporary proclamation. His work combines practical advice with religious reflection to enable preachers to help their congregations envision the Word anew.
Richard Jensen offers this prescription: word and image, sound and sight can be forged into new forms of proclamation. Pick up this book and enrich your preaching!
—Richard F. Ward, Associate Professor of Preaching and Performance Studies, Iliff School of Theology
Richard A. Jensen is Axel Jacob and Gerde Maria Carlson Professor of Homiletics Emeritus at the Lutheran School of Theology at Chicago. Among his many works are Preaching Matthew's Gospel, Lectionary Tales for the Pulpit, and Thinking in Story.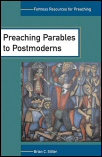 Stiller argues that Jesus' parables, through their narrative, personal, and oral dimensions and reversal of expectations, provide unique access to Christianity for those whose experience and hopes we label "postmodern." Aligning contemporary scholarship with today's cultural assumptions, Stiller offers preachers a working knowledge of postmodern sensibilities, an understanding of the parable genre, an analysis of ten parables, and a sample of how one might preach them effectively.
However we understand the 'postmodern' era, we are not 'post' the need to pay careful attention to the parables of Jesus. In this excellent study, Brian Stiller provides us with many profound insights about how to apply these stories to the complexities of our contemporary lives. Many congregations will be blessed by preachers and teachers who draw on the wisdom offered in this book!
—Richard J. Mouw, President and Professor of Christian Philosophy, Fuller Theological Seminary
Here is a book on the New Testament parables that is both faithful to the biblical texture of these ancient stories and sensitive to the world in which they must be proclaimed today. A timely gift for preachers and evangelical storytellers everywhere.
—Timothy George, Beeson Divinity School, Samford University and Executive Editor, Christianity Today
Brian C. Stiller is President of Tyndale University College and Seminary, Toronto. As a longtime leader in Canadian Evangelical circles, Stiller headed Evangelical Fellowship of Canada, founded the national magazine Faith Today, and hosted the national television program Cross Currents. He is author of eight other books, including When Life Hurts: A Three-fold Path to Healing, What Happens When I Die? and Jesus and Caesar: Christians in the Public Square.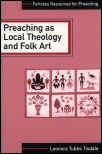 Preaching as Local Theology and Folk Art explains how to analyze a congregation so the sermon fits the listeners. This book provides practical helps for preparing and delivering sermons that are meaningful and appropriate.
The preacher can find many books giving advice on how to exegete the Bible. At last, here is a book with solid and helpful guidelines on how to exegete the congregation. Nora Tisdale blends the best scholarship on cross-cultural studies with her wise insights as an experienced pastor to break new ground in the field of preaching.
—Thomas G. Long, Princeton Theological Seminary
Leonora Tubbs Tisdale presents us with a useful way to 'exegete' congregations and a striking new image of preaching as 'folk art.' She teaches us how to listen deeply for a congregation's operative theology. Then she shows us how to preach sermons that respond to and shape this theology.
—John S. McClure, Louisville Presbyterian Theological Seminary
Leonora Tubbs Tisdale is Assistant Professor of Preaching and Worship, Princeton Theological Seminary.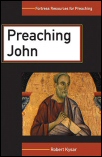 The Gospel of John exhibits a peculiar Christian language and thought that need to be understood and employed in the preaching ministry. The preacher's task involves penetrating the thick and often confusing language of the Gospel and comprehending its frequently paradoxical theology. The preacher can find new and powerful resources for preaching in Johannine language and thought, as well as its use of narrative and discourse. These discoveries facilitate preaching John in ways that are consistent with recent trends in homiletic theory. The method of this book is to combine the practical (how to preach John) with proposals for understanding the Gospel. The author offers a variety of sermon ideas and designs throughout each chapter based on numerous passages selected from the Revised Common Lectionary.
From long years in both the classroom and the pulpit, Robert Kysar has developed a unique gift for bridging the gap between the two. He is able to see and show the reader a whole host of surprising homiletical implications that emerge from recent Johannine scholarship. Best of all, with sermon excerpts from the preaching of his wife and himself, he richly demonstrates how to lead a congregation into the strange world of John's Gospel.<
—Richard L. Rohrbaugh, Paul S. Wright Professor of Christian Studies, Lewis & Clark College
Robert Kysar is Bandy Professor of Preaching and New Testament Emeritus at Candler School of Theology, Emory University, Atlanta, Georgia, and an ordained ELCA pastor. He is a renowned Johannine scholar and the author of John: The Maverick Gospel, A Beginner's Guide to the Books of the Bible, Called to Care: Biblical Images for Social Ministry, I, II, III John, John, and The Fourth Evangelist and His Gospel.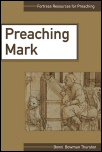 This new resource examines the major literary units and unique perspective of Mark's Gospel to help the pastor in sermon preparation. Thurston guides the reader through each of the lectionary readings, attempting to answer the questions:
Why did Mark preserve this story?
Why was it important for his community?
What does it mean for us today?
Included in each chapter are suggestions for further reading, and appendices provide a list of the lectionary readings and an annotated bibliography. Her volume makes accessible the wealth of materials Mark's Gospel offers for Christian life and reflection.
Bonnie Bowman Thurston is William F. Orr Professor of New Testament at Pittsburgh Theological Seminary, Pittsburgh, Pennsylvania. Her earlier books are: The Widows: A Women's Ministry in the Early Church, Spiritual Life in the Early Church: The Witness of Acts and Ephesians, and Women in the New Testament.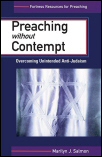 Marilyn Salmon's persuasive and practical work helps preachers to identify the ways that Christian preachers perpetuate the long tradition of Christian anti-Judaism. She situates the Gospels precisely as Jewish literature then addresses specific thorny issues that arise in preaching: supersessionism; portrayals of the Law; the Pharisees; the relationship between the Testaments; preaching the Passion; and misrepresentations of Judaism. Using examples from many sermons, she shows how to avoid the pitfalls of misportraying the people of Jesus.
In this hospitable book, Marilyn Salmon gives preachers remarkably helpful advice in overcoming the embedded theology of anti-Judaism that we all too easily pass along unawares. Her book is centrally important in helping the church bear witness to a message of life and well-being for all instead of one that is good news for some at the expense of bad news for others. Highly recommended!
—Clark Williamson, Indiana Professor of Christian Thought Emeritus, Christian Theological Seminary, Indianapolis
Marilyn Salmon's book inspires by its passion for truth about the Gospels . . . and by its genuine belief in the possibility of a better understanding between Christians and Jews.
—Peter J. Tomson, Professor of New Testament and Patristics, University of Brussels
Marilyn J. Salmon is Associate Professor of New Testament at United Theological Seminary of the Twin Cities. Her doctorate in New Testament is from Hebrew Union College. An Episcopal priest, she has focused her work on Jewish-Christian relations as well as the Gospels.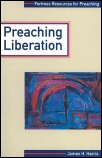 In Preaching Liberation, James Harris advocates the salient features of liberation preaching, especially as exemplified in black-church settings. For all preachers who take seriously the church's role as a catalyst of social and spiritual transformation.
Here's a book about preaching that preaches on every page. Harris understands preaching from the Black experience. His voice is authentic. At the same time he sings the power of God in Jesus Christ. James Harris has written a wonderful book.
—David G. Buttrick, Professor of Homiletics and Liturgics Vanderbilt University
James Harris speaks from within the African American experience of oppression in developing a homiletic bent on liberating and transforming individuals and society. He holds high the finest models of Black preaching, with their biblical passion, poetic fluency, and fervor for social justice, in fashioning a design for preaching. While Harris's homiletic is rooted in the African American experience, it thrives in all kinds of soil. Anyone committed in preaching to releasing the power and intentionality of Scripture to free souls for personal and corporate fulfillment will profit from time spent with Harris in these pages.
—Don W. Wardlaw, Director, Doctor of Ministry in Preaching Program, McCormick Theological Seminary
James H. Harris is Associate Professor of Practical Theology at the School of Theology, Virginia Union University, Richmond, Virginia. A leader in the practice and teaching of preaching, he also the author of Pastoral Theology: A Black Church Perspective.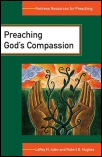 This is a book about human suffering and the church's efforts to minister to those who are suffering. It uses the resources of contemporary pastoral care to understand situations of suffering. For the most part, however, it focuses on pastoral preaching, that is, on the oral proclamation of God's Word from the perspective of caring for or comforting people in need.
While many books have been published on suffering and on pastoral preaching, few have combined these into a single concern, as does this volume. The authors represent the respective disciplines involved: Aden, pastoral care, and Hughes, preaching. The book has been written from within the Pauline/Augustinian tradition as seen from a Lutheran perspective.
The book begins with reflections on the reality of human suffering and an examination of several ways in which we try to make sense of suffering. It then focuses specifically on the believer's struggle with suffering, the church's attempt historically to address suffering, and the minister's pastoral relationship with troubled parishioners. After dealing with some of the practical differences between counseling and preaching, the book proposes a functional approach to pastoral preaching and describes the form of the pastoral sermon.
Centering on five particular situations of suffering—loss, illness, violence, fear, and failure—the book suggests ways in which the pastor can preach to parishioners who are experiencing one or more of these traumas. Three sample sermons illustrate how to preach on God's gracious activity, while avoiding "psychologizing the text" and reducing the gospel to cheap therapy for individual problems.
Many people wonder what to say in the face of others' suffering. But pastors struggle with an even deeper question: what to preach. Aden, an emeritus professor of pastoral care, and Hughes, a professor of homiletics, offer this book to ameliorate suffering through pastoral preaching, which they define as 'the oral proclamation of God's Word from the perspective of caring or comforting people in need.' Pastors of many denominations will appreciate the authors' careful and precise discussion of how to preach to congregants who are dealing with loss, illness, violence, fear, and failure.
—Publishers Weekly
LeRoy Aden in pastoral theology and Robert Hughes in homiletics have teamed up to give us a book that is sound, genuinely helpful, historically grounded, comprehensive, and true to the best wisdom of both fields. Especially refreshing is their insistence that pastoral preaching comes from within the experience of suffering and speak to public as well as individual concerns.
—Thomas G. Long, Candler School of Theology, Emory University
LeRoy H. Aden is Professor of Pastoral Theology Emeritus at Lutheran Theological Seminary, Philadelphia. He is co-editor (with David G. Benner) of Counseling and the Human Predicament and (with J. Harold Ellens) of Turning Points in Pastoral Care, and (with Robert G. Hughes) Preaching God's Compassion.
Robert G. Hughes is St. John Professor of Homiletics at, and former President of, Lutheran Theological Seminary, Philadelphia. He has authored Preaching Doctrine (with Robert Kysar) and A Trumpet in Darkness: Preaching to Mourners.
More details about these resources
Show More