Mobile Ed: Studies in Dispensationalism Bundle (2 courses)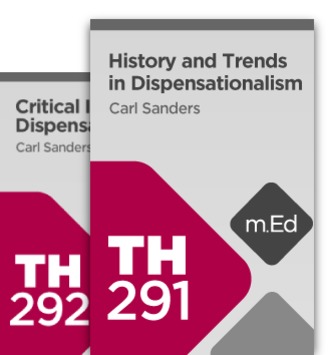 Mobile Ed: Studies in Dispensationalism Bundle (2 courses)
•
Runs on Windows, Mac and mobile.
Overview
"Dispensationalism is important for everyone to understand, whether you're a dispensationalist or not," says Dr. Carl Sanders. It "has shaped much of evangelical history and culture and is worth understanding for that reason alone." Join Dr. Sanders as he explores the history and theology of dispensationalism and how it has impacted our culture in more ways than we realize.
Dr. Sanders is known for his down-to-earth presentation and ability to address theological differences fairly. As both a professor and minister in diverse urban congregations, Dr. Sanders brings together a high degree of scholarship and a practical approach. You're invited to think critically about who God is, what Scripture teaches, and how that can inform us in our daily lives.
In this course, Dr. Sanders describes the history and basic defining beliefs of dispensationalism. You'll be challenged to wrestle with important biblical themes such as prophecy, eschatology, and the nation of Israel. Dr. Sanders also addresses progressive dispensationalism and the competing views of covenantal theology.
Contents:
The History of Dispensationalism
Defining Dispensationalism
Progressive Dispensationalism
Dispensationalism and Covenant Theology
Key Biblical Texts and Themes
In this course, Dr. Sanders dives deeper into the theology of dispensationalism and how dispensationalists interpret the Bible. Learn about the importance of biblical covenants such as the Mosaic, Abrahamic, and Davidic covenants. Examine opposing arguments on the nation of Israel—whether the Church replaces Israel and receives its promises, or whether Israel is distinct from the Church and will experience restoration in the future. Explore different ways of interpreting prophecy and eschatology and how our culture has been greatly impacted as a result.
Contents:
Dispensational Hermeneutics
The Covenants
Israel and the Church
Prophetic Fulfillment
Dispensationalism and Popular Culture
Dispensationalism, Pessimism and Social Ethics
Product Details
Title: Studies in Dispensationalism Bundle
Instructor: Carl Sanders
Publisher: Lexham Press
Publication Date: 2014
Product Type: Logos Mobile Education
Resource Type: Courseware, including transcripts, audio, and video resources
Courses: 2
Video Hours: 11
Getting the most out of Mobile Ed
Logos Mobile Education is a highly effective cross-platform learning environment that integrates world class teaching with the powerful study tools and theological libraries available in Logos Bible Software. Every course provides links to additional resources and suggested readings that supplement the lecture material at the end of every transcript segment.
About Carl Sanders
Dr. Carl Sanders is an associate professor of theology at Lancaster Bible College's Capital Bible Seminary. He has taught at college and seminary levels since 1999 at several schools: Bethel University (St. Paul, Minnesota), Northwestern College (St. Paul, Minnesota), and Washington Bible College in Washington, DC, where he also served as chair of the Bible and theology department (2003–2012).
Dr. Sanders is well liked by his students for his down-to-earth presentation of Bible doctrine. Students quickly learn that he enjoys talking about theology and has a quick wit. Among his strengths as a lecturer are his ability to distill information to essential elements, as well as his good-natured way of fairly explaining differences in theological positions. Dr. Sanders has a keen interest in urban ministry and has served for many years in racially diverse urban congregations. His interest in local-church experience helps him practice theology in ways that reflect the diversity present in the body of Christ. He strives to make theology interesting and practical.
More details about these resources