Select Works of James Durham (4 vols.)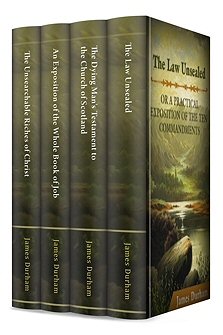 Select Works of James Durham (4 vols.)
•
Runs on Windows, Mac and mobile.
$18.00
Reg.: $54.95
Print: $158.95
* Projected price. Future bids may change this price.
Place Your Bid!
Click on the highest price you'd pay. If the final price is lower, that's what you'll pay.
Overview
Discover the work of James Durham, an influential figure from the Scottish Reformation. Durham ministered during a period of profound social and religious change, and his work reflects Reformed theology as it was being codified in the Westminster Standards. Explore Durham's impassioned sermons on the importance of Communion. Investigate his response to the church scandals of his time. Examine the Reformed understanding of the Ten Commandments. The Select Works of James Durham highlight an important Reformation figure and shed light on the contours of Reformed theology at a pivotal moment in its history.
The Logos editions of Select Works of James Durham enhance your study with amazing functionality. Fully integrated into your digital library, the Timeline enables you to instantly contextualize people, places, and ideas with thousands of other biblical and world events. Perform powerful searches to instantly gather relevant biblical texts and resources together. Free tablet and mobile apps let you take the discussion with you. With Logos Bible Software, the most efficient and comprehensive research tools are in one place, so you get the most out of your study.
Key Features
Includes sermons on the sacrament of Communion
Provides insight into theological concerns of the Scottish Reformation
Introduces the writing of an influential Scottish reformer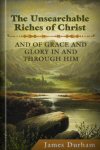 The Unsearchable Riches of Christ and of Grace and Glory in and through Him
Author: James Durham
Publisher: Falkirk
Publication Date: 1777
Pages: 378
These sermons on the Lord's Supper emphasize the privilege, gravity, and power of the sacrament of Communion. Preached during James Durham's time as a minister in Glasgow, Scotland, they are marked by the earnestness and pastoral sensitivity that characterized his ministry.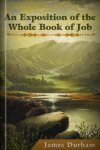 An Exposition of the Whole Book of Job with Practical Observations
Author: James Durham
Publisher: J. Bryce and D. Pater
Publication Date: 1759
Pages: 362
James Durham's in-depth analysis of this complicated Old Testament book underscores God's grace in the suffering of Job. Every chapter receives detailed attention and draws out principles for personal application. When the story raises thorny questions regarding the goodness of God and the reality of human suffering, Durham's well-reasoned responses vindicate God's character without downplaying the tragedies of human experience.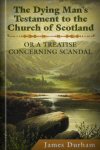 Throughout church history, Christians have been forced to address scandals in their midst. In this treatise, James Durham explores what the Bible has to say about such scandals and how churches and Christians should address them. He presents the biblical procedure for church discipline, highlights stories of scandals in Scripture, and offers guidance to church leaders.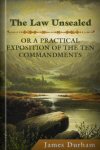 Gain a deeper understanding of the Reformed view of the Law with these lectures by James Durham. Written in response to Catholic, Anabaptist, and Arminian teaching, The Law Unsealed, or a Practical Exposition of the Ten Commandments argues that God's Law, as summarized in the Ten Commandments, was never meant to provide a way of salvation. Instead, it drives sinners to repentance and trust in Christ, and serves as a guide for Christian obedience.
About James Durham
James Durham (1622–1658) was professor of divinity at Glasgow University. He served as captain in the English Civil War, became a minister in 1647, and shortly after was named chaplain to the king. Though most of his books were published posthumously, he was a prolific scholar widely regarded by his peers for his dedication to his work and for his moral character. Suffering from perennially bad health, he died at age 36.