Mobile Ed: OT201 Old Testament Genres (4 hour course)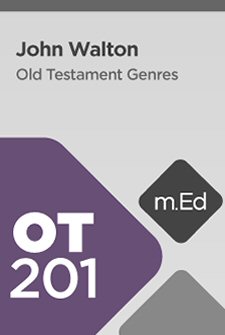 Mobile Ed: OT201 Old Testament Genres (4 hour course)
•
Runs on Windows, Mac and mobile.
Overview
Dr. John Walton guides students through the types of literature in the Old Testament. Beginning with narrative and continuing through prophecy, apocalyptic literature, wisdom literature, and the Psalms, this course explains how to best read and understand the Old Testament. Students should walk away with a strong interpretive framework through which they can grapple with the Old Testament. The course guides students into asking broader questions about the overall purpose of the Old Testament and God's revelations throughout it.
Grow your understanding in the Old Testament. Earn a Mobile Ed Certificate of Completion when you invest in your education. Learn more about the Old Testament Certificate Programs.
Learning Objectives
Upon successful completion you should be able to:
Define key concepts about the nature of the OT as God's Word
Identify the various genres of the OT and describe their features
Discuss the purpose of the OT law and its significance for us today
Explain how OT narrative functions as God's self-revelation
Describe the purpose and function of OT prophecy
Define "wisdom" and describe its role in the OT
Discuss the relationship between theology and faith
Course Outline
Introduction
Introducing the Professor and the Course
Unit 1: Foundations
Introduction
Identifying Old Testament Genres
About the Old Testament
Introduction to Authority, Inspiration, and Revelation
Authority
Inspiration
Revelation
Literary Analysis
Identifying Emphasis in Old Testament Narratives
What Sort of Reader?
Ethical Reading
Unit 2: Genres: Law
Law: Part 1
Law: Part 2
Finding English Translations of Ancient Legal Texts
Law: Part 3
Unit 3: Genres: Narrative
The Significance of Story
Misreading Biblical Narrative, Part 1
Using Visual Filters to Identify God as the Subject
Misreading Biblical Narrative, Part 2
Finding Practical Ways to Preach Old Testament Narratives
Writing History
Ancient History Writing
Unit 4: Genres: Prophecy and Apocalyptic
Prophets
Using the Bible Facts Report to Research the Role of a Prophet
Prophecy for the Present
Kinds of Prophetic Illocution
Search Parameters for the Prophetic Literature
The Message of the Prophets
Focusing on the Message
Prophecy and the New Testament
Locating Prophecies about Jesus
Apocalyptic Literature
Unit 5: Genres: Wisdom and Psalms
Introduction to Wisdom
The Book of Job
Discovering Ancient Near Eastern Parallels to the Book of Job
The Book of Ecclesiastes
Song of Songs
Speaker Identifications in English Translations
Psalms
Unit 6: Theology and Faith
Product Details
Title: OT201 Old Testament Genres
Instructor: John H. Walton
Publisher: Lexham Press
Publication Date: 2014
Product Type: Logos Mobile Education
Resource Type: Courseware, including transcripts, audio, and video resources
Courses: 1
Video Hours: 4
About John H. Walton
Dr. John H. Walton is a professor of Old Testament at Wheaton College Graduate School. Before teaching at Wheaton, Walton taught at Moody Bible Institute for 20 years.
His primary focus is in areas of comparison between the Old Testament and the Ancient Near East, particularly Genesis. He is the author or coauthor of several books, including Ancient Near Eastern Thought and the Old Testament, IVP Bible Background Commentary: Old Testament, and A Survey of the Old Testament.
Getting the most out of Mobile Ed
Logos Mobile Education is a highly effective cross-platform learning environment that integrates world class teaching with the powerful study tools and theological libraries available in Logos Bible Software. Every course provides links to additional resources and suggested readings that supplement the lecture material at the end of every transcript segment.
This course comes with an Activities resource that functions as a type of "workbook" for the course. This resource includes learning activities such as: places for you to respond to reflection questions, exercises that will challenge and show you how deepen your understanding of this course by using specific Logos tools and resources, tutorial videos on different features of Logos Bible Software, and links to relevant Logos guides and tools. A link to open the Activities resource is conveniently placed at the end of every segment.
More details about these resources