John Polkinghorne Science and Theology Series (12 vols.)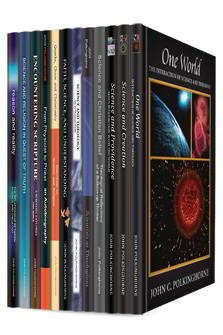 John Polkinghorne Science and Theology Series (12 vols.)
•
Overview
Physicist, theologian, author, and Anglican priest, John Polkinghorne is well-known and respected for his writings on the relationship between science and religion. His works emphasize the integral role science plays in understanding core Christian beliefs. In 12 volumes, he presents a scientific, analytical, and rational perspective on various aspects of the Christian religion, including creation, theology, and Christianity's central tenets. Polkinghorne tackles the thorniest issues in theology, addresses recent developments in scientific research, and answers questions that arise at the intersection of science and religion. This collection includes Polkinghorne's autobiography, following the development of his thoughts and tracking his journey from scientist to theologian.
The Logos Bible Software edition of the John Polkinghorne Science and Theology Series is designed to encourage and stimulate your understanding of the relationship between science and religion. With Logos, you can perform powerful searches by topic and find what other authors, scholars, and theologians have to say about the importance of science in the Christian faith.
Key Features
Provides 12 volumes on the relationship between science and religion
Addresses current scientific developments
Provides scientific answers to theological issues
Includes Polkinghorne's autobiography
About John Polkinghorne
John Polkinghorne is past president and now fellow of Queens' College, Cambridge. Former professor of mathematical physics at Cambridge University, he is a priest and canon theologian of Liverpool Cathedral. He won the Templeton Prize for Science and Religion in 2002. His books have been translated into 18 languages so far.