Have a New Kid by Friday: How to Change Your Child's Attitude, Behavior & Character in 5 Days (audio)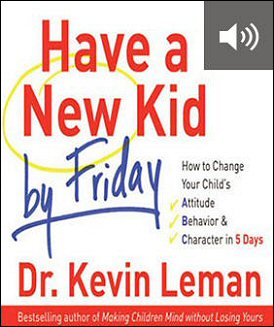 Have a New Kid by Friday: How to Change Your Child's Attitude, Behavior & Character in 5 Days (audio)
•
Runs on Windows, Mac and mobile.
Overview
Change your child's behavior—fast! Want a kid without the attitude? Without the behavior that makes you slink away in the grocery store and pretend you're not the parent? A kid with character who isn't a character? If you're tired of defiant attitudes and power struggles with your little ankle-biters or the disrespectful hormone group, read this book and follow the simple principles, and you'll have a new kid by Friday. Guaranteed!
Have a New Kid by Friday is your 5-day action plan—Monday through Friday—that really works! With his signature wit and commonsense psychology, internationally recognized family expert Kevin Leman reveals why your kids do what they do and what you can do about it—starting right now. Anyone can do it. All it takes is you deciding to stand up and take charge. Want a great kid? Want to be a great parent? Then take the 5-day challenge. Someday your kid will thank you for it.
Key Features
Teaches parents how to curb undesirable behavior in children without suppressing their spirit
Provides practical and easy to implement tactics that produce results in a few short days
Includes "Ask Dr. Leman," advice on over 100 hot topics for parents
Contents of Print Edition
Introduction: They're Unionized . . . and Growing Stronger
Monday: Where Did They All Come From?
Tuesday: Disarming the Dude (or Dudette) with the 'Tude
Wednesday: Show Me a Mean Teacher, and I'll Show You a Good One (It's All in the Perspective)
Thursday: But What If I Damage Their Psyche? (Uh . . . What's a Psyche?)
Friday: The Doc Is in . . . and It's You
Ask Dr. Leman: A to Z Game Plans That Really Work
Epilogue: Fun Day
Product Details
Title: Have a New Kid by Friday: How to Change Your Child's Attitude, Behavior & Character in 5 Days
Author: Kevin Leman
Narrator: Wayne Shephard
Edition: Unabridged
Publisher: Baker
Print Publisher: Revell
Runtime: 4.9 hours
Product Type: Audiobook
Resource Type: Topical
About Kevin Leman
Kevin Leman is an internationally known psychologist, radio and television personality, and speaker who has taught and entertained audiences worldwide with his wit and commonsense psychology. He has made house calls for hundreds of radio and television programs, including The View, Today, Oprah, CBS's The Early Show, CNN's American Morning, and LIFE Today with James Robison. He has also served as a contributing family psychologist to Good Morning America.
A bestselling and award-winning author, Dr. Leman has written more than 30 books about marriage and family issues, including The Birth Order Book, Sheet Music, and Making Children Mind without Losing Yours. He is coauthor, with his son Kevin Leman II, of a series of illustrated children's books for each child in the family. He is also featured on six video series on marriage, parenting, blended families, and single parenting.
More details about this resource