Creature of the Word: The Jesus-Centered Church (audio)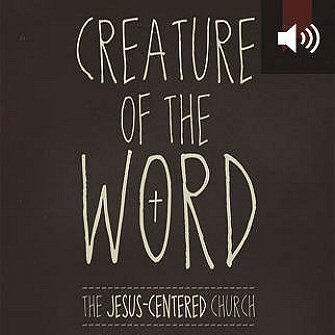 Creature of the Word: The Jesus-Centered Church (audio)
•
Runs on Windows, Mac and mobile.
Overview
The Reformers viewed the gospel as not merely one thing among many in the life of a church but rather the means by which the church exists. When the gospel is rightly declared and applied to God's people, the church becomes "a creature of the Word." She understands, embraces, and lives out the reality of Christ's birth, life, death, and resurrection in more than her doctrinal statement. The gospel impacts all the church is and does.
Creature of the Word lays out this concept in full, first examining the rich, scripture-based beauty of a Jesus-centered church, then clearly providing practical steps toward forming a Jesus-centered church. Authors Matt Chandler, Eric Geiger, and Josh Patterson write what will become a centering discussion piece for those whose goal is to be part of a church that has its theology, culture, and practice completely saturated in the gospel.
Audiobooks add new dimension to your digital library. When you listen in Logos, your audiobooks sync across devices—pause a book anytime on your home computer, then pick up where you left off in your car or on your laptop. Listen on your lunch breaks, as a family, or as part of your personal devotional time. Tap into the power of Logos Bible Software in a whole new way.
Key Features
Addresses how to make God's word the foundation of the church
Revitalizes the understanding of the church by refocusing the gospel
Provides guidance for those looking to plant or lead a church
Contents of Print Edition
A People Formed
The Creature Worships
The Creature in Community
The Creature Serves
The Creature Multiplies
Jesus-Centered Culture
Preaching the Word
Pulpit to Preschool (and Puberty Too)
The Jesus-Centered Leader
Jesus-Centered Flower Committee
Jesus-Centered Contextualization
Jesus-Centered Ministry
Praise for the Print Edition
In Creature of the Word you will learn that the Bible is not about us; it is about Jesus and how to live all of life with Him, like Him, and for Him. This is a foundational, practical, and helpful book for both Christians and church leaders.
—Mark Driscoll, pastor, Mars Hill Church, Bellevue, WA
Be careful if you read this book. Creature of the Word will make you rethink much of what you think you know about the church, its message, and its mission. Matt Chandler, Josh Patterson, and Eric Geiger have conspired to write a book that will make you think more faithfully about the church and what it means for Christ's people to be formed by the gospel. I welcome the conversations this book will spark.
—R. Albert Mohler Jr., president, The Southern Baptist Theological Seminary, Louisville, KY
About the Authors
Matt Chandler serves as lead pastor of The Village Church in Highland Village, Texas, a multicampus church attended by more than 10,000 people. His sermons are regularly one of the top five podcasts on iTunes and his first book, The Explicit Gospel, is a bestseller.
Eric Geiger serves as the vice president of the church resource division at LifeWay Christian Resources. Eric received his doctorate in leadership and church ministry from Southern Seminary. He is also a teaching pastor and a frequent speaker and consultant on church mission and strategy. Eric has authored or co-authored several books including the best-selling church leadership book, Simple Church.
Josh Patterson serves as lead pastor of ministry leadership at The Village Church located in the Dallas/Fort Worth region of Texas.
More details about this resource