How Should We Then Live: The Rise and Decline of Western Thought and Culture (audio)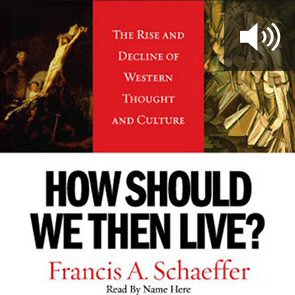 How Should We Then Live: The Rise and Decline of Western Thought and Culture (audio)
•
Runs on Windows, Mac and mobile.
Overview
As one of the foremost evangelical thinkers of the twentieth century, Francis Schaeffer long pondered the fate of declining Western culture. In this brilliant book he analyzed the reasons for modern society's state of affairs and presented the only viable alternative: living by the Christian ethic, acceptance of God's revelation, and total affirmation of the Bible's morals, values, and meaning.
How Should We Then Live? has become the benchmark for Christian worldview thinking today. This edition commemorates the 50th anniversary of L'Abri Fellowship, founded by Francis and Edith Schaeffer.
Audiobooks add new dimension to your digital library. When you listen in Logos, your audiobooks sync across devices—pause a book anytime on your home computer, then pick up where you left off in your car or on your laptop. Listen on your lunch breaks, as a family, or as part of your personal devotional time. Tap into the power of Logos Bible Software in a whole new way.
Winner of the AudioFile Earphones award!
Key Features
Examines how biblical truth affects every day life
Discusses the rise and decline of Western thought and culture
Journeys through the Renaissance, Reformation, and Enlightenment
Engages Christians in the secular cultural and intellectual world
Contents of Print Edition
Ancient Rome
The Middle Ages
The Renaissance
The Reformation
The Reformation—Continued
The Enlightenment
The Rise of Modern Science
The Breakdown in Philosophy and Science
Modern Philosophy and Modern Theology
Modern Art, Music, Literature, and Films
Our Society
Manipulation and the New Elite
The Alternatives
Praise for the Audio Edition
A twentieth-century classic on Christian morality gets the treatment it deserves as Kate Reading presents the historical sweep of Schaeffer's perspective. Like a lock pick to the fetters so willingly worn by many Christians, Schaeffer frees the listener to engage with secular culture-but from a solid Christian world view, and with historical precedents. Kate Reading tackles the text with aplomb, soldiering through German, Greek, and French names without sounding like she's gargling marbles. As Schaeffer weaves seemingly disparate strands of ancient, Renaissance, and modern culture, Reading makes the listening experience inviting and challenging. Whether you're a Christian seeking direction or a listener who wants to satisfy your curiosity about Schaeffer's ideas on right living, this book delivers.
—AudioFile
About Francis A. Schaeffer
Francis A. Schaeffer (1912–1984) was an evangelical missionary who established the L'Abri community in Switzerland. After studying at Hampden-Sydney College, Westminister Theological Seminary (where he studied under Cornelius Van Til), and Faith Theological Seminary, Schaeffer pastored churches in Pennsylvania and Missouri.
More details about this resource