On Becoming Babywise: Giving Your Infant the Gift of Nighttime Sleep (audio)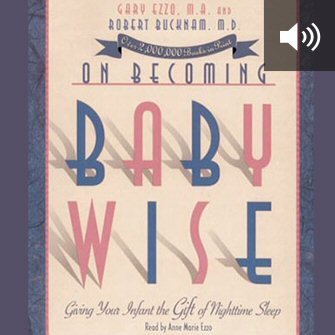 On Becoming Babywise: Giving Your Infant the Gift of Nighttime Sleep (audio)
•
Runs on Windows, Mac and mobile.
Overview
The infant management concepts presented in this book have found favor with over two million parents and twice as many contented babies. On Becoming Babywise brings hope to the tired and bewildered parents looking for an alternative to sleepless nights and fussy babies. The Babywise Parent Directed Feeding concept has enough structure to bring security and order to your baby's world, yet enough flexibility to give mom freedom to respond to any need at any time. It teaches parents how to lovingly guide their baby's day rather than be guided or enslaved to the infant's unknown needs.
The information contained within On Becoming Babywise is loaded with success. Comprehensive breast-feeding follow-up surveys spanning three countries, of mothers using the PDF method verify that as a result of the PDF concepts, 88% breast-feed, compared to the national average of only 54% (from the National Center for Health Statistics). Of these breast-feeding mothers, 80% of them breast-feed exclusively without a formula complement. And while 70% of our mothers are still breast-feeding after six months, the national average encourage to follow demand feeding without any guidelines is only 20%. The mean average time of breast-feeding for PDF moms is 33.5 weeks, well above the national average. Over 50% of PDF mothers extend their breast-feeding toward and well into the first year. Added to these statistics is another critical factor. The average breast-fed PDF baby sleeps continuously through night seven to eight hours between weeks seven and nine. Healthy sleep in infants is analogous to healthy growth and development. Find out for yourself why a world of parents and pediatricians utilize the concepts found in On Becoming Babywise.
Key Features
Provides methods that encourage babies to eat and sleep regularly
Offers advice to parents who want to provide a structured environment for their infant
Includes ways to monitor the health and nutrition of a child
Discusses the benefits of raising children with a structured schedule
Contents of Print Edition
Right Beginnings
Feeding Philosophies
Babies and Sleep
Facts on Feeding
Managing Your Baby's Day
Waketime and Naps
When Your Baby Cries
Colic, Reflux and the Inconsolable Baby
Topic Pool
Multiple Births: The Endless Party
About Gary Ezzo
Gary Ezzo, MA, serves as the executive director of Growing Families International. He and his wife Anne Marie have spoken to millions of mothers, fathers, educators and medical clinicians through their best-selling books and weekend seminars. Their parenting concepts are now translated into 25 languages.
More details about this resource