Communicating for a Change: Seven Keys to Irresistible Communication (audio)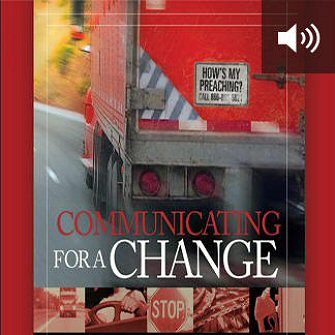 Communicating for a Change: Seven Keys to Irresistible Communication (audio)
•
Runs on Windows, Mac and mobile.
Overview
When you talk, are people changed?
Whether you speak from the pulpit, podium, or the front of a classroom, you don't need much more than blank stares and faraway looks to tell you you're not connecting. Take heart before your audience takes leave! You can convey your message in the powerful, life-changing way it deserves to be told. An insightful, entertaining parable that's an excellent guide for any speaker, Communicating for a Change takes a simple approach to delivering effectively. Join pastor Ray as he discovers that the secrets to successful speaking are parallel to the lessons a trucker learns on the road. By knowing your destination before you leave (identifying the one basic premise of your message), using your blinkers (making transitions obvious), and implementing five other practical points, you'll drive your message home every time!
"Long ago, in a galaxy far, far away . . ."
"Once upon a time . . ."
"In the beginning . . ."
Great stories capture and hold an audience's attention from start to finish. Why should it be any different when you stand up to speak? In Communicating for a Change, Andy Stanley and Lane Jones offer a unique strategy for communicators seeking to deliver captivating and practical messages. In this highly creative presentation, the authors unpack seven concepts that will empower you to engage and impact your audience in a way that leaves them wanting more.
Audiobooks add new dimension to your digital library. When you listen in Logos, your audiobooks sync across devices—pause a book anytime on your home computer, then pick up where you left off in your car or on your laptop. Listen on your lunch breaks, as a family, or as part of your personal devotional time. Tap into the power of Logos Bible Software in a whole new way.
Key Features
Provides seven distinct ways to improve the impact of a message
Offers a simple approach to engaging public speaking
Describes the lessons in a memorable and entertaining format
Contents of Print Edition
Part I: How's My Preaching?

No One's Listening
Where There's a Will There's a Ray
Go for the Goal
The End of the Road
A Map to Remember
Load Up before You Leave
Crucial Connections
Show Me Some Identification
Stuck in the Middle of Nowhere
A New Attitude

Part II: Communicating for a Change

Determine Your Goal
Pick a Point
Create a Map
Internalize the Message
Engage Your Audience
Find Your Voice
Start All Over

Conclusion
About Andy Stanley
Andy Stanley is a graduate of Dallas Theological Seminary and the founding pastor of North Point Community Church in Atlanta, Georgia, with a youthful congregation of more than 12,000. Andy is the author of the 1998 Foreword Book of the Year finalist Visioneering, the bestsellers Like a Rock and The Next Generation Leader, and the recent How Good Is Good Enough.
More details about this resource